Every three months, candidates running for the Georgia 2020 U.S. Senate and District races have to legally disclose their campaign finances. On Oct. 15, 2019, candidates submitted their quarterly results.
The finances are categorized and coded by the Federal Election Commission, an independent government agency created in 1974 by Congress. The Georgia U.S. Senate race contributions can be found here and include which companies and individuals have contributed to a candidate's campaign.
University of Georgia Professor Charles Bullock III said companies hope to influence public policy by donating to a candidate's campaign, but the elected official may not agree to do what the corporations want them to do.
"What you're doing with a contribution is you're creating access," Bullock said. "If you're an elected official and you got money from a corporation, and somewhere down the road a representative or lobbyist from a corporation comes by and says 'Hey you got a few minutes?' you say 'yeah.'"
So far, more than $12 million has been raised between the top five candidates in Georgia's Senate race. Incumbent Sen. David Perdue, a Republican, makes up two-thirds of the money with more than $9.1 million, while Democratic candidate Jonathan Ossoff comes in second as he's raised $1.3 million.
Democratic candidate Teresa Tomlinson raised a little under $933,000, while Democrats Sarah Riggs raised about $761,000, and Edward Terry has raised the least with about $88,000.
Bullock said the incumbent almost always raises the most money because the candidates "are known" and "have contacts."
Contribution Breakdown
While Perdue didn't have to rely on smaller donations from contributors, the four democratic candidates did.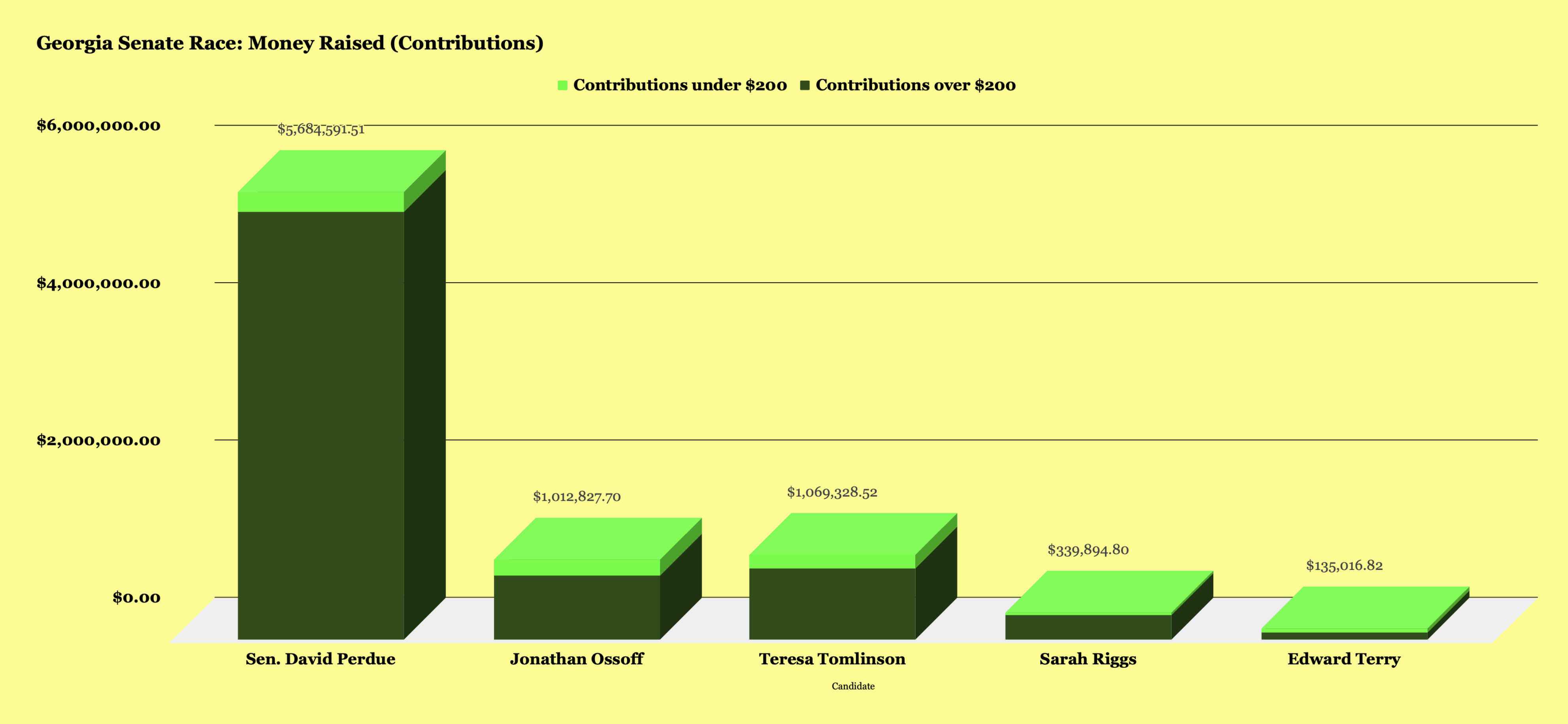 Of the $5.4 million Perdue raised from contributions, only $232,000 came from contributions under $200, while about 25% of Ossoff's contribution money came from smaller donations.
Following the Money
Home Depot, Delta Airlines and Cox Entertainment are three of the companies who have donated to Perdue in the Georgia 2020 U.S. Senate election.
Although the company's name is used for contributions, the company itself did not donate. The money comes from the company's individual members, employees, owners or the organization's Political Action Committee, a political committee (representing businesses) organized for raising and spending money to elect and defeat candidates.
So far, Perdue, Tomlinson and Riggs are the three candidates who had their data categorized and coded by the FEC since the quarterly deadline. The FEC's process can take days or weeks to process. The other two candidates will have their data processed in that time frame.
OpenSecrets is a nonpartisan, independent and nonprofit research group that tracks money in U.S. politics. You can find which companies contributed to candidates in the Georgia U.S. Senate race here.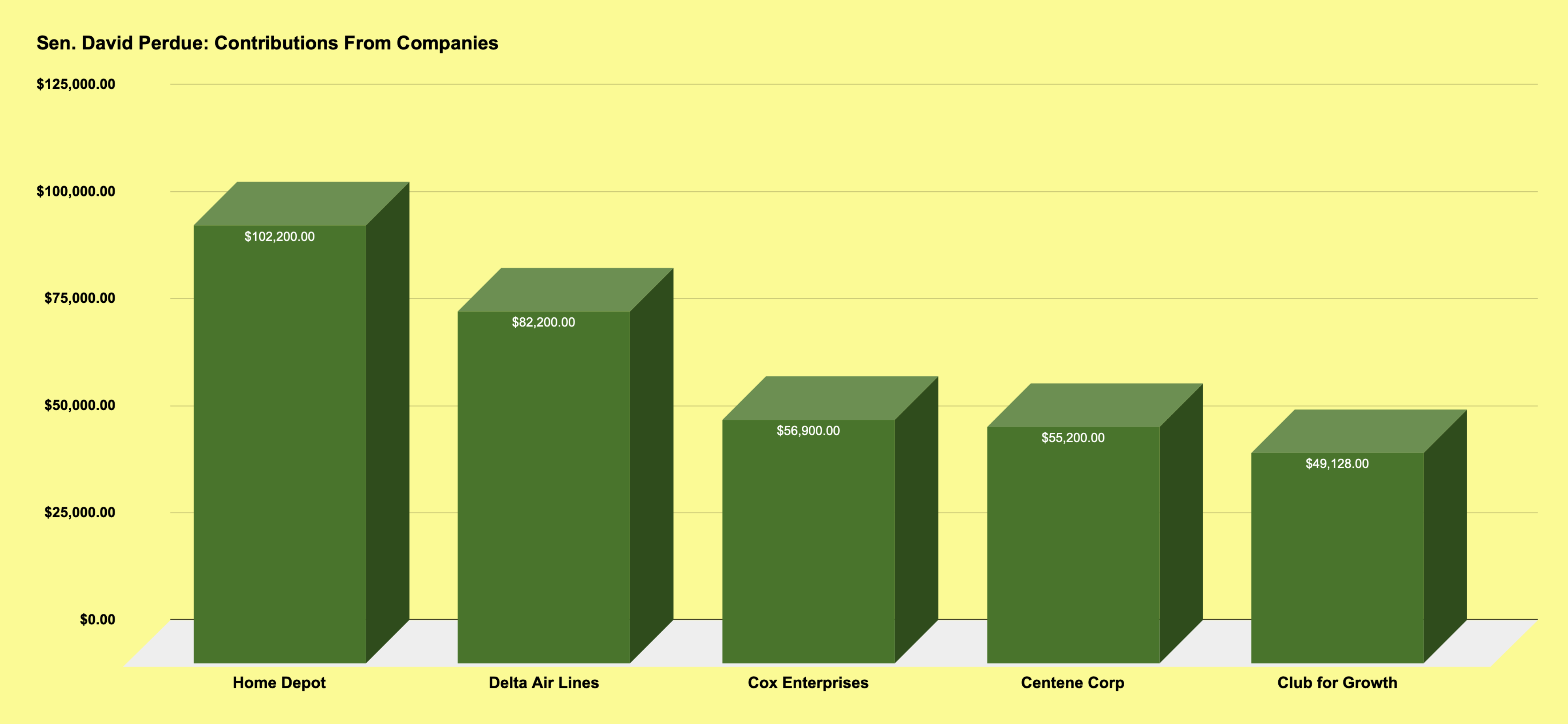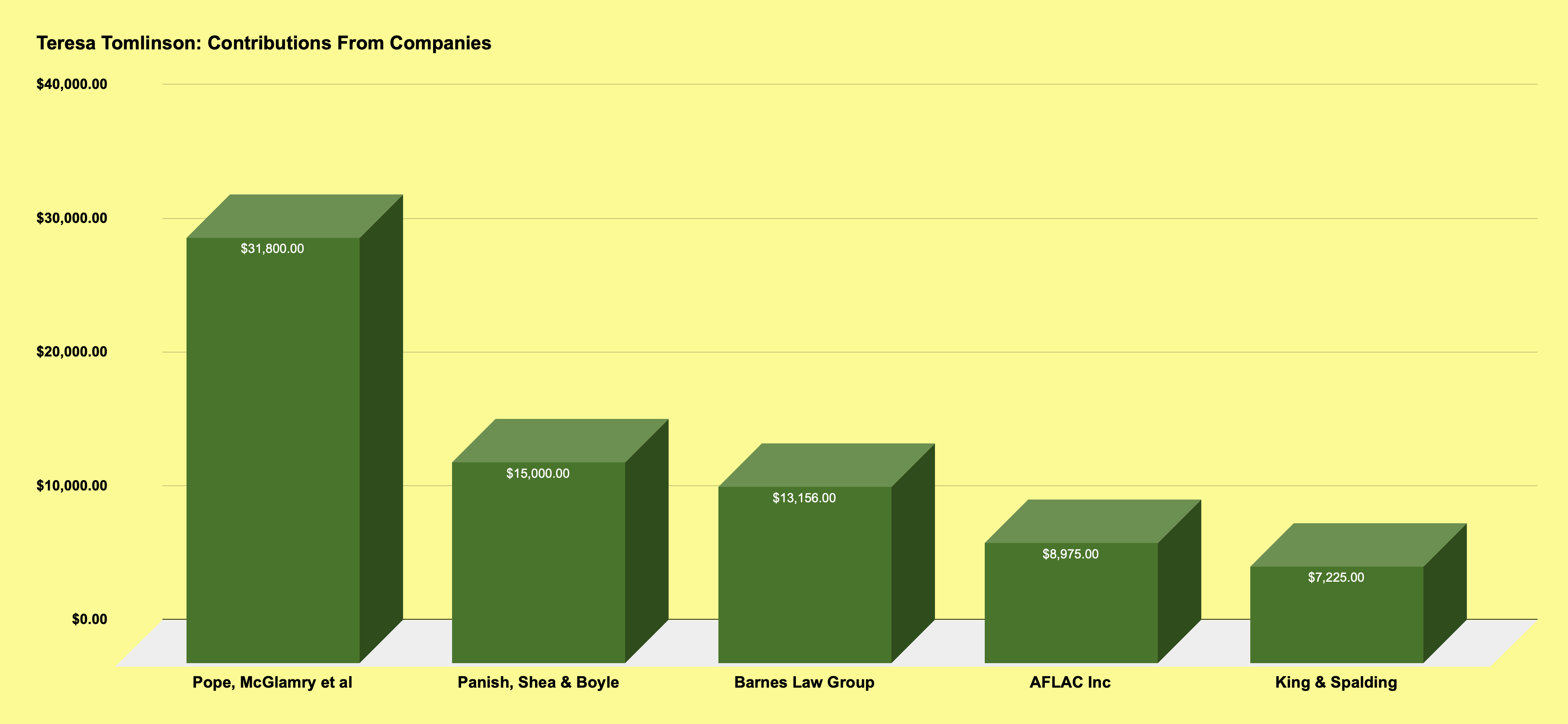 Two companies contributed to Sarah Riggs. Both Bricklayers Union and International Brotherhood of Electrical Workers each gave $5,000.
Bullock said candidates look to see what companies contribute to other candidates.
"You look to see has my opponent gotten money from some kind of unsavory person or company and if so you can use that against them, and it does get used against them," he said.
More Money, Less Problems
Loans and "transfers from other authorized committees" is another way candidates can raise money. Perdue and Ossoff are the two who have received transfers.
According to the Federal Election Commission, transfers from other authorized committees are funds that "may be transferred between authorized committees of the same candidate without limit as long as the committee making the transfer has no net debts outstanding."
Ossoff received about $532,000 in transfers, while Perdue received about $3.6 million.
Riggs has a $400,000 loan, while Tomlinson has a $30,000 loan.
District 10 Race
Georgia House District 10 includes some of the following counties: Baldwin, Jefferson, Morgan, Oconee, Oglethorpe and portions of Clarke County.
The District 10 race is led by incumbent Republican Jody Hice, who was elected in 2014.
His current competitor is Clyde Elrod. He filed his statement of candidacy on Sept. 3, 2019.
The majority of Hice's donations came from large contributions and corporations like the House Freedom Fund.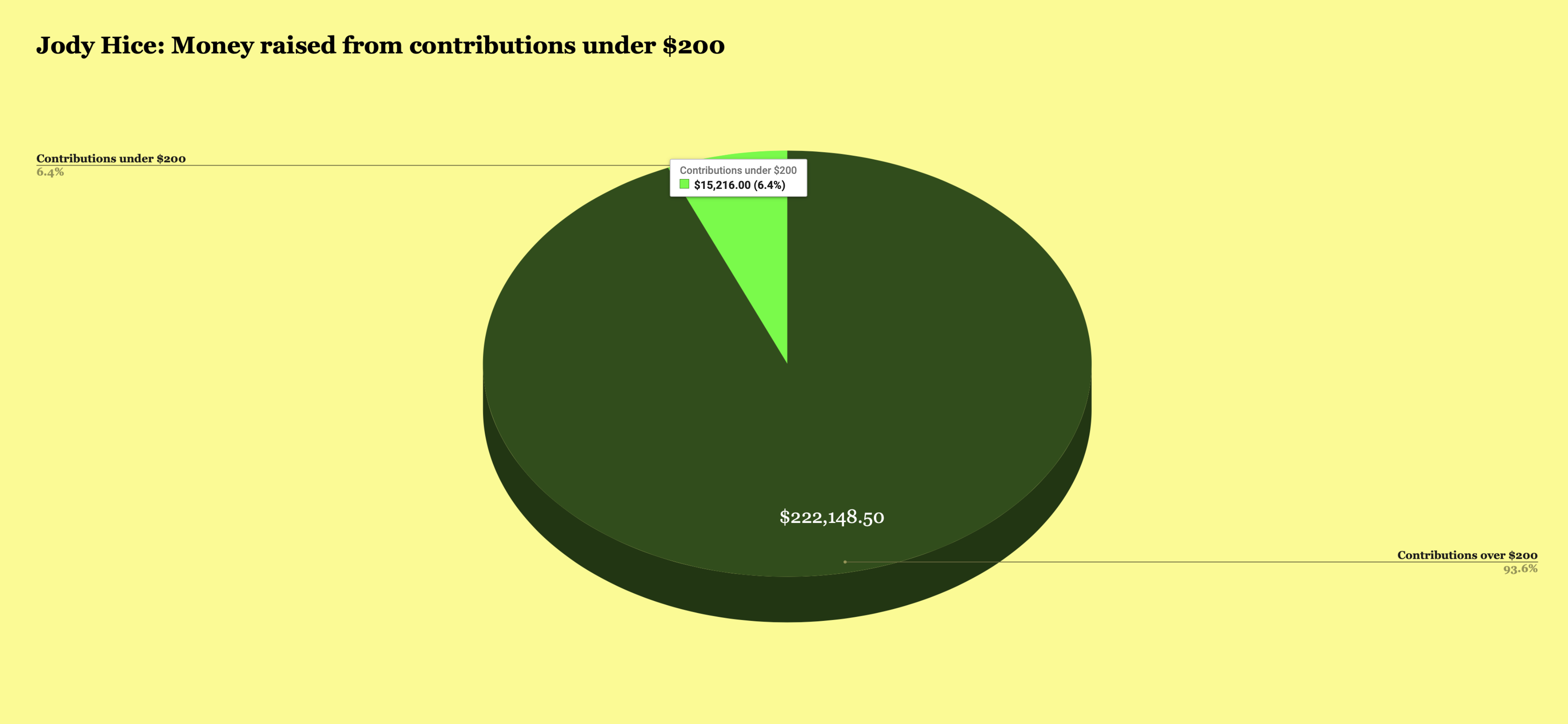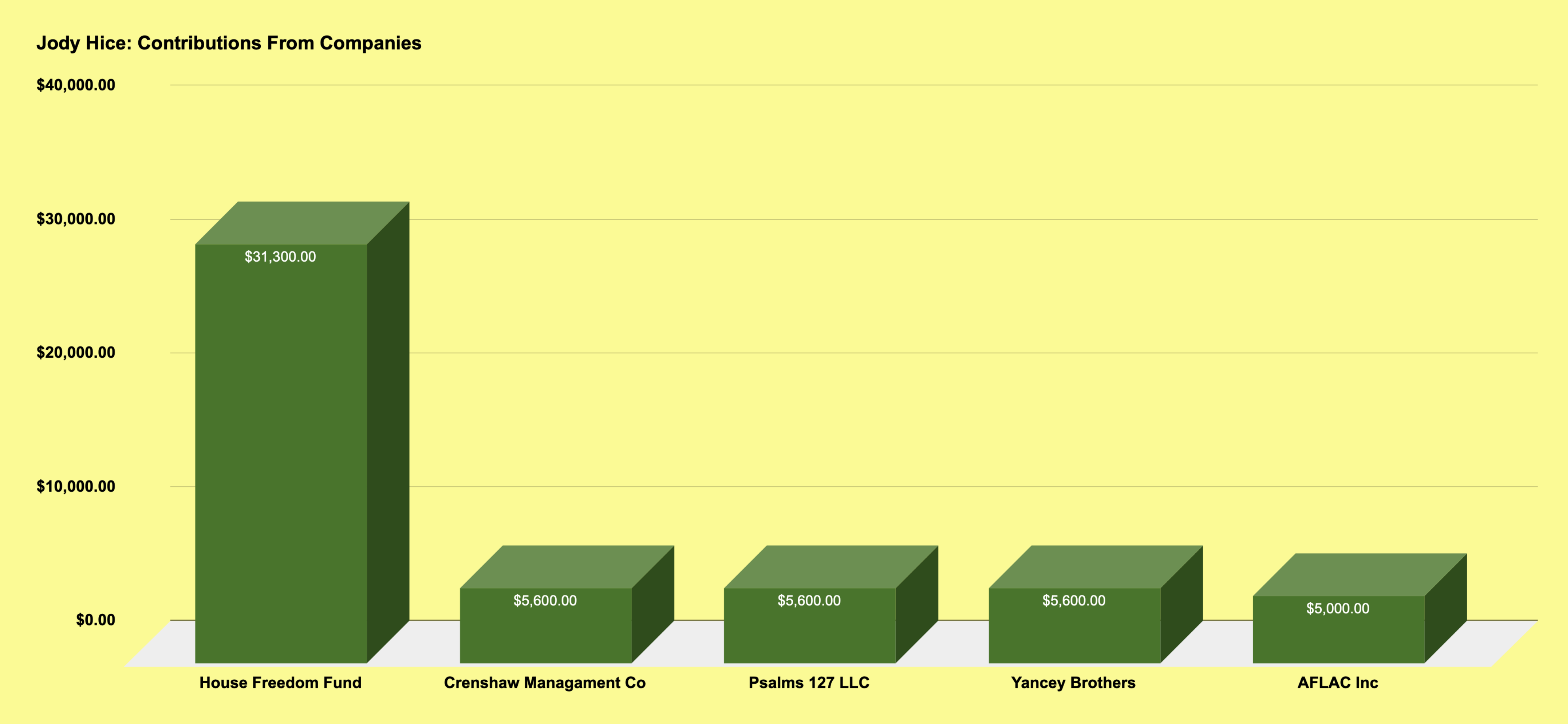 Georgia primaries start on May 19, 2020 and the general election is on Nov. 3, 2020.
Francisco Guzman is a senior majoring in journalism in the Grady College of Journalism and Mass Communications at the University of Georgia.