A larger discussion of parole for inmates serving life sentences began recently in response to a text post on the Oconee County Sheriff's Office Facebook page about Aaron Wright's parole eligibility last Thursday.
For background, most inmates become eligible for parole after serving at least one-third of their prison sentence. Eligibility is an automatic status that applies to an inmate regardless of any legal action by the inmate or their representative.
Parole processes vary depending on incarceration circumstances such as the sentence term length and when the crime is committed, and it's a system worth looking into.
Life Sentence Parole Process
Unless an inmate is serving a life sentence without parole, this does not necessarily mean that the inmate will remain in prison for the rest of his or her life. Those who are serving life are eventually eligible for parole depending on when they committed the crime in the state of Georgia, according to the Georgia State Board of Pardons and Paroles.
Inmates serving life sentences for serious violent felony crimes committed prior to July 1, 2006, are initially considered for parole after serving 14 years. Starting July 1, 2006, any serious felony crime committed requires that the inmate serve 30 years before parole consideration.
The Georgia State Board of Pardons and Paroles defines a serious violent felony as one that includes crimes like murder, aggravated sexual battery and rape.
Most inmates convicted before 1995 were eligible for parole after seven years and have already received their initial parole consideration. Following release, inmates may be required to complete a work release program with the Department of Corrections.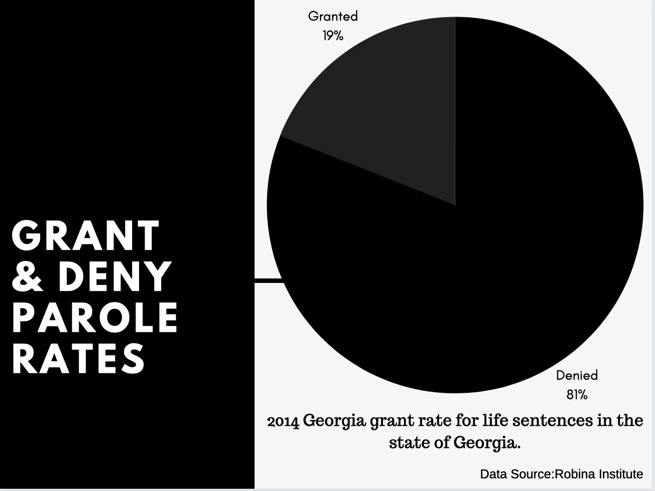 According to the Robina Institute of Criminal Law and Criminal Justice, of the inmates serving life sentences in 2014, 81% were denied parole and 19% were granted parole release.
Non-Life Sentence Parole Process
For those serving a non-life sentence, an eligible inmate is automatically considered for parole. This does not require an application. In order to grant any clemency, members of the Parole Board must come to an affirmative majority vote. The Parole Board may reevaluate and change a decision at any point in the case, until the date of release.
At the time of parole consideration, the Board will establish what is referred to as a Tentative Parole Month (TPM) in which the Board will review the offender's case file and determine whether to set a parole release date.
Eligible inmates have a right to parole consideration but do not have a right that requires actual parole release.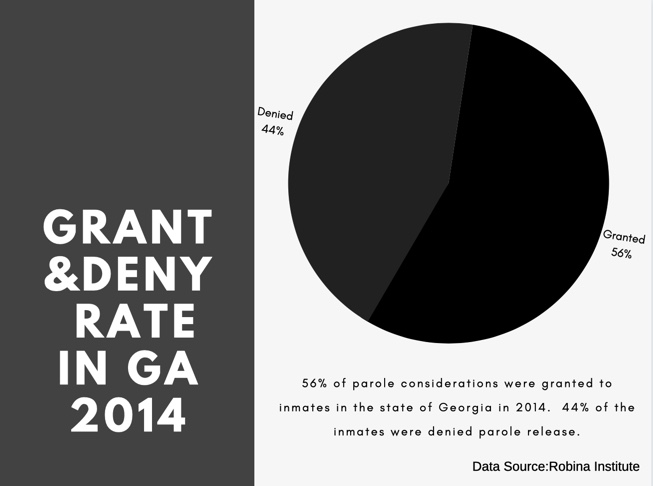 State of Georgia v. Aaron Wright Case
A recent post on the Oconee County Georgia Sheriff's Office Facebook page alerted the public that Sheriff Scott Berry was made aware of the parole consideration of a former Oconee County jail inmate, Aaron Wright. The post was written by Berry, who detailed Wright's crimes and announced that he has contacted the Oconee District Attorney office to argue against releasing him.
Wright was incarcerated in August 1990 after a murder conviction and escaping Oconee County Jail in December 1989. Sheriff Berry pointed out that Wright had decapitated and amputated the hands of a jail cellmate from Dekalb County Jail.
Berry said, "[Wright] escaped the Oconee County Jail by going through the shower fixture and into the pipe chase, out of the pipe chase and just out the door of the jail." His push for the denial of Wright's parole partially stems from Wright's three-day escape period in which the sheriff said Wright hid in the trunks of cars and "terrorized" Oconee County.
Aaron Wright is currently serving a life sentence at Johnson State Prison. He has been incarcerated for almost 30 years, which makes him statutorily eligible for parole consideration, but there have not been any official decisions on the approval or denial on his release.
Jada Bowman is a senior majoring in journalism in the Grady College of Journalism and Mass Communication at the University of Georgia.