The barbershop and the hair salon are places we go to get our hair cut, trimmed, extended, colored and pressed. For those of us in the American black community, it's also a safe space.
Why It's Newsworthy: Studying the similarities and differences between American and German black barbershop culture can reveal the significance and impact that community can have on, not only black people, but people of all races and cultures. This analysis can also break down the door of stereotypes for both parties, so that everyone and anyone can have a place to go for comfort and community… and a hair cut.
After visiting Germany for about three weeks, I fell in love with the diversity of the people, the colorful renaissance buildings and the huge variety of international food choices. I decided I wanted to live in Munich someday. Yet, while walking up and down the streets of Munich's city center, Marienplatz, I saw, maybe, 20 black people total over a span of three weeks. So, along with the questions of where I might live and what job I would like to have, I have this question, too: Where are black people getting their hair done, and who's going to do mine?
To find the answer I began searching for black-owned hair salons and barbershops in Munich to see if, A) they exist and, B) I would feel comfortable there and could trust the stylist with my hair. The results? More colorful than I expected.
Your Hair Is Your Crown
Hair is considered one of the cornerstones of black history, culture, and expression, dating back centuries. The Open Journal of Social Sciences' Hair It Is: Examining the Experiences of Black Women with Natural Hair, by Tabora A. Johnson and Teiahsha Bankhead, describes hair as something more than what grows out of your head, especially in the African community.
Throughout the ages, from the Ancient Nile Valley civilizations to the movement West and the establishment of West African empires, hair has maintained a spiritual, social, cultural and aesthetic significance in the lives of African people," saID Johnson and Bankhead.
I Trust You With My Hair…And My Life
The journal also continues on to say, "the concept of "getting" one's hair "done" holds paramount value with African communities in the United States and globally," write Johnson and Bankhead. The salon and the barbershop are centers for community, creativity, and conversation. Over time, trust and loyalty build between the barber or stylist. Trust can also extend beyond hair to one's own health.
According to Beauty Salons: A Promising Health Promotion Setting for Reaching and Promoting Health Among African American Women, approximately 18% of conversations in the hair salon are health-related.
Some black clients would rather go to their barber about their health condition, instead of to their healthcare providers, due to distrust in the healthcare system.
According to the Health promotion in barbershops: Balancing outreach and research in African American communities, "current generations of African American men have been found to view the healthcare system and efforts to intervene in their health behaviors with suspicion and doubt."
The relationship is so tightly bonded that scientists and researchers want to use the barbershop as a method for health-related community outreach.
And it worked, according to a study done by the American Heart Association.
There was a large and sustained blood pressure reduction among black barbershop patrons with uncontrolled hypertension over 12 months when coupled with medication management by American Society of Hypertension–certified pharmacists," said the AHA.
The barbershop and hair salon are more powerful than you might think.
Drawing The Parallels
While the German census does not provide information on race, I saw fewer black people during my three weeks in Munich, Germany, than I would see during the same time period in the U.S. I was curious about whether or not the black barbershop and salon culture in Germany was similar or different to America's culture. The results were interesting.
The Community IKs Quite Colorful
My first perception of black-owned hair salons and barbershops was that they were solely a place of community for black men and women; however, Barbara Holmes' Haarkunst, a black-owned hair salon in Munich, had a different perspective.
I walked into a red interior salon with techno German music playing in the background, teddy bears in the light fixtures and wigged mannequin heads with different hair textures along the mirror. On the walls, I saw clients of different races with different hairstyles; one of a white woman wearing dark brown twist extensions with colorful highlights.
"Afro-Americans with their art, with their culture, with their hair, has had a tremendous effect on the international. I have had people who come from India, Dubai, Scotland and they all want cornrows and twists, and that is so fantastic and those are the hairstyles that I have been doing forever," Holmes said.
Philadelphia-native Holmes opened her shop over 35 years ago, because she didn't have enough money to return to the states. Today, the shop is still going strong, specializing in black hairstyles with an international clientele. "It's art, it's creativity here [in Munich]. It's a whole different meaning," she said.
Holmes said that hair salon culture and barbershop culture are "global" and enjoys the communication aspect with her clients, especially due to the long hours of working on one head of hair.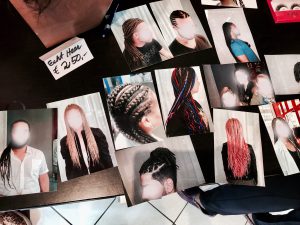 "With our [black] hair or the things that we do here, it's a time factor. It takes anywhere from 1 ½ hours to 4 ½, 5 ½, 6 ½ hours, and the person is sitting here. And they feel comfortable and relaxed and you automatically go into a deeper conversation and that's what I love: the communication," Holmes says.
The diversity of her customers and their immense satisfaction is what has kept her in Munich. When asked if there were community and trustworthy relationships with her clients in her shop, she replied "absolutely."
"What I love and what has kept me into business and I've thought about it for the last few years and even more since I have gotten older, is that I love almost making every day, somebody happy…that is what has kept me in business," Holmes explained. "They give you hugs and kisses and they bring you chocolates. It is incredible. That is what I appreciate. The happiness and the smile on their face when they leave here," Holmes said.
She handed me a large stack of reviews in both English and German from her clients who come from all over the world. Many were filled with gratitude, joy, and respect for Holmes and her work. As I sifted through the papers, Holmes sat back with pride, wearing a large braided bun, bold colored lips and gold hoops with an outline of a woman with an afro in the centers.
The Community Is Close
As I walked into Afrokings and Ebony Beauty, a beauty salon store that also functions as a barbershop, it looked like an average black beauty supply store: wigs of all colors on shelves along the walls, different kind of hair textures used for braiding, jams and jellies for slicking back baby hairs occupied the center shelves, followed by combs, hard brushes, and do-rags. I was greeted by an older black man wearing all green African garments and a proud smile. He gave me full access to the barbershop located in the other section of the store. African men sat beneath old paintings, pictures of haircut options and an old Motions hair product advertisement, waiting for the only two barbers in the shop to cut their hair.
Nigerian-native Henry Ikuwozom has been cutting hair for about 8 years. He tells me about his experience in the shop.
In Germany, we have a little bit of lesser black people over here. In barbershop here, you can meet the different African countries with different histories. This is how it goes here," he says.
Like Holmes, Ikuwozom says that they, too, have a diverse clientele at their shop.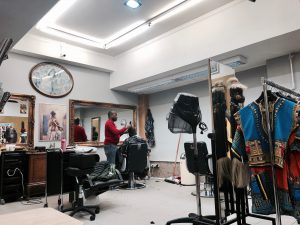 "White, black, female, whatever you call in human nature, we do it here," he says. "It happens in Munich. It's normal in Munich. The white people do the piece in the hair? Yeah, they do it here… Back there, I don't know over in the states, but in Munich, they do. This is different," Ikuwozom said.
Togo-native Michael Adabra was getting his haircut by Ikuwozom when I approached him for an interview. Adabra says that Ikuwozom has been cutting his hair for years and that he knows his schedule very well. He also says that people can come and stay in the shop with their friends for however long they'd like.
"When you have time you can stay. The owner of the shop won't ask you to leave. You can stay for a while and come back. If you have stress and you need somebody to talk to, you can come here," Adabra said.
Adabra says that the safety net aspect of the barbershop is alive in Munich, like it is in America, in regards to having each other's back in a time of need.
"Someone needed a home or house, he comes here and talks to the barber. Maybe you can find someone who has a house to give out. He talks to the barber. I have a home. In case you find someone, let me know. Then, many things you do, you go to the barbershop. It's easier. It's easy communication. You don't have to pay somebody to get like an agent to get most of things," Adabra said. Through the barbershop, you get it so easy," Adabra said.
After asking if there is any other shop in Munich he would go to besides Afrokings and Ebony Beauty, he responded, "In München, it's my place."
The Common Denominator
After all the analysis and interviews, I realized that the common denominator is community and comfort. People just want a place to go to let their hair down, whether it be for conversation or a hair cut.
Anaya Gibson is a fourth-year majoring in journalism in the Grady College of Journalism and Mass Communication at the University of Georgia.