From pumpkins to pillows and more, these 10 products will dress up your Thanksgiving decor and infuse your home with cozy vibes.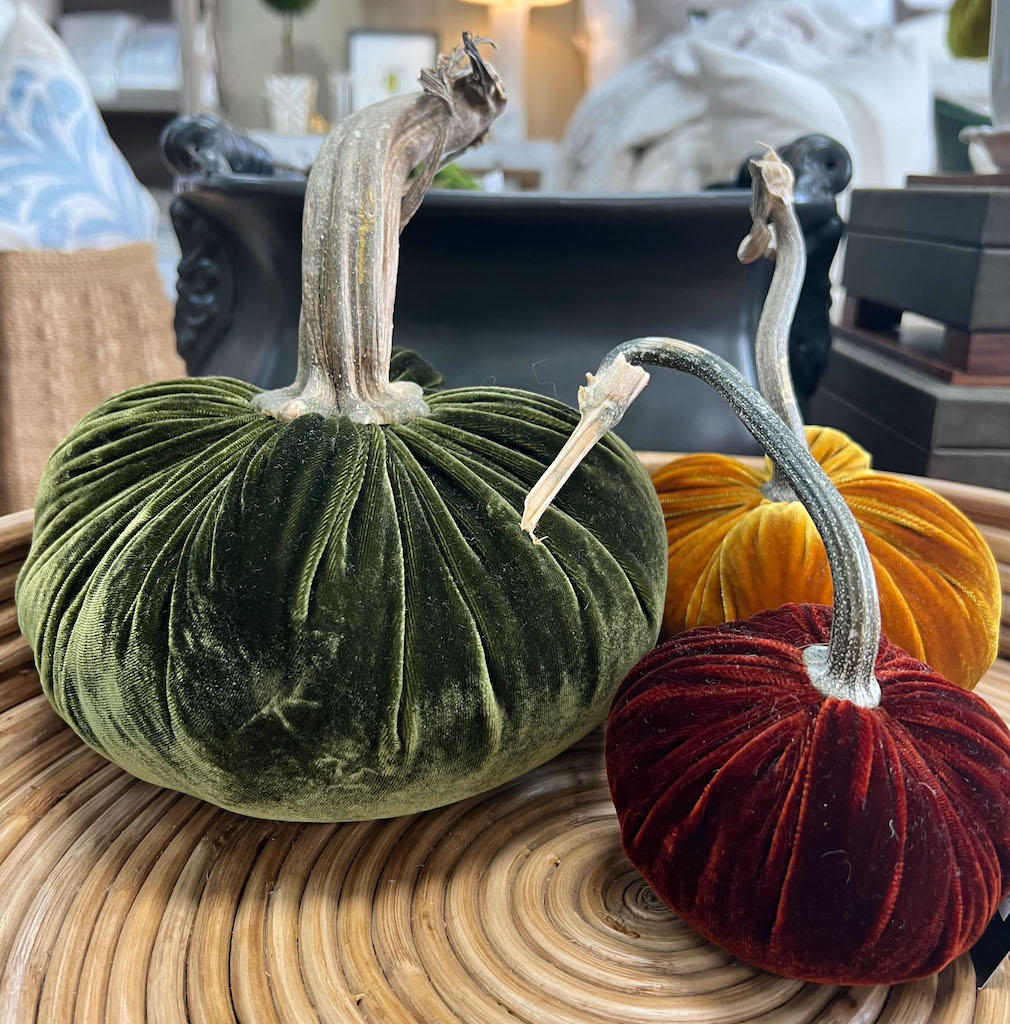 Silk Velvet Pumpkins
The warm colors and lustrous sheen of these pumpkins caught our attention — and could do the same when you have guests into your home. Autumn shades of moss green to rustic bronze cover these handcrafted pumpkins by Hot Skwash from Heery's Too. The faux pumpkins are filled with crushed hazelnut shells and topped with a natural, twisty stem. Swapping organic for couture, these velvety smooth pumpkins come in a variety of sizes, including 4 inch for $28, 5 inch for $38 and 8 inch for $58. —Megan Fitzgerald
Heery's Too, (706) 552-3886, 184 E. Clayton St., heerystoo.myshoplocal.com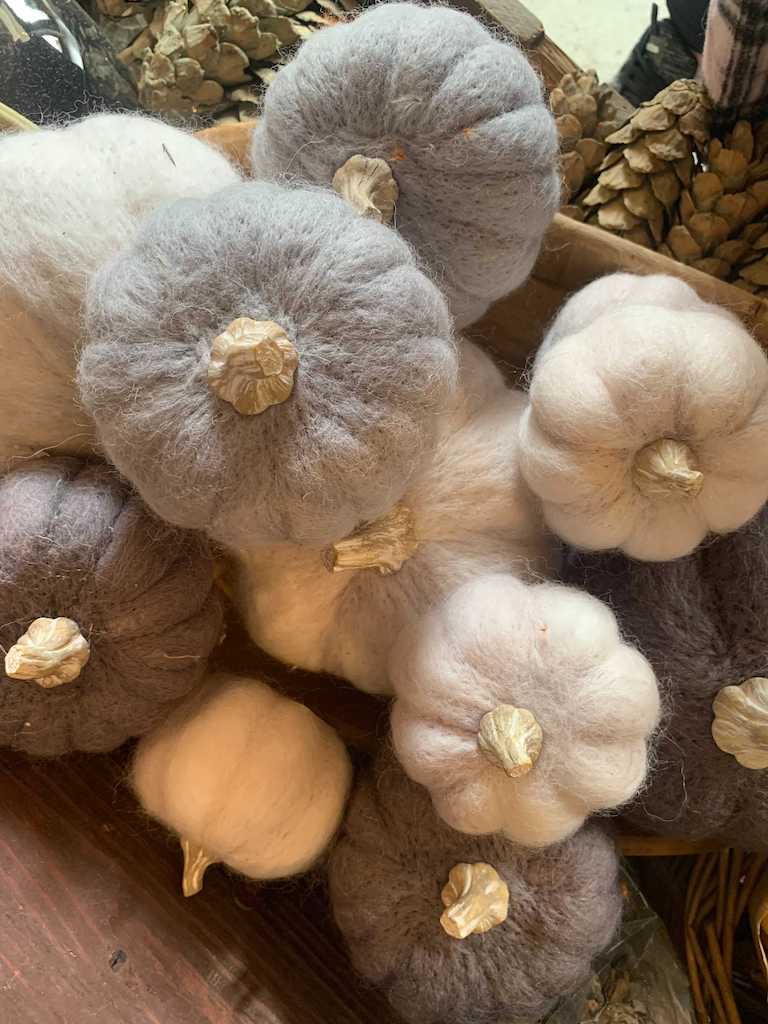 Woolen Pumpkins
The texture of these pumpkins will add charm to any table, especially when grouped together. The pumpkins are light and fit into the palm of your hand, so they are an easy addition to any tablescape without being overpowering. The color options allow for a neutral look or a pop of autumnal color. They range from $9-$11, depending on the sizes. —Christa Bugg
Epiphany Athens, (706) 395-6804, 294 W. Washington St., epiphanyathens.com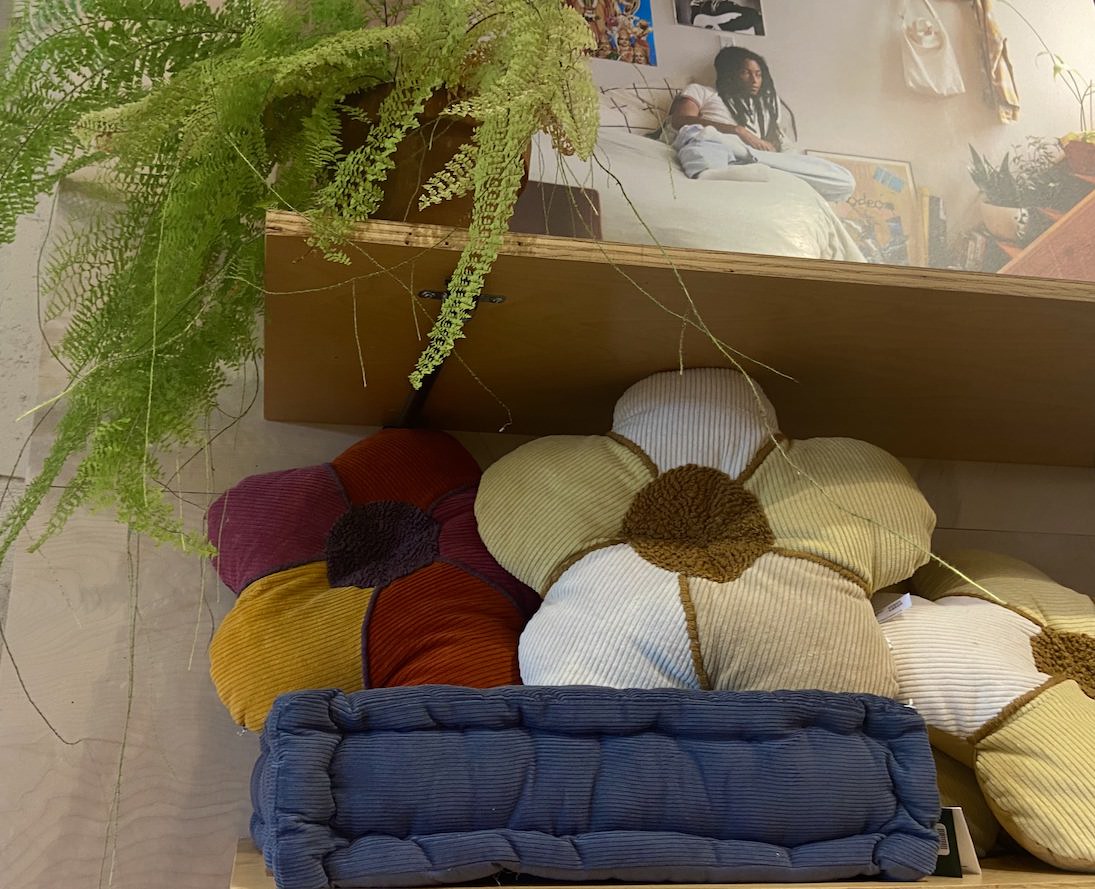 Corduroy Cushions
Pair these retro-inspired daisies with a few cloud-like floor pillows to create a warm and inviting seating space perfect for hosting for Friendsgiving or lounging around the fireplace. Practical yet fun, the oversized square silhouette of the floor pillow can help maximize your space while the autumnal hues of the flower pillows are inspired by the changing leaves. The Flynn Corduroy Flower Throw Pillow is $39 each, and the Washed Corduroy Floor Pillow, which comes in five colors, including blue, is $49. — Isabelle Manders
Urban Outfitters, (706) 227-6774, 155 E. Clayton St., urbanoutfitters.com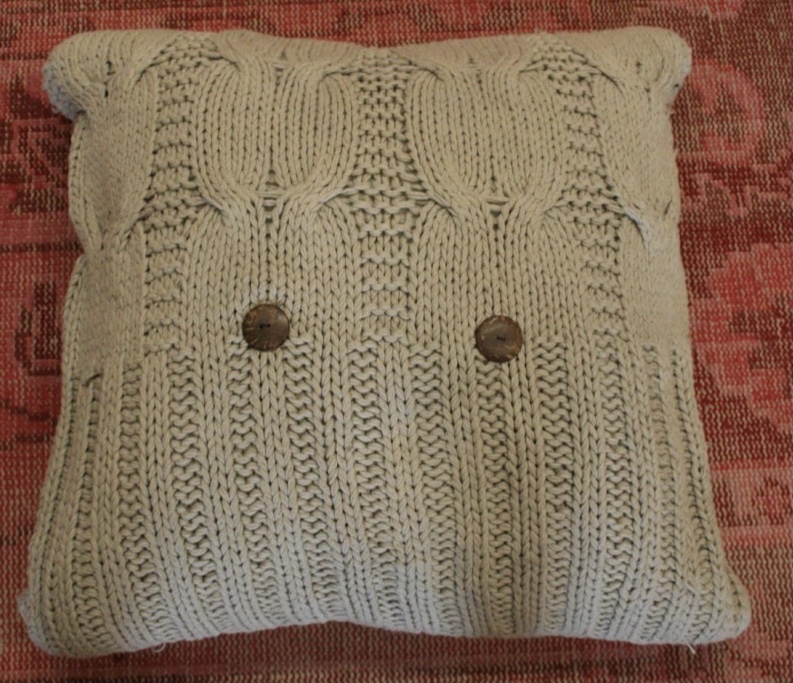 Gray Knit Pillow
Sweater season is upon us, so wrap up in your fall favorite and consider incorporating one into your home decor. This gray knit pillow embodies the staple sweater with cable knitting and two brown buttons. The tones match with any room's palette, adding the characteristic texture and coziness of fall decor. The $82 pillow, sized 24-by-24 inches, is a worthwhile investment because it can transition into winter decor. It also comes in a larger size, which could serve as a beanbag. —Emma Bennett and Caitlin Farmer
The Indigo Home, (706) 521-5441, 278 E. Clayton St., shoptheindigohome.com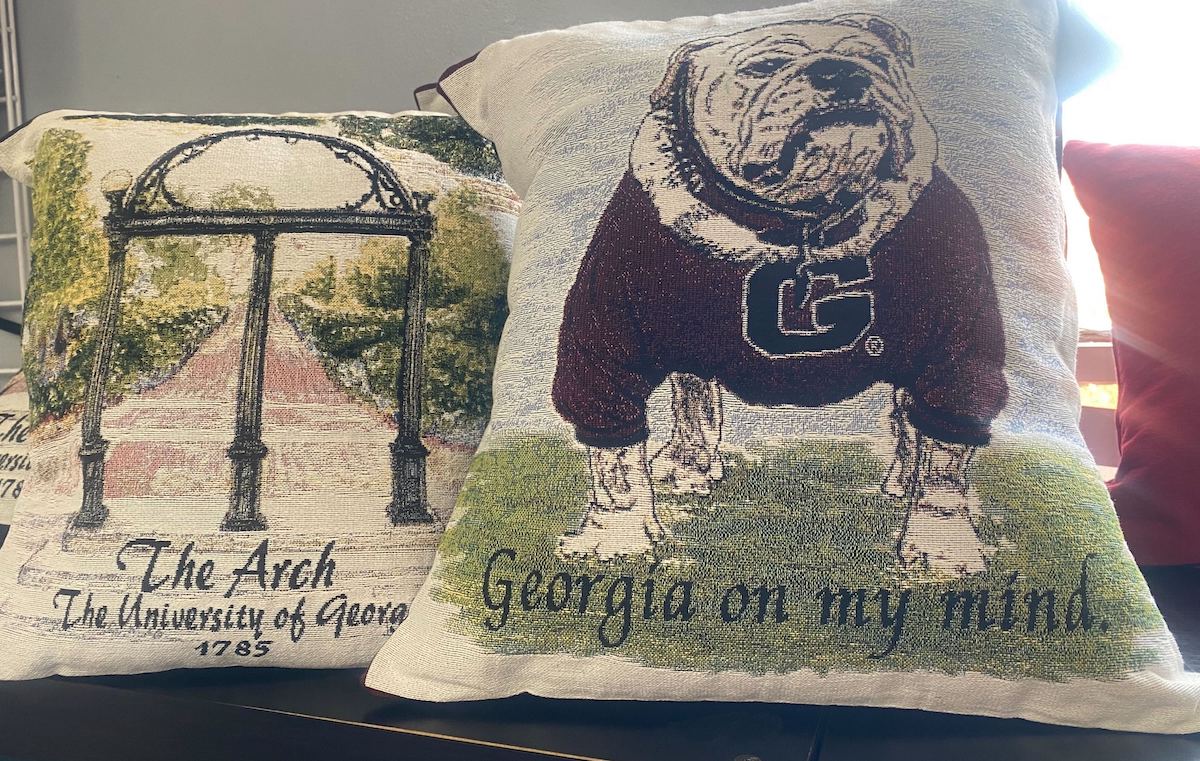 UGA Woven Pillows
Mix and match your pillows by adding a touch of school spirit. Fall season also means football season, and these 100% cotton pillows can combine your love of UGA and traditional decor. The 17-by-17-inch size makes it so the pillows don't overcrowd your sofa or chair. You can pair them together, one on each side of the couch, or use one and pair them with matching solids. Say hello to a new staple in your football fall home decor. Each is $59.99. —Sydney Hood
The Clubhouse, (706) 369-9541, 157 College Ave., ugaspirit.com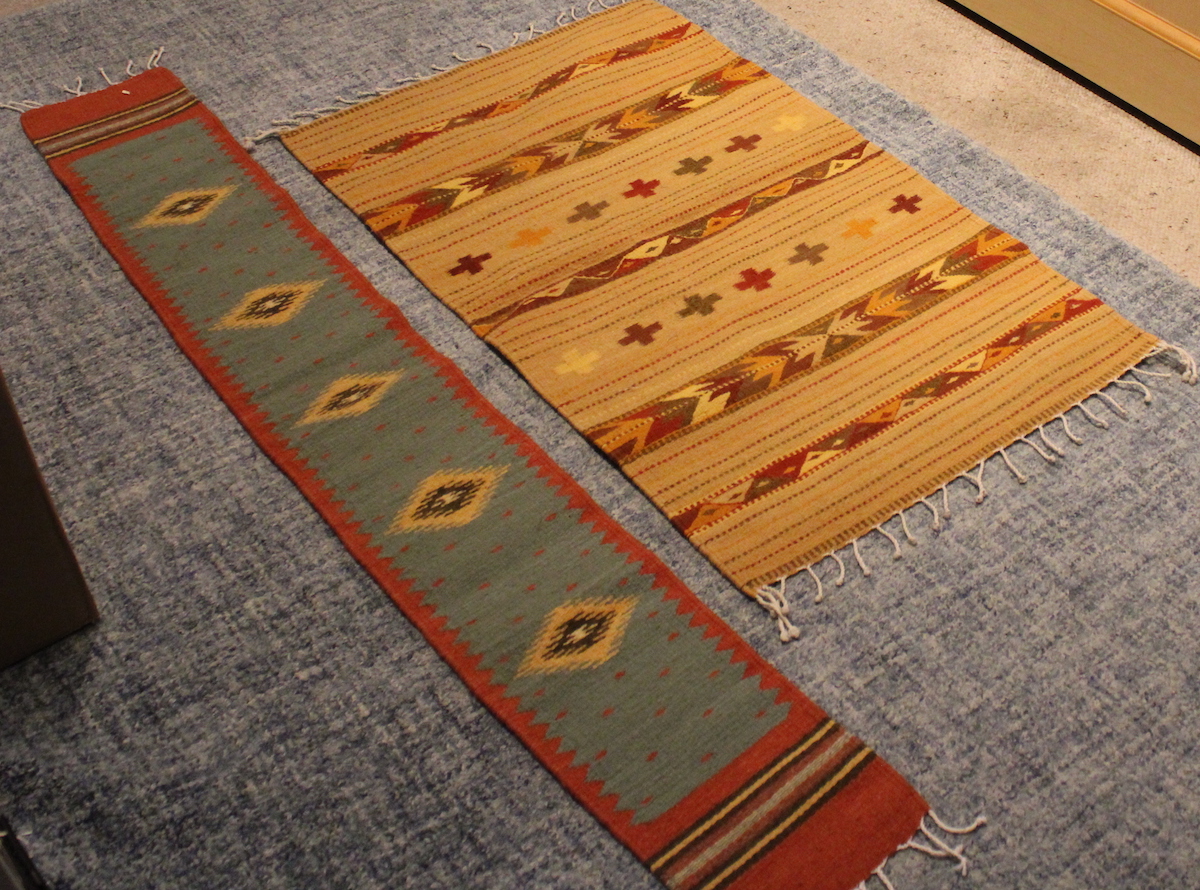 Zapotec Weavings
Freshen up your entryway or a room with these weavings from southern Mexico, which were created on a horizontal loom with numerous yarn spools. Their warm colors and fringed edges will add a homey feel to harsh surfaces, such as hardwood floors or tabletops. The rugs' intricate patterns can revitalize an ordinary space. Each sale helps support Zapotec weavers and the people who live in the Oaxaca Valley region. Priced for $120 and $149. —Alden Lisse
Native America Gallery, (706) 543-8425, 195 E. Clayton St., facebook.com/NativeAmericaGallery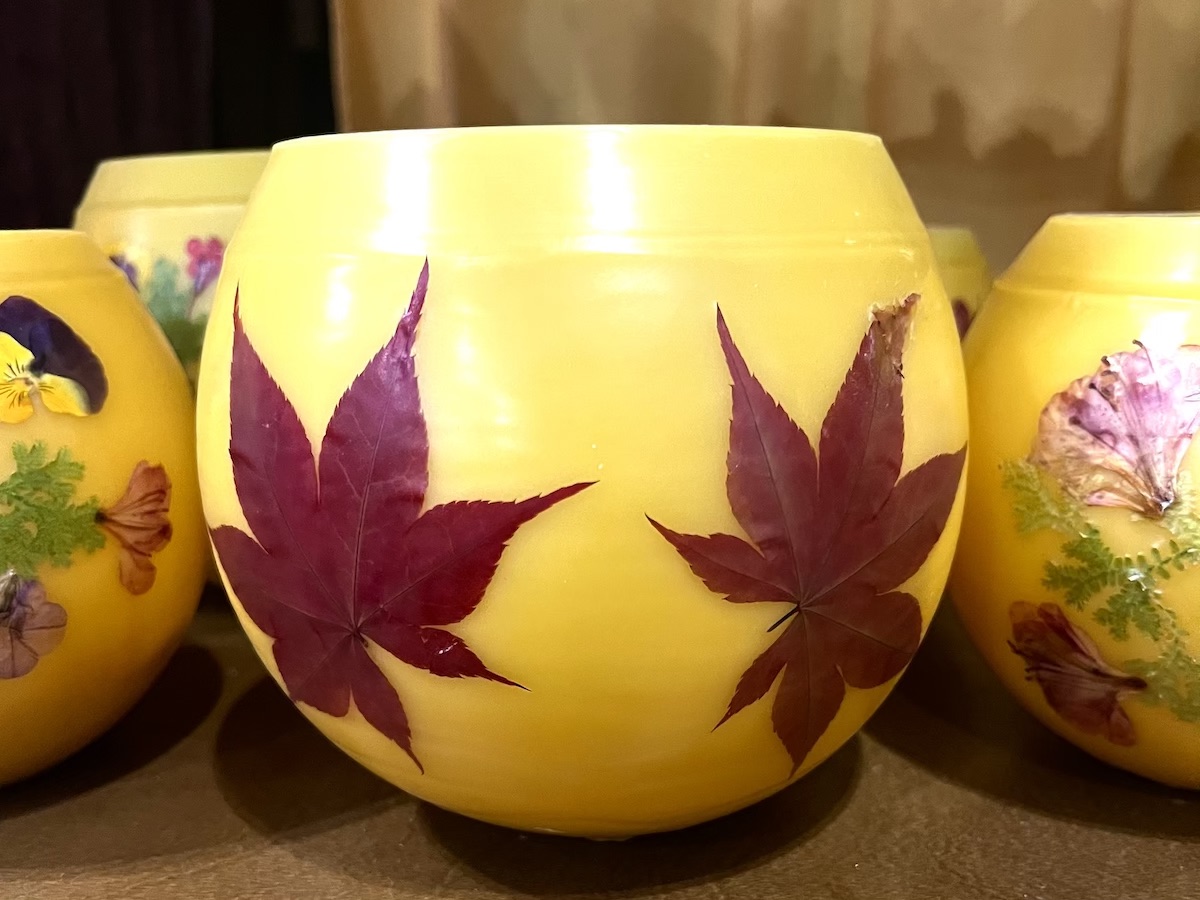 The Honeypot Luminaire
Enjoy the warm, peaceful glow from one of the Honeypot Luminaries, which are made by Bee Natural Studio in Athens. This 100% beeswax luminary — decorated with maple leaves — is lit up by the candle, promising to fill the room with a subtle honey aroma. The makers tout that these honeypots will last longer than regular burning candles. They come in two sizes, from widths and heights of 5 to 6 inches, starting at $51.95. — Peyton Jenkins
Bear Hug Honey Co., (706) 521-5855, 193 E. Clayton St., bearhughoney.com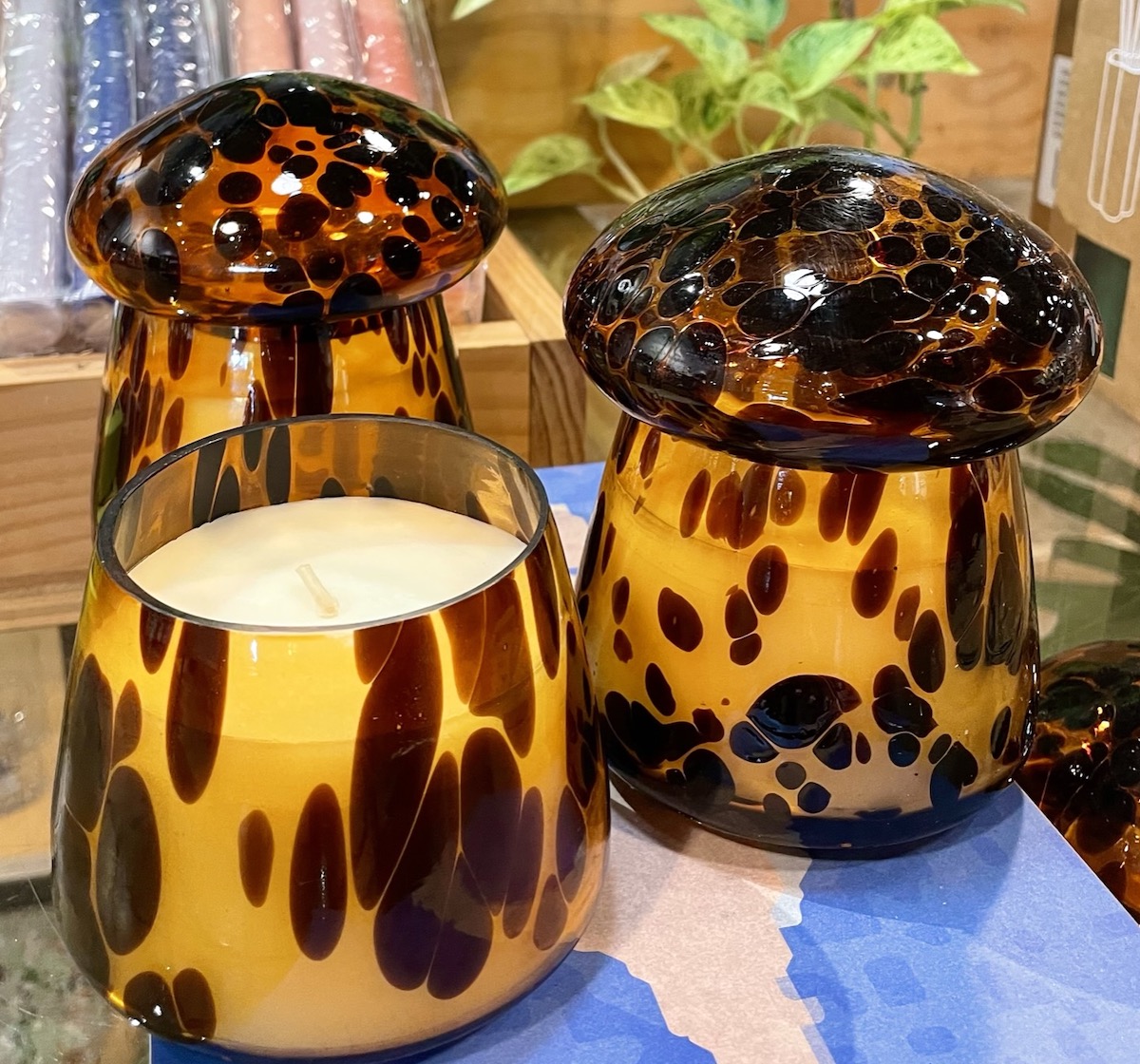 Mushroom Blown Glass Candle
The rich aroma of this blown glass candle invites autumn into any space it fills. The mushroom motif connects with an ongoing obsession of 'shroom-shaped items in the decor world. The tortoise shell pattern enhances a room's warm palette with hues of amber and black. With a removable glass lid, the nature-inspired vessel can be used as a multipurpose jar once the candle has burned away. $28 for the 9.5-ounce candle, which has a 47-hour burn time. — Lily Baldwin
Urban Outfitters, (706) 227-6774, 155 E. Clayton St., urbanoutfitters.com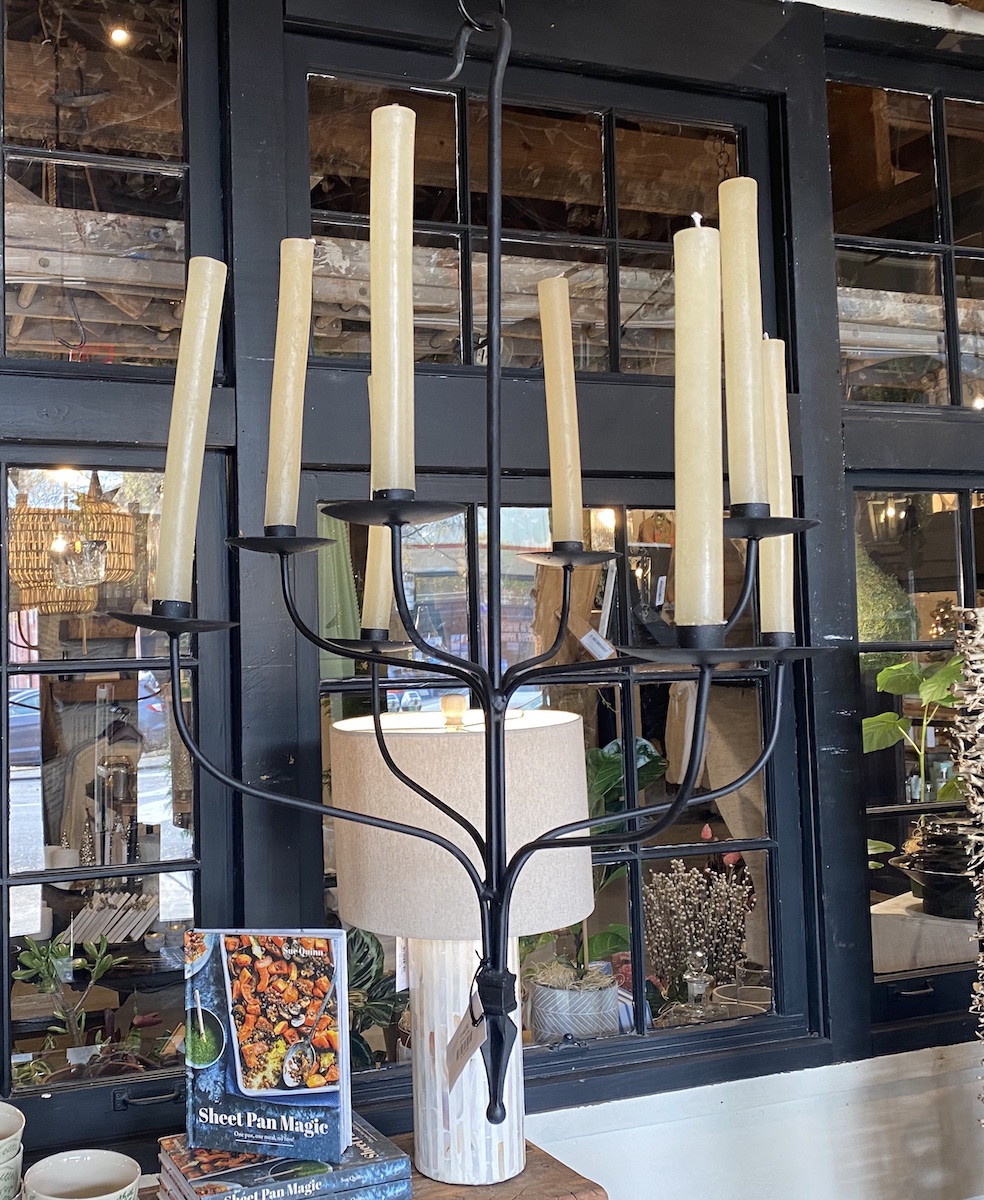 Hanging Candelabra
As the days grow shorter, making sure your home has the right lighting is crucial. This hanging candelabra serves as a unique counter to harsh overhead lighting. Add a dash of hygge to your space by hanging this over your dining table, just in time for a holiday meal, or even outside on your patio. For the ultimate coziness factor, lit taper candles can't be beat. But for a more practical (and potentially safer) option, you can find flameless electronic taper candles online. $146 in store. —Erin Kenney
Epiphany Athens, (706) 395-6804, 294 W. Washington St., epiphanyathens.com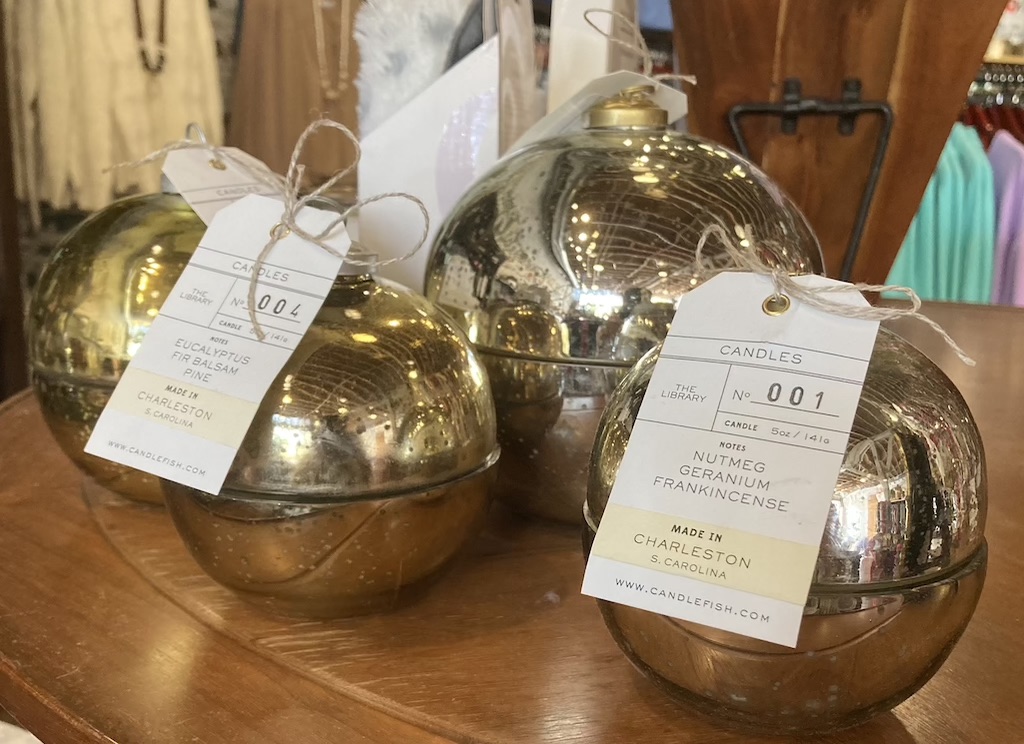 Ornament Candle
Transition into the December holidays with a candle that also doubles as festive decor. The ornament-shaped candle twists open and fills any room with two fragrance combinations: nutmeg, geranium and frankincense, or eucalyptus, fir balsam and pine. The 10-ounce candle is perfect for extended gatherings because it can burn up to 40 hours. Priced at $36, this candle also comes in 5-ounce and 15-ounce sizes. —Josh Talevski
Empire South, (706) 424-2467, 166 W. Clayton St., empiresouthclothing.com
Reporting and photos by journalism majors in Lori Johnston's home and garden writing class.