When artists set foot on The 40 Watt Club's stage, washed in hues of green and white, they bring with them more than beats and bars. They bring the baggage from recent headlines addressing another black child shot. They bring a fever for equity, reparation and for acknowledgement of the systemic oppression of people of color.
It's loud. It's aggressive. And it's political. For the hip-hop community in Athens, it's a movement, and the only direction it's going is up.
"To us, hip-hop is about more than just the music," music advocate and ambassador Montu Miller said. "It's a movement of minds to make our community better."
Why It's Newsworthy: The most recent political momentum fueling the collective hip-hop community in Athens was political advocacy in the form of voting. Voter turnout for the midterm elections was record-breaking, and the hip-hop scene in Athens rolled out its best to shatter the records for political activism.
It's a beautiful thing that's happening right now in Athens with the hip-hop community," Miller said.
A lot was on the line for the hip-hop community, and all of Georgia, in the midterm elections. If the Democratic candidate Stacey Abrams won the election, she would be the first black woman to be governor in U.S. history.
But this movement to get people to the polls was more than just to vote a black woman into office, it was to show the communities in Athens that their votes matters.
Reaching All-Time Heights
Voter turnout for the midterm elections was record-breaking across the United States. More than 47 percent of eligible voters cast their ballots in the midterm elections on Tuesday, Nov. 6, according to early estimates from the United States Election Project.
While just under half of the population may seem , unimpressive, compared to past trends, voter turnout for the midterm elections was the highest in 52 years. The last time voters turned out in such near record numbers was in 1966 when 49 percent of the population cast their ballots..
Voting gives you a voice, just like with hip-hop," Miller said. "This is why I encourage people to be politically active."
In Georgia alone, nearly 4 million people voted in the midterm elections, according to the Georgia Secretary of State website.
"It's very important for black people [to vote.] We don't vote enough because we don't feel like our vote matters. But it does," local rapper Squalle said. "That's where I come in. I want to inform people. So I'm using music for that."
Two Paths, One Goal
Leading up to the midterm elections and far beforehand, the hip-hop community in Athens overflowed downtown bars and venues, eager to use their platform to pinpoint and unpack social and political issues. This movement was backed by momentum from local politicians, some with roots in the music scene themselves.
Mariah Parker, Tommy Valentine, Tim Denson and Deborah Gonzalez are among some of the key political figures who have one hand in the hip-hop community and one hand in the politics of Athens through recent years, and worked as catalysts toward the merging of these two communities in Athens.
It's all working together as one to make communities together and that's what hip-hop has always been about," Miller said. "That's always been our battle."
Mariah Parker, who released t a self-titled album "Model Minority" in 2018 as Linqua Franqa, was recently elected Athens-Clarke county Commissioner of District 2 in May 2018. Tommy Valentine, a rapper-turned-politician, who has been rapping in Athens for more than a decade recently ran for county Commissioner of District 9 in the May primary elections alongside Parker.
Deborah Gonzalez and Tim Denson capitalized on the political engagement within the Athens hip-hop scene and hosted events during their campaign trails including hip-hop and Politics in April leading up to the primary elections and Turn Up The Vote in October leading up to the midterm elections.
Emerging Voices
Piggybacking off Squalle and other older musicians in the Athens scene, one artist in the Athens hip-hop scene in particular is making waves in several directions.
Kxng Blanco, a recent high school graduate, has been rapping about politics for a few years now and is beginning to lead the movement within youth in Athens.
Kxng Blanco grew up in the Nellie B community before moving to the west side where he lived in his first home. He first made music for entertainment, but when he realized people liked him more for his sound than his lyrics, he started getting more personal and weaving politics into his sound.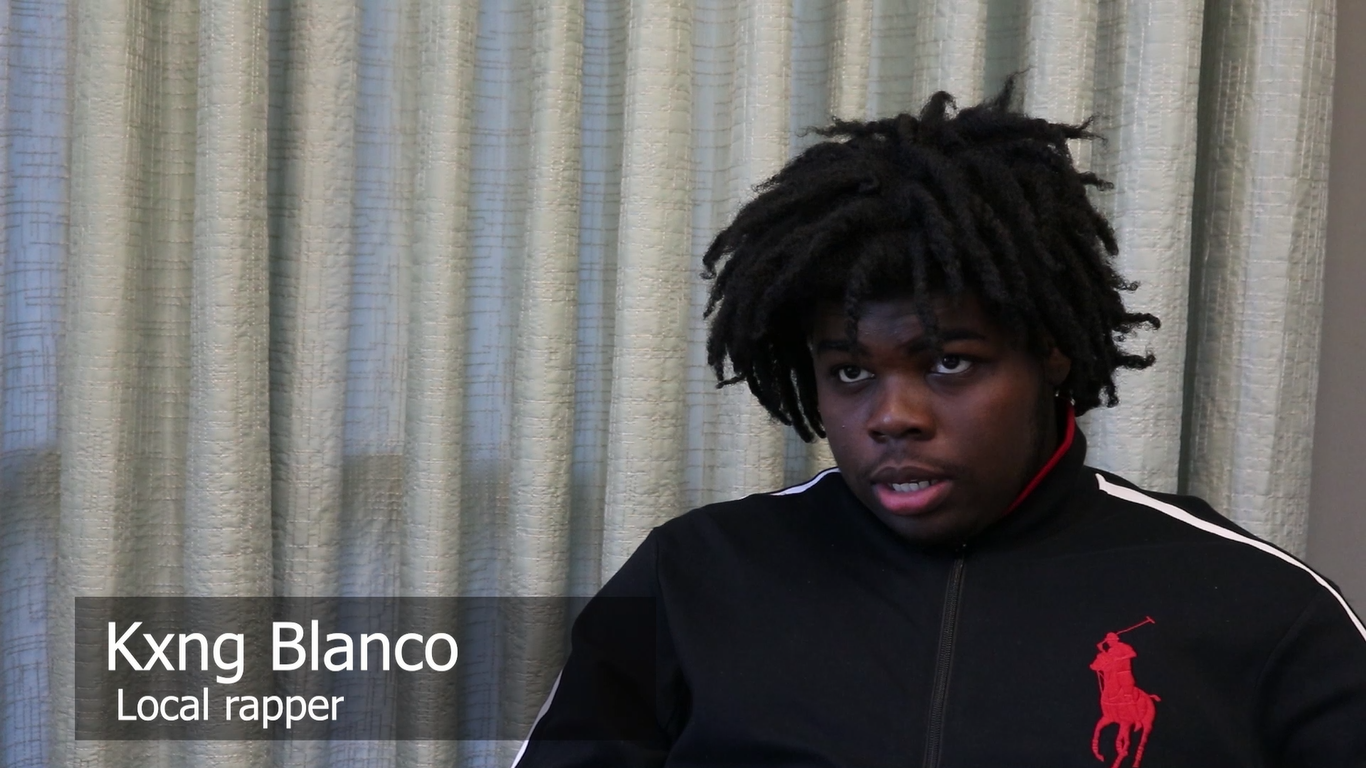 It started to gnaw at Blanco staring in the summer 2016. Every day, he would wake up, get on social media, and someone else would be dead. Police brutality was making headlines at a rapid speed, as attention was brought to the issue and social media began promoting transparency.
Seeing these headlines drove Blanco past social media and headlong into the studio. It pushed him to speak louder about issues in his songs, and propelled him into the political sphere.
Blanco began collaborating with local politicians like Denson, Parker and Gonzalez and when the midterm elections came around and Blanco was finally eligible to vote, he shifted his focus to one thing: voting.
Not just for himself, but for his peers and for the entire minority population in Athens, Blanco focused his energy on promoting both the importance of being politically informed, and the importance of showing up and using your voice.
While Blanco came into the music scene when hip-hop is commonly accepted, the fight for this acceptance was a long time coming.
Battling for Acceptance
Miller plays a large role in bringing the hip-hop community together and providing networking opportunities for emerging Athens artists.
He contributes the natural blend of politics into hip-hop back to the roots of where hip-hop started. hip-hop started from building something out of nothing, Miller said, and always fighting an uphill battle.
I'm trying to connect a lot of dots in Athens and make things better than they already are," Miller said.
Though politics were blended with hip-hop from the beginning, Miller said, politicians did not always accept this merge to be beneficial. In the 1990s, it seemed one thing both parties could agree on was that rap music went hand in hand with the destruction of American values.
In 1992, Republica Vice President Dan Quayle called rap music, specifically Tupac's first album "2Pacalypse Now," a disgrace to American music. The opinion of hip-hop in recent years has flipped upside down and elevated to a skyrocketed level.
Squalle said it was a natural marriage of hip-hop rising up to lead the movement for the minority wave making its way into political offices all across the nation. It just makes since, he said.
We used hip-hop to bridge to gap between the hip-hop community and the political community. It was successful," Squalle said.
Squalle uses his music to inform, to empower, and to bring awareness to issues that plague certain marginalized communities in Athens. Beyond that, he rallies black communities in Athens to use their vote as an amplifier to their voice.
"The movement isn't about a color thing, and that's what I've been preaching for years," Squalle said. "It doesn't necessarily have to be a black or white thing. It can be about what's right and what's wrong, what's true and what's false, and what's good for people as a whole."
Squalle followed suit, pushing the importance of voting and staying informed onto the younger generations in Athens. hip-hop, he found, was the primary way to get younger generations to listen.
Squalle presents voting as a way to speak without speaking. Because of the inequalities that people of color face, voting to Squalle is a way to even the playing field. Regardless of income, socioeconomic status or race, a vote holds the same weight from everyone.
"Even outside of just black kids, hip-hop is a very influential movement and it has been for a while now," Squalle said. "I don't know if people realize how powerful hip-hop is."
Blanco sees the hip-hop movement in Athens going in one direction: Up. He said most of the top rappers in Athens, if you hear their name, you hear it for a reason. They have a voice, they have politically changed opinions, and they are heard.
Maggie Holland is a senior majoring in journalism in the Grady College of Journalism and Mass Communication at the University of Georgia.