Early voting for Georgia's two U.S. Senate runoff races begins in less than a month. The winners of these races will affect Georgia's congressional representation, but they may also be the deciding factor in determining which party takes control of the U.S. Senate.
Congressional Control
Republican Sens. David Perdue and Kelly Loeffler are vying to keep their seats in the Senate, while facing Democratic challengers Jon Ossoff and Raphael Warnock.
Republicans currently hold 50 of 100 seats in the Senate, but they need a 51-seat majority to keep control of the chamber. Democrats currently have 48 seats and will need both Ossoff and Warnock to win their runoffs in order to force a tie-breaker vote for Senate control, decided by Vice President-elect Kamala Harris.
However, Georgia has not elected a Democratic candidate to a seat in the U.S. Senate in 20 years.
UGA political science professor and Senate expert Anthony Madonna said that if Republicans Perdue and Loeffler do get re-elected, it will be more difficult for President-elect Joe Biden and his administration to pass legislation.
"Proposals that might have a fighting chance are not likely to see the floor," Madonna said. "I think in the short term, a COVID relief bill, I have a hard time seeing one go through, at least one that is at all in line with Democratic priorities if Republicans hold these two seats."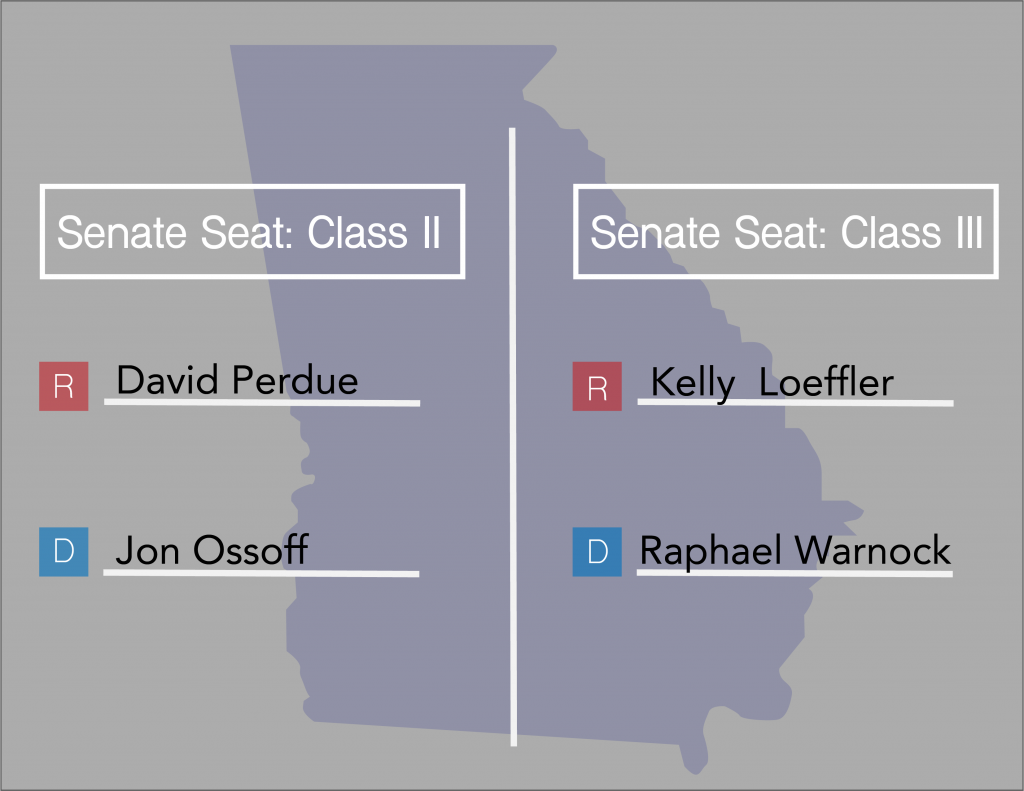 Right now, Democrats control the House of Representatives. If Republicans keep their control of the Senate, this would lead to a divided Congress where both chambers are controlled by different political parties. When Congress is divided, typically less legislation is agreed upon and approved, according to Madonna.
"When we're talking about things like how slow change is in a given area, a lot of that is because Congress isn't moving or Congress is divided," Madonna said.
The winners from Georgia play a big role in determining how the Senate is organized as a chamber as well.
Republicans keeping control of the Senate would also mean that a Republican senator would be the majority leader of the chamber. As majority leader, that senator would have leverage in determining appointments and nominations for independent agencies as well as components of the amending process, according to Madonna.
Voter Exhaustion
Senate candidates are still trying to secure voters in Georgia before runoff election day on Jan. 5.
Jon Ossoff made a stop in Athens on Nov. 13, one of several he made across the state ahead of the runoffs to try and rally support. His opponent, David Perdue, has not scheduled any public campaign events in the lead up to the runoff election.
Logan Crosby, a sophomore at UGA, is planning to support Sen. Perdue in the runoffs, but said he thinks Perdue may need to switch up his strategy if he wants to see turnout at the polls.
"He's got to change something at this point; he's either got to do some grassroots things or start doing rallies and trying to get people out," Crosby said. "People are like 'This is the fourth ballot I'm going to cast this year' and people are kind of starting to get worn out."
Crosby isn't the only one who thinks voters are getting burnt out. Mary Hunt, a graduate student at UGA, said she felt tired come Election Night, but hopes that people will still be motivated to participate in runoff voting.
"Even the push to vote and stuff is kind of getting worn out," Hunt said. "You can tell someone to vote so many times, and then you kind of hit like a peak, or it's just like beating a dead horse."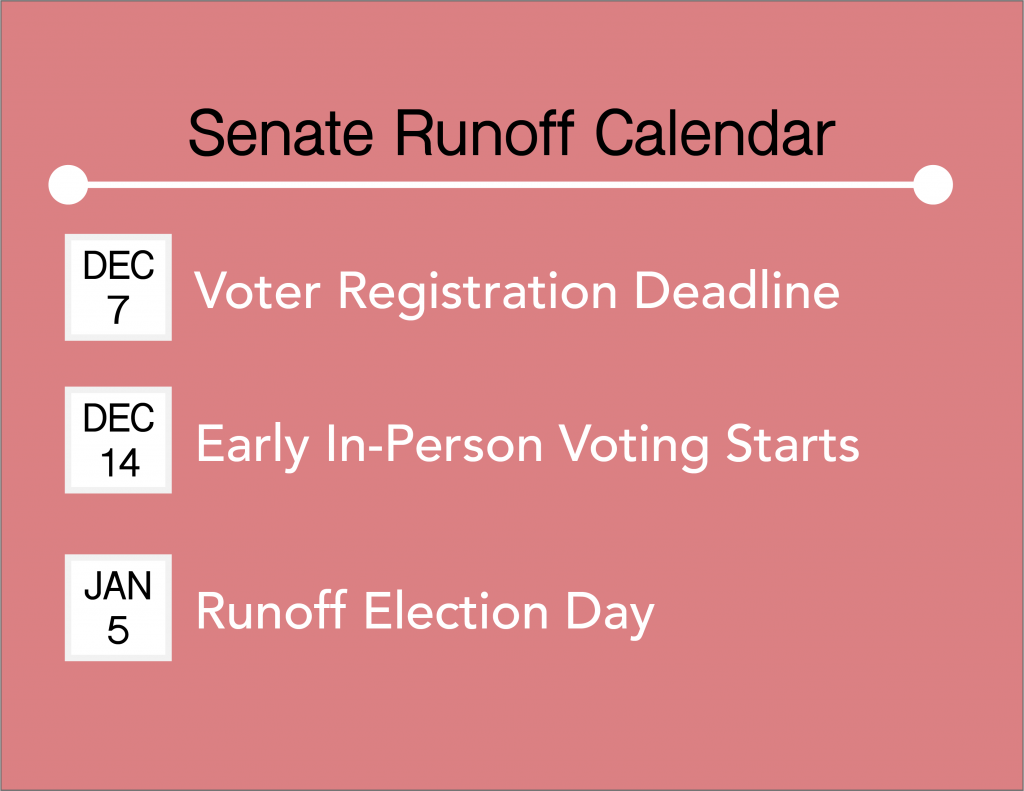 The deadline to register to vote in the runoffs is Dec. 7. To vote via an absentee ballot, voters should submit a request online at ballotrequest.sos.ga.gov.
While early in-person voting for the runoffs will start on Dec. 14, Taylor Potter, a senior at UGA, is still planning to vote via absentee ballot.
When it comes to proper voting procedures, Potter said this election cycle has shown her that more education may be needed.
"I think we need to have more of a talk even in colleges and in high schools about how to vote, when to vote, where to vote and in this time making it very clear, like a big red flashing button that says this is the absentee ballot application," Potter said.
Jillian Tracy is a senior majoring in journalism in the Grady College of Journalism and Mass Communication.