An unprecedented number of Georgians voted through absentee ballots in the June primaries — around 1.15 million, according to the Georgia Secretary of State's office. While historically, only 3 to 6% of Georgians vote absentee, in the primaries almost half of the total vote was accounted for by absentees, said Trey Hood, director of the University of Georgia's School of Public and International Affairs Research Center.
Of those record-breaking Georgia ballots that were returned, 11,975 were rejected across the state, according to the Georgia Secretary of State's Office. In Athens, the number was 141, according to Athens-Clarke County Director of Elections and Voter Registration Charlotte Sosebee.
For November, the Athens-Clarke County Board of Elections is expecting to receive around double the number of absentee ballots they saw in June.
"The numbers in June were triple what they usually got, even in a presidential year," said Elections Assistant for the Athens-Clarke County Board of Elections Lisa McGlaun. "We processed a little over 19,000 absentee ballots for June."
Why It's Newsworthy: With an unprecedented number of absentee voters expected in the upcoming election, making sure the process goes smoothly is critical. One way to expedite the process is ensuring you did everything on your end to get it there correctly and on time.
Why are Ballots Rejected?
A late ballot is one of many reasons why absentees are rejected. Beyond this, other common reasons are missing signatures and mismatched signatures. Nationally, there's a fairly even break between these top three sources of rejection.
A majority of rejected ballots in both Athens and Georgia were rejected for being late. Across the state, around 72% of all ballots were rejected for missing the deadline, according to data from the Georgia Secretary of State's office. In Athens, this figure reached 80%.
Compare Georgia and Athens to national data, however, and we're seeing an anomaly.

National data indicates that ballots received after the deadline attributed for around 23% of all rejected absentee ballots, whereas Athens and Georgia's numbers were both over three times as high, at 72% and 80%.
If you combine the national numbers for signature mismatches and lacking signatures, when combined, they make up almost half of all rejections, according to The Election Administration and Voting Survey (2016). If you do the same for Athens, mismatching signatures make up less than 5% of rejections, while missing signatures comprised around 14% in Athens. Together, this is less than a quarter of all rejections.
To make sure your ballot gets there correctly, and on time, here are some precautions you can take.
1. Timing is Everything
Ultimately, the best piece of advice is to request and return your ballot as early as possible.
"As soon as you get it… get it filled out, and send it back," McGlaun said.
There are a few ways to get an absentee application. You can go directly to your local election office and pick one up, or download one online and either email or mail it in to your local office. However you do it, election officials want to make sure you do it early.
The sooner you have your ballot or application in hand, the earlier officials can help you correct mistakes as you run across them.
"If you have any questions at all, stop and call the office, and we will help you make sure you get the information in the right spot," McGlaun said.
McGlaun said signatures are a common problem she sees, whether they're in the wrong place or don't match the signature the state has on file. However, there are rules that require election offices to contact you within a certain number of days to fix the problem, Hood said.
If you send in your ballot too close to the deadline, it might be too late to correct any issues.
2. Nitty Gritty of Filling It Out
If you haven't taken a standardized test in a while, think back to those days. Once you have the ballot in your hand, McGlaun says to treat it as such.
Take your time… just like school, follow the directions of what needs to be put into each block," McGlaun said.
There are multiple places to find instructions — on the envelope, on the page inside, and on top of the ballot. It might seem obvious, but following these directions to a tee is critical; a smudge or marking in the wrong place can cause problems that will delay the process weeks.
Beyond that, there are some other particular details to pay attention to when it comes to filling out your ballot. You may love colorful pens, but only use dark blue or black ink when filling in the ballot. While your instinct might be to put a check mark or an 'X' in the box next to your candidate, your vote won't count unless you fill in the box completely.
"Don't circle the person you want, don't put a check in the box, just completely fill it in," McGlaun said.
Signatures are a common issue with absentees. According to McGlaun, her advice is to only sign where it tells you to on the back of the envelope, and to make sure you sign legibly.
"If the back of the outer envelope is not signed, the office will have to reach out and figure out what went wrong," McGlaun said. "That ballot cannot be counted if it's not signed."
Finally, don't make any other marks on the ballot or manipulate it in any way. There are marks around the edge ballot that are used in the scanning process, and McGlaun says she's seen some ballots with them cut off.
"We've had all types of interesting things come through," McGlaun said. "Don't do anything interesting, just fill in the bubbles and follow the instructions for putting it in the inner envelope and signing the outer envelope, and then everything will be fine."
3. Getting It There
There are a number of options when it comes to returning your ballot, the first being returning by mail. If you're going this route, make sure you leave ample time to ensure your ballot arrives before 7 p.m. on Election Day.
"Mailing them in at least two weeks before the election is in your best interest," McGlaun said.
Once your ballot is in the mail, you can track your ballot through the Georgia My Voter Page. Once your ballot arrives at the county board of elections office and has been accepted, you can start tracking online, McGlaun said.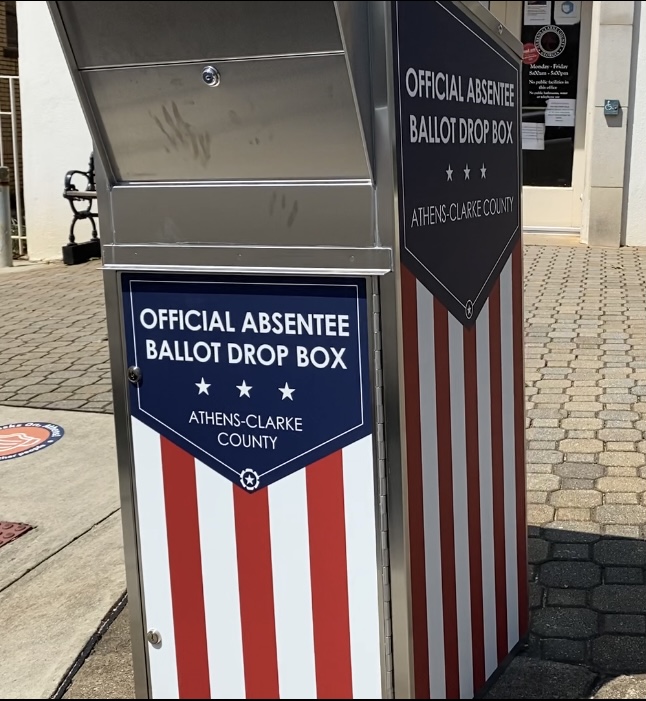 If you feel unsure about the mail, there are absentee drop boxes stationed around many Georgia counties in response to the pandemic.
These boxes operate on a strict pick up schedule, McGlaun said. Election county officials will go around the county to pick up ballots, and bring them directly back to the office to be counted.
If you need more peace of mind, you can always hand deliver your ballot to the local official at your local board of elections office, McGlaun said.
Why Does It Matter?
Charles Bullock, distinguished professor of Public and International Affairs at the University of Georgia, spoke to a class of journalism students on the political state of Georgia in the upcoming elections.
Georgia has the potential to flip not only the outcome of the general election, but also congressional elections, Bullock said.
30,000 votes in Georgia can change everything," Bullock said.
But, we now know more than one third of that critical amount was rejected in the primaries. With more absentee ballots expected in November, and possibly more rejections, getting the process right the first time is essential.
Lorna Ramage is a senior majoring in journalism at the Grady College of Journalism and Mass Communication at the University of Georgia.