A University of Georgia group is using Valentine's Day to stress the importance of healthy relationships.
Relationship and Sexual Violence Prevention, known as RSVP on campus, held their fourth annual Cocoa for Consent on Friday, Feb. 10. The student group usually provides support and resources to students seeking help after experiencing sexual violence, but this event is all about having fun and educating students.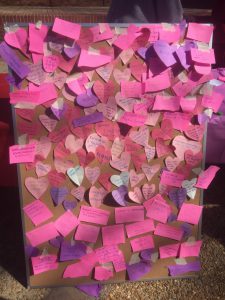 "In February, we like to celebrate love and healthy love. Right now relationships are on people's minds," said Nicholas Twinner, who was in charge of this year's event.
RSVP hosts events throughout the year, but Twinner believes Cocoa for Consent is especially important because relationships are already on everyone's mind in February. RSVP has the perfect opportunity to share what it takes to make a relationship healthy.
"I wanted to understand the connection between my life and violence prevention because it is such an important area of campus. It affects so many people and it is important to have people out here educating," Twinner said about why he joined the group three years ago.
At Cocoa for Consent, students received hot chocolate in exchange for completing activities intended to teach them about healthy relationships. In the first activity, participants listened to volunteers describe a situation and had to determine whether it represented a healthy or unhealthy relationship. Next students wrote what consent meant to them on pieces of paper in all shades of pink.
For members of RSVP, raising awareness about consent is the most important part of their mission. Their website defines consent as, "clear words or actions that are knowingly, freely and actively given, indicating permission to engage in mutually agreed upon sexual activity."
"Everything really involves consent: friendships, being a good roommate. Consent is all about communication, and that's key in all relationships," Twinner said.
Follow @GradyNewsource for breaking news and top stories.
By: Janie Bohlmann and Mary Carol Butterfield