Local organizations will be at the Kroger on College Station Road in Athens, Georgia, handing out food to those in need this Saturday.
While the time and place might be the same as the past few months, COVID-19 has changed the set up of the distribution.
Volunteers usually walk with the people who come to the mobile food pantry.
"We get to know them, we can find out what's going on in their lives, and pray with them," said Jeff Grant, co-founder and leader of iServe Ministries.
Now with social distancing recommendations, everyone stays in their cars and volunteers bring the food to the cars.
iServe Ministries hosts a mobile food pantry three times a month. On the second Saturday, third Tuesday, and fourth Saturday of each month, they distribute grocery carts full of food to families in need throughout Jackson, Banks, Barrow, Clarke and surrounding counties.
On the fourth Saturday of every month, iServe Ministries partners with the UGA Wesley Foundation to distribute the food. However, due to the closure of UGA's campus, many of these student volunteers are no longer in Athens.
iServe Ministries purchases a 48-foot trailer containing approximately 30,000 pounds of food through a partnership with the Food Bank of Northeast Georgia. The type of food varies with each load.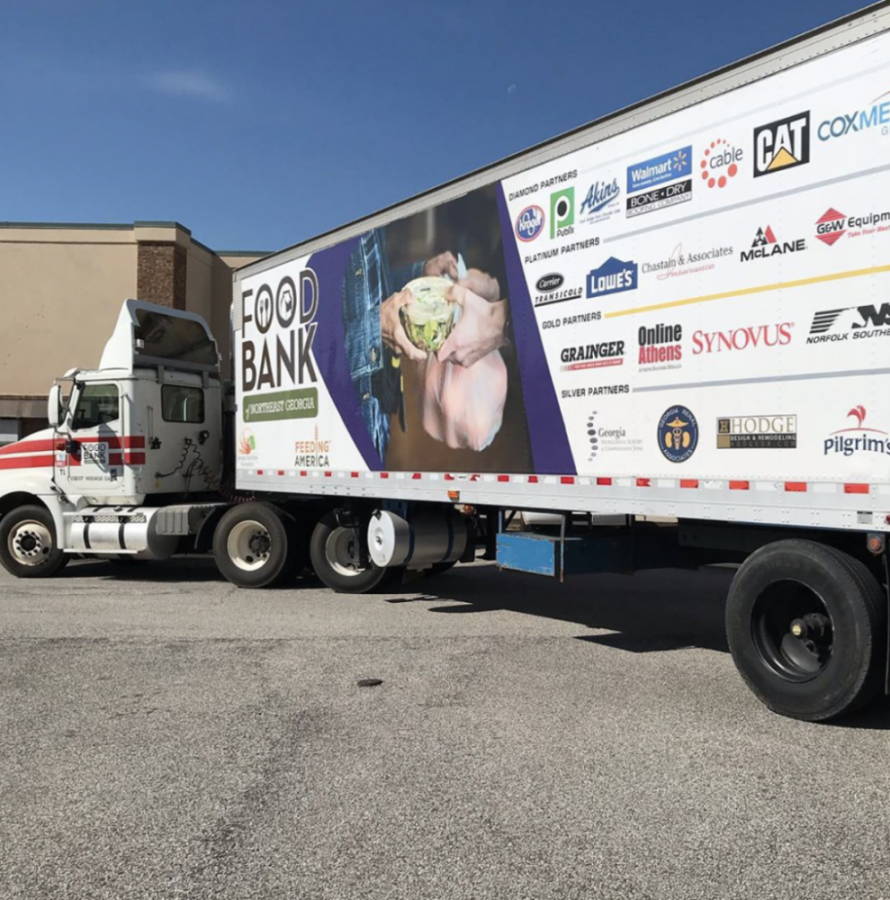 Last month, iServe Ministries served more families than ever before. They distributed approximately 98,000 pounds of food throughout the month. At the Athens location, they served around 400 families.
With the unemployment rate increasing due to COVID-19, the number of people served has increased as well. Earlier this week, they served 420 families at the Pendergrass Flea Market.
The mobile food pantries aren't the only way they distribute food. They also have a program called Bags of Love where they deliver boxes of food to families with children on the free lunch plan.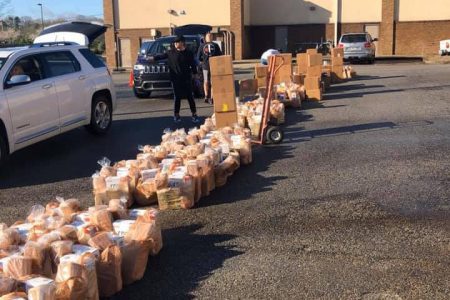 Despite some grocery stores lacking certain foods, there are no nationwide food shortages according to the USDA. Stores simply run low on certain inventory before they can restock.
The problem facing many Americans, and others around the world, is how to afford this food when they have no income. This is where services like the mobile food pantries can help alleviate some of the stress behind finding an affordable food source.
Grant said one of the best things is when they are able to distribute fresh fruits and vegetables. Those items tend to be more expensive at the grocery stores. People trying to save money will not buy these despite needing them for a well-balanced diet.
The only requirement to take advantage of this service is you must fall within the guidelines that the government sets for poverty. Approximately 14.3% of the population of the state of Georgia falls below the poverty line according to the U.S. Census Bureau.
Under normal circumstances, not only do they distribute food at these mobile food pantries, but they also have other resources available. They distribute free clothes, have stylists to give people hair cuts, bring in employers to help connect people with job opportunities, and even offer flu shots.
We try to make it a one stop shop. Just because they're in need doesn't mean they don't deserve respect. We're trying to give them a hand up and not a hand out," said Jeff Grant, co-founder and leader of iServe Ministries
iServe Ministries also partners with Lanier Tech to help connect people with the technical school.
"If we can change the lineage of one family and they can get a technical degree and a good paying job hopefully that will change the generational process they've been dealing with," said Grant.
Anna Catherine Alderman is a junior journalism major at the Univeristy of Georgia's Grady College of Journalism and Mass Communication.