First full day of investigation underway into Augusta-area plane crash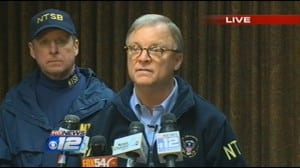 Thomson, Ga (GradyNewSource.com) – Federal investigators are beginning their first full day of investigating at the scene of an Augusta-area plane crash. A 15-member team from the National Transportation Safety Board is in Thomson following Wednesday night's crash, which claimed the lives of all five passengers onboard.
Archived radio communications and radar data is helping authorities retrace the jets path leading up to the moments where it missed a landing at Thomson-McDuffie County Regional Airport and attempted to return to the sky, according to NTSB Board Member Robert Sumwalt. The aircraft flew over a highway and adjacent factory before striking power lines.
The impact with the utility pole resulted in a blackout, which is what first sent emergency crews to the scene around 8 o'clock Wednesday, according to McDuffie County Sheriff Logan Marshall. The plane crashed into a wooded area behind the factory and caught fire.
Five witnesses who saw or heard the crash are telling their stories to investigators. Grainy and dark airport surveillance video, which captured a few seconds of the plane flying before the crash, is being sent back to NTSB headquarters in Washington, D.C. to be analyzed.
At the time of the crash, Sumwalt says the weather was clear and neither the airport, runway or aircraft appeared to show any signs of distress.
The jet's two pilots survived. Investigators from the FAA and representatives of the aircraft's manufactory are also on-scene.