One local sports organization expressed it was disappointed about the current renovation plan for Bishop Park. The third public input session for the plan was last night at the Bishop Park Conference Room. The session was held to get more community input before the plan is presented later this summer to the mayor and commission.
A few members of the Athens Area Pickleball Association say they really want to see pickleball courts at Bishop Park. Pickleball is a sport that combines badminton, tennis, and ping-pong. From a distance, the sport looks very similar to tennis. However, the surface is smaller than a tennis court, and players use a ping-pong paddle instead of a racquet.
The association currently has to reserve times at local schools, gyms, and other parks in order to play the game. The members say they think a court at Bishop Park would give them more opportunities to play any time they want. Reporter Alison Menhart attended this session last night and met with some members of the Athens Area Pickleball Association.
6:30 PM: Reporter Alison met the Athens Ambassador for the USA Pickleball Association, Ken Calkin (middle) and other members of the Athens Pickleball Association, Kathy Smith (left) and Camilla Mims (right).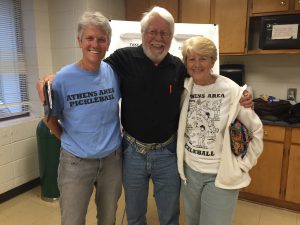 Ambassador Calkin says the association has been pushing for this for quite some time now, so the members were surprised when the court was not included in the plan.