COMMERCE, GA– At 11:06 a.m on Sunday morning, Commerce police received the news that a small plan had made an emergency landing on Highway 441.
The pilot, his two sons and a friend were flying a small, four person plane back from a Boy Scout convention in Charelston, SC to Gainesville, GA when the pilot realized something wasn't right.
"Just like police are trained to response to emergencies, I am trained to know when I need to make an emergency landing", the pilot, Donald Moffett said.
Moffett noticed that Highway 441 was beneath him and made the decision to land. He noticed a black pickup truck in the path of landing, but the pickup truck was able to move out of the plane's way and the pilot safely landed the plane without injuries to anyone.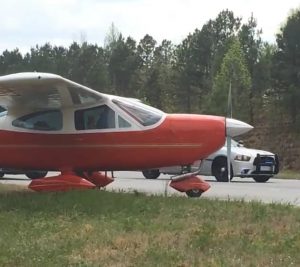 The plane was parked on the side of 441 for approximately three hours after landing. The Georgia Department of Transportation said the biggest problem with the plane is that it became a traffic, as people were trying to stop and take pictures. It was then decided the plane needed to moved.
The pilot was then able to put gas into the plane and get the engine back on, but he did not feel safe putting the plane back in flight. The plane was driven a mile and half to a field off of highway 59 where it will be dismantled and taken to Cumming, Ga.
When Moffett was asked about the landing he said, "I am mostly embarrassed but beginning to realize how blessed I am that no one was hurt". It wasn't all bad though– after all the excitement, Moffett was given a courtesy ride to Taco Bell.
Watch the entire story tonight at 5 on Channel 15 or catch the live stream right here.
Reporters: Emily Turk, Haleigh Hoffman