Inside a historic building in the heart of downtown Watkinsville, Tyler Jefcoat, the co-founder and CEO of e-commerce based Seller Accountant, works at his minimalist desk inside a brightly lit office, surrounded by various literature about finance and business.
Seller Accountant helps e-commerce sellers create an accounting plan for their businesses. The need for a national customer-base has given Jefcoat's business the ability to plant roots nearly anywhere in the country. Even with this freedom, Jefcoat chose Georgia as the home of his company, a state where 99.6% of businesses were small businesses in 2019. More specifically, he honed in on the Athens-Clarke County area.
The University of Georgia is making an effort to create entrepreneurs and innovators with the recently announced Innovation District; however, why should these innovators use Athens as the foundation of their businesses, as Jefcoat did?
Why It's Newsworthy: Silicon Valley is the trending area for technology entrepreneurs, so why are some choosing Athens instead of larger markets?
A Relaxing Lifestyle
Jefcoat and his wife moved away from Athens following his graduation from the University of Georgia in 2007 and lived in South Carolina for several years. Jefcoat returned and founded Seller Accountant in part because of the quality of life. For Jefcoat, the government's regulation of business and policies played no role in his decision to start a business in Athens.
"It's just kind of our speed. I'm not really interested in living in a big city if you don't have to. There are lots of people that own businesses in Atlanta or in Chicago that spend two hours a day on the road…and I walked here this morning," Jefcoat said.
The average commuting time for Atlanta citizens is around 31 minutes each way, a time slightly higher than the national average at 26 minutes, according to a survey by the U.S. Census Bureau.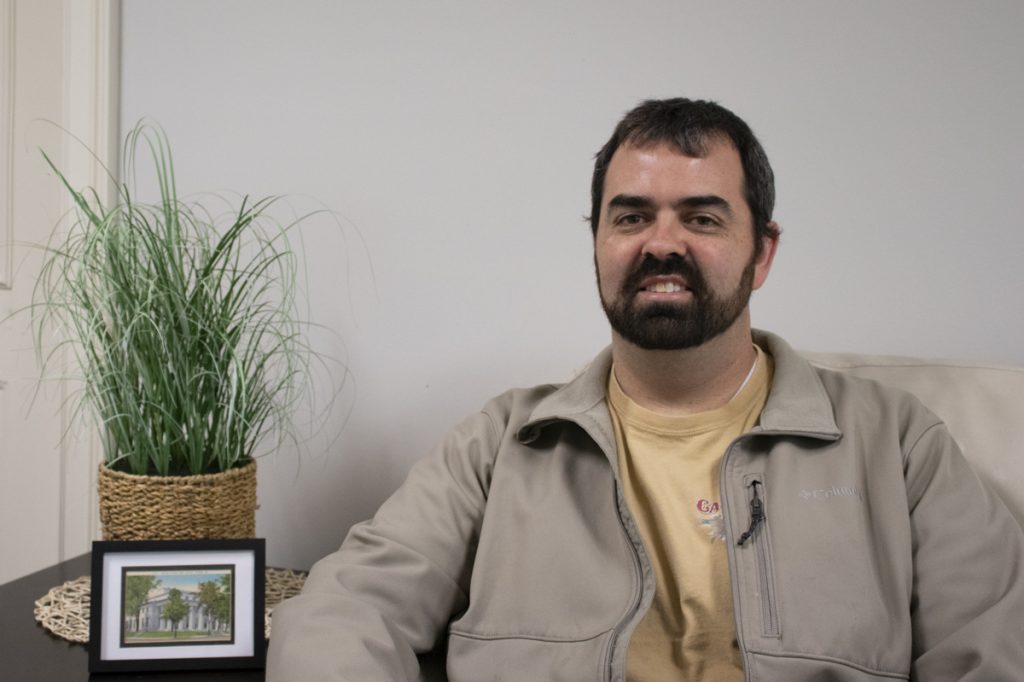 In the same historic office space as Jefcoat, Seller Accountant's other co-founder, Brandon Checketts, works on SellerLabs, another e-commerce company that he founded in Athens. SellerLabs helps Amazon sellers by providing useful tools, such as software to automate Amazon emails, to make their business more efficient.
Checketts decided to launch SellerLabs in Athens for similar reasons as Jefcoat. Checketts and his wife lived in Maryland until they took an online quiz to figure out where they should live.
"Athens ended up on the first page of our results. We came down and really fell in love with the southern hospitality of the town, and so we decided to move here," Checketts said.
Entrepreneurial Resources in Athens
Another reason that innovators choose Athens as a place to start their business is because of the plethora of entrepreneurial resources that are available in this area, said Michelle Nguyen, the interim director of the Athens Welcome Center and a co-organizer of 1 Million Cups.
At 1 Million Cups' weekly meetings, the organizers like to give Athens-based entrepreneurs a "space where people can be vulnerable about their business journey, about the obstacles, and the issues that they're facing right at that moment. Entrepreneurs, over a few cups of coffee, end up sharing a lot of good ideas and resources with each other," Nguyen said.
On top of 1 Million Cups, Nguyen also recommends UGA's Small Business Development Center and SCORE as places for entrepreneurs to fully realize their ideas. For example, SCORE gives newfound entrepreneurs the ability to make a connection with a mentor to ask for business advice.
Retaining UGA Alumni
Ashley Steele, the co-founder of Athens-based Borrowing Magnolia and Once Upon a Spark, said she does not know if young entrepreneurs and students are aware that Athens has these entrepreneurial resources.
Steele, a UGA alumna, speaks from experience. Steele said she lived in a bubble during her time at UGA, and had not fully recognized the number of entrepreneurial resources available in Athens that were unrelated to that university, like 1 Million Cups.
Even within UGA, the Innovation Gateway, which will serve as part of the backbone of the upcoming innovation district, estimates that over 175 companies have been created based on research at the university.
Steele and her sister, Cali Brutz, founded Borrowing Magnolia and Once Upon a Spark after moving away from Athens; however, Steele said she eventually returned to the city because of the sense of community, the great art and culture, and the innovation and energy present in the town
Steele is also the chairwoman of the board of AthensMade, another resource for entrepreneurs in the area that aims to accelerate entrepreneurship in Athens by collaborating with UGA and the local government.
AthensMade is taking the initiative to figure out "How do we build up entrepreneurs in the university, introduce them to the community that exists, and then have them plant down roots here?" Steele said.
Jim Flannery, a lecturer in the Entrepreneurship Program at Athens, said UGA is currently working on a program to encourage students to stay in Athens following their graduation.
"We are working to roll out an initiative that we're either terming a fellow program, or a founder and residence program. As people graduate they'll be able to stay and work out of our space, and get mentorship from us," Flannery said.
Austin Eller is a senior majoring in journalism in the Grady College of Journalism and Mass
Communication with the New Media Certificate and a minor in Japanese in the Franklin College of Arts and Sciences at the University of Georgia.