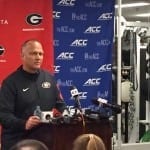 -MARK RICHT: Richt stepped down as head coach of the Georgia Bulldogs football team on Sunday. Learn more about what's next for Georgia football from live coverage from the Monday morning press conference and an in-depth look of how we got here. Here is a recap of the statement released by UGA J. Reid Parker Director of Athletics Greg McGarity. Take a look at the social media reactions to the news.
-GANG WAR: Two local, rival groups have moved from Athens-Clarke County to Madison County in a gang related war. Shootings started in Nov. 2014, and there have been three reported shootings this month.
-HOMICIDE INVESTIGATION: An ongoing homicide investigation for a woman found dead in a vehicle in Athens Saturday (Nov. 28, 2015) night. Breana Jerry Blackwell, 23, of Hartwell, Ga. was shot and left in a vehicle at the corner of Hawthorne Ext. and Brooklyn Rd. Police are seeking witnesses and others who may have additional information.
-WORLD AID'S DAY: Tuesday, Dec. 1 is World Aid's Day; there will be free HIV testing at the Tate Student Center on UGA's campus. The student group Safer Sex Ambassadors and AIDS Athens are partnering to provide AIDS testing via oral swab from 10 a.m. to 3 p.m. Results of those tests will be available within 20 minutes.