Athens-Clarke County often prides itself on being a community that values the environment and the well-being of its residents. This commitment extends to the food system, where local efforts are under way to ensure a sustainable future. There is a network of organizations that work together to prioritize locally-sourced food.
Students in the community spend time volunteering with various organizations to give back to the community and work to bridge the gap of food insecurity in the Athens-Clarke County area.
Why It's Newsworthy: University of Georgia student organizations continue to make an impact on the community with sustainable food systems.
Farmers Market Friends
Farmers Market Friends brings produce from the UGArden to campus on Wednesdays to provide students with sustainable produce options.
Students can use campus Paw Points to purchase the local produce and goods they have to offer. Paw Points are add-on campus dining dollars that are tax-free for students to use. This is not only supporting local agriculture but informing students about sustainable food options available to them. In addition to produce, they also have locally grown flowers, spices and pottery.
Farmers Market Friends president Clarissa Hane mentioned the immediate impact sustainability has on the state of the country.
"There is not a future without worrying about these issues now, and thinking about sustainability and the environment now," she said.
UGArden
The UGArden is another student-run organization that grows produce to donate back to the Athens community.
Supporting local farmers and embracing sustainable practices reduces the carbon footprint, promotes biodiversity and enhances the overall health of the community. UGArden practices sustainable techniques; these include crop rotation, drip irrigation and composting. All of these are organic farming practices.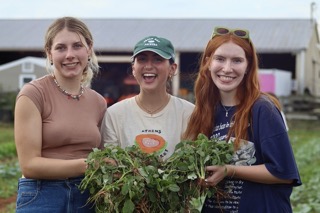 Liora McEvaney says there is an organization in particular that the UGArden serves.
"One of our biggest tasks is to partner with Campus Kitchen and help grow and maintain the collard greens for their Turkeypalooza event and which is their largest meal around the holidays, Thanksgiving mainly," she says.
Aside from the Turkeypalooza event, Campus Kitchens's partnership with the UGArden enables it to begin to bridge the gap of food insecurity in Athens. According to Feeding America, "The USDA defines food insecurity as a lack of consistent access to enough food for every person in a household to live an active, healthy life."
Ninety percent of the produce UGArden grows is donated to Campus Kitchen.
Campus Kitchen
Campus Kitchen's mission is to provide sustainable solutions to hunger and food waste. They run a weekly food recovery and redistribution mission to transform donated food into fresh meals for families in the community who are experiencing food insecurity.
Having access to fresh local produce from the UGArden and receiving various other donations from grocery stores, they are able to repurpose unused groceries. This allows for food waste to be decreased, while providing healthy locally-sourced meals.
Campus Kitchen's Program Coordinator, Andie Bisceglia, says they are one of a kind.
"I think what makes it unique in terms of hunger relief is that we're able to give fresh, the day after it's picked, produce to our clients," she says.
Throughout the week, they deliver meals to around 55 families, deliver produce for nine nonprofits, and prepare meals for the Advantage Homeless Day Center, the Bigger Vision Homeless Shelter, and have a drive-through food pantry at Covenant Presbyterian Church.
Limitations
There are several drawbacks surrounding efforts to address food sustainability. For instance, Hane says she feels there is a lack of knowledge surrounding this issue in the local community. Many people invested in sustainability are the same ones volunteering with organizations and buying from local farms.
Additionally, the reach that programs like the UGArden and Campus Kitchen have is limited. Unfortunately, they cannot serve everyone in the county experiencing food insecurity. There is a need for more donations, volunteers and awareness around the community to continue to grow these programs and reach people.
Another limitation is the fear people have of reaching out to get their food needs met. Bisceglia says there is a stigma around experiencing hunger that needs to be removed.
"There should not be any shame associated with experiencing hunger," she said. "It is not your fault if you are experiencing hunger. Reach out to find the help that you need."
Carmen Corley is a senior majoring in journalism in the Grady College of Journalism and Mass Communication at the University of Georgia.