Today the University of Georgia held a workshop on how to avoid controversial issues in the classroom. The UGA Center for Teaching and Learning believes the workshop is important to "make sure everyone feels welcome."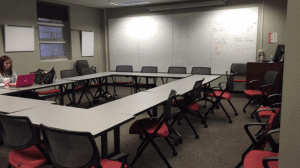 The issue some people have with this, however, is that it is similar to what was taught at the University of Houston when the campus carry bill was passed in Texas. U-H advised its staff to keep controversial issues in the classroom under control, to avoid tension in the classroom and possible threats from armed students.
Rachel Bowden, a UGA student, is concerned that the same thing could happen here.
"I think that if you bring guns and any kind of weapon into that kind of environment you're impeding the ability of people to learn, discuss different ideas, and just avoid any conflict."
However, Dr. Janet Frick, presenter of the workshop, believes the workshop is important even if the campus carry bill did not exist.
"There are always controversial or opinion generating topics that may come up in different sorts of classes. I don't think that the legislation that's being considered will have any impact on that, because I think you know how students at UGA , they're hear to learn."
Governor Nathan Deal has still not signed the Campus Carry Bill.
By Alexander Contreras