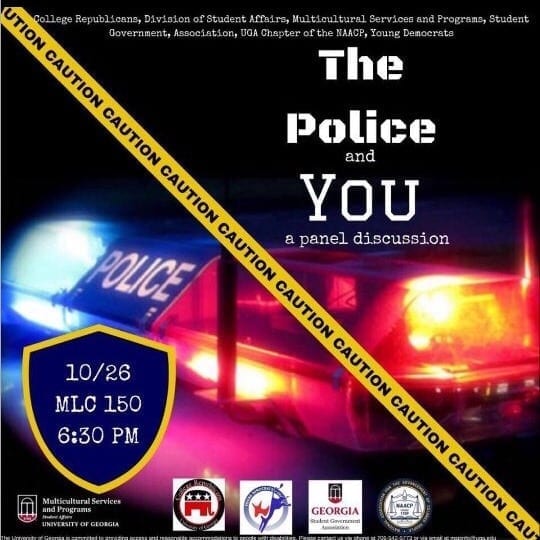 For those concerned about police brutality and race relations in Athens, you may have the opportunity to voice your concerns tomorrow at a panel discussion on UGA's campus.
The University of Georgia's Student Government Association, the UGA chapter of the NAACP, College Republicans, and Young Democrats are hosting an open panel discussion, "The Police and You: A Panel Discussion."
Issues that will be discussed include: the use of force, policies and procedures of using force, decision making, mental health and stress with law enforcement's encounters with the public, and the law. The audience will be able to ask questions to the moderators about these issues.
President of the UGA chapter of the NAACP, Mansur Buffins thinks that discussions like this will bring awareness to rising issues involving law enforcement.
"Society needs to look at the institution. Society needs to come together and realize that the institution negatively affects a certain demographic of people and has been negatively affecting a certain demographic of people. Realizing that and then working on what we can do with the institution, how can the institution be changed so that doesn't happen?"
The panel of moderators include Captain Daniel Silk of the UGA Police Department, Deputy Chief Justin Gregory of the Athens-Clarke County Police Department, Dr. Brian Williams of the School of Public and International Affairs, and Briana Clark, a student and former intern for the Department of Justice.
UGA student Courtney Taylor is attending the discussion and thinks it's important to hear from a diverse panel.
"I know in my community we all have a certain type of feeling and what we've been doing so far is talking to other people who look like us. I think it's important since this is an issue that we talk to people who don't look like us."
The panel discussion will be held in the Miller Learning Center room 150 Wednesday from 6:30-8pm.
What questions do you have for this panel? Let us know on Twitter! @GradyNewsource