ATHENS- The final witnesses were called to stand in the trial of former Athens-Clarke County Police Officer Christopher Burton.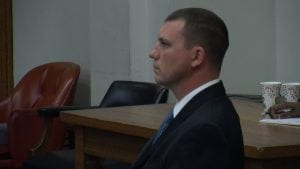 The state district attorney and the defense both presented their final arguments before jury deliberation began as Burton's family sat in the courtroom.
The defense argues that the crime is a combination of action and intent. Burton played no part in the physical action of the bribe itself, and even his intent as an alleged conspiracy cannot be proven by any direct evidence, the defense says. They claim Burton was making a joke to Palmateer about the bribe and Palmateer perceived it the wrong way. The prosecution argues that his actions do not imply that he was joking because of conversations he had with both parties before, during, and after the bribe took place.
The prosecution argues that they're not there to prove his motive or how/if he benefitted from the bribe. They're only there to prove he was involved. However, Burton's defense says that intent and motive do matter. They say that if he was saying something casually with no intent to set up a crime, then he wouldn't be a co-conspirator.
The prosecution likened it to two people being charged with armed robbery. One goes in with the gun, and the other goes in to get the money- but they're both charged. If someone drove them away, he would be charged too.
The prosecution says that Burton didn't have to sit there and tacitly say "let's do this," but he could have implied his involvement and encouragement. They say that this type of crime isn't just the action itself, but also the words used to plan and carry it out. They say his words and the intent that they were spoken with are his crime. The action was Anderson's crime. His words were a catalyst and without them the crime wouldn't have happened.
The defense argues that what he said wasn't a crime because you can't say he wasn't joking without a reasonable doubt.