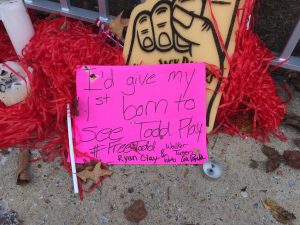 ATHENS, GA – Students at The University of Georgia are speaking out against the recent suspension of star running back Todd Gurley.
A candlelight vigil was placed outside of Sanford Stadium Thursday night with posters and notes for Gurley. One note in particular read, "gurley you're the best we've ever had #freegurley".
Another sign read, "I'd give my 1st born to see Todd play #FreeTodd"
An online petition was also started on the WhiteHouse.gov website asking the NCAA and UGA to cancel the investigation and to pardon Gurley.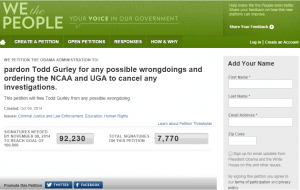 "This petition will free Todd Gurley from any possible wrongdoing," it read.
The petition had 7,770 signatures as of 8:00 P.M. on Friday.
Todd Gurley was suspended indefinitely from the UGA football team on Thursday. The UGA Athletic Association is investigating an alleged violation of NCAA rules by Gurley.
Other media sources have reported that it's likely Gurley accepted money for autographs. ESPN, Deadspin, SI and SB Nation have published articles about Gurley allegedly signing memorabilia for payment. However, there is no official confirmation from the university or its athletic association.
"There is currently a lot of misinformation about this matter in the public domain, and many pundits are offering opinions that are based on incomplete or erroneous information," UGA Athletic Director Greg McGarity said in a statement today.
Gurley is sixth best rusher in the nation with 773 yards in the five games this season. It is unclear when or if Gurley will be cleared to play. Gurley will not be with the team this weekend when Georgia Bulldogs take on the Missouri Tigers.