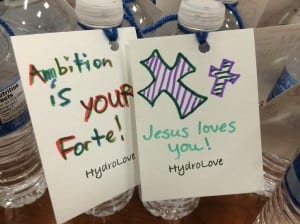 Athens – One group of UGA students goes downtown every Thursday night. But, these students aren't looking to party. UGA Hydrolove stands on the street corners of downtown to hand out water bottles to anyone and everyone who wants them.
Members of the group say they want to both show love to their peers and keep them hydrated. Reporter Jacob Moore spoke with members of UGA Hydrolove about how their organization is serving the community.
Members of UGA Hydrolove meet in the Tate Student Center on Thursday nights to write labels on the bottles before heading downtown to distribute them.
The group identifies as Christians. Leader Evan LaForge says their faith is why the members hand out water bottles. "This is a free gift to you," he said. "Just like God's love is a free gift to us."
On any given Thursday, there are anywhere between 15 to 40 people who write notes on labels, stamp them, and tie them to the bottles. The group then heads downtown to hand out the water.
Hydrolove sets up on a streetcorner and gives the water to anyone that wants it. Some people accept it, and others just walk by.
But LaForge says that simply being downtown is part of their goal. "There's not a lot of things that socially say, 'Hey, you should go and do this,' because it's actually going against the grain here at UGA," he said.
Hydrolove hopes that the impact of their ministry will expand beyond just one night a week. LaForge said, "We want to show people that there's so much more than just short term pleasures. There's eternal love."