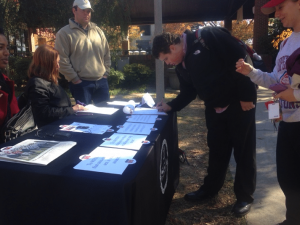 Athens, GA – Students at The University of Georgia are pledging to take a stand against sexual assault on campus. There have been 74 reports of sexual assault by UGA students in 2014. This is the most reported cases of sexual assault at UGA.
Besides the alarming number of sexual assault cases, UGA has received reports of 61 rapes and 14 sexual battery cases. UGA Police Chief Jimmy Williamson believes that this record amount of sexual assault reports does not necessarily mean that the numbers are rising. Instead, he believes that more people are reporting the cases.
UGA is teaming up with It's On Us – a national initiative to combat sexual assaults on campus this week through events like self defense or bystander training. It wants to teach people how to prevent these situations from even happening.