Legislation aimed at restricting the sale of flavored electronic cigarette liquids could potentially force local vaping retailers to close their doors.
In the wake of increasing underage electronic cigarette use as well as a string of deaths and illnesses related to vaping, lawmakers across the country have begun to take action to solve the problem.
In October, two Georgia lawmakers announced plans to introduce legislation aimed at vaping, possibly including measures such as a flavor ban. This follows a national trend of states such as Massachusetts and New York introducing similar legislation.
Why It's Newsworthy: The electronic cigarette industry has grown exponentially in the past decade, and is set to be worth over $47 billion by 2025, according to a study by Grand View Research. However, legislation in response to the health risks of vaping could affect the industry's growth and leave thousands of workers and manufacturers out of work.
Earlier this month, the popular electronic cigarette company Juul announced they would have to cut 500 jobs amid the proposed legislation.
What Do Local Vape Stores Have To Say?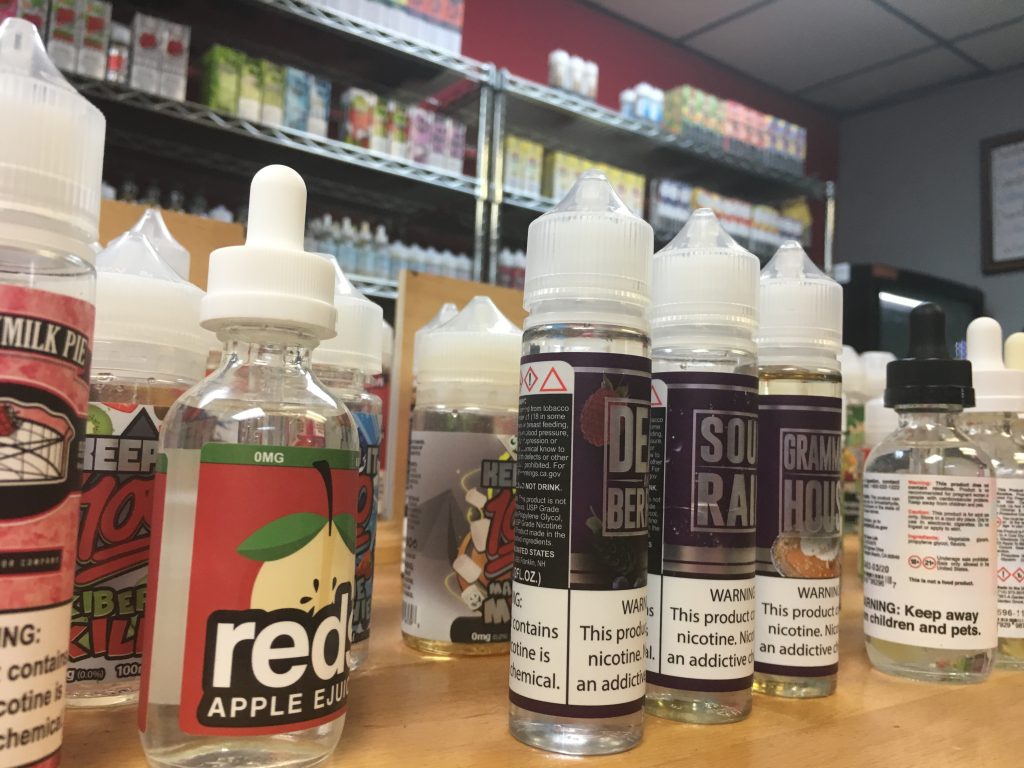 Employees and managers of several Northeast Georgia vape shops said that legislation restricting the sale of flavored vaping products would drastically affect their sales, and possibly even drive them out of business.
"It would ultimately drive us into nonexistence," Jake Boling, manager of Big Bang Vape Company on West Broad Street in Athens, said.
Boling said that along with flavored vaping products, his store sells electronic cigarette devices and tobacco products as well as cannabidiol (CBD), the legal, non-psychoactive component in marijuana.
However, Boling said that the majority of their sales come from the flavored vaping products, and that if they had to stop selling them, their inventory would shrink from about 150 options to just one.
Boling, a former cigarette smoker who used electronic cigarettes to quit, said that while he understands the reasons behind the efforts to ban, its results would ultimately harm those trying to switch to a healthier habit.
"They say the flavored juices cater more toward children, whereas people who are under the age of 18 aren't even allowed in the store," Boling said. "It would destroy our business because the people who actually come in are looking to better their lives by quitting smoking."
Though they haven't yet been approved by the Food and Drug Administration as a smoking cessation tool, there is evidence that vaping exposes users to less toxic chemicals than traditional cigarettes.
What is causing the illnesses?
Epic Vapes in Winder, Georgia, has been in business for five years. Chad Griffin, an employee at the store, said that a bill banning the sale of vaping products would negatively impact their business.
"It would affect us a lot," Griffin said. "We're mainly a vape store, so we don't have anything else to fall back on."
Griffin also said that the use of illicitly purchased products containing THC, the psychoactive component in marijuana, is a commonality among reported cases of vaping-related illness and death.
The graphic below offers some facts about the recent spike in health issues related to vaping.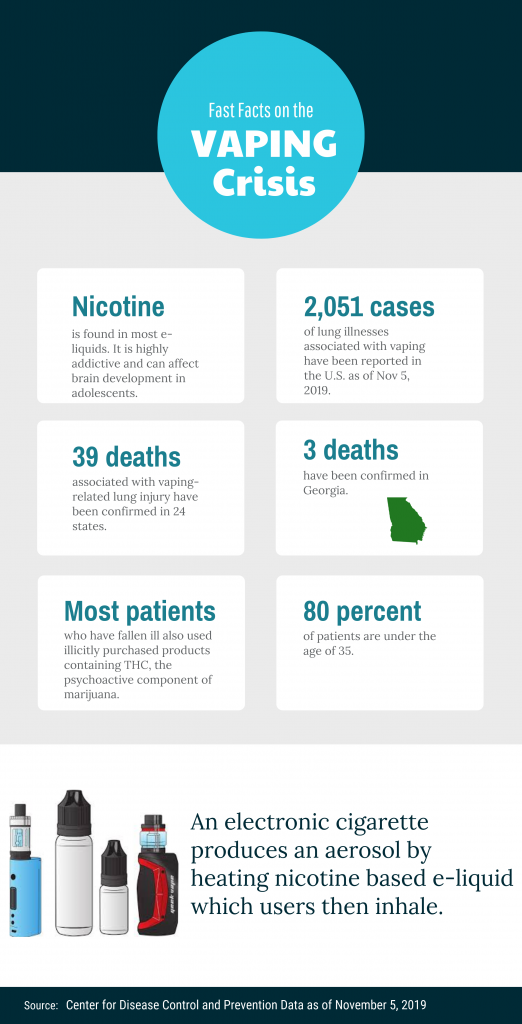 The Centers for Disease Control and Prevention said that black market THC products are largely fueling the rise in illnesses and death, which is why Boling said that distinguishing between what is sold in vape stores from what is bought off the street is important. However, the CDC has recommended that consumers cease using all vape products altogether, since there isn't one specific element linked to all cases of illness and death.
"Some kids don't know what they're getting themselves into," Boling said. "These black market cartridges aren't labeled like the products in a store."
While some of these vaping retailers say regulation will restrict the sale of an effective smoking cessation method resulting in more people smoking traditional cigarettes, such a claim may not be true.
"Vaping tobacco has been shown to lead to smoking. Therefore, the idea that increased vaping regulation will lead to more smoking may not be true," Sanjay Sethi, a University of Buffalo College of Medicine professor, said.
Sethi pointed to black market THC products the main culprit behind the recent e-cigarette, vaping product use associated lung injuries (EVALI).
"Because the majority of the EVALI deaths were related to unregulated THC products bought from unlicensed vendors, regulating the licensed vendors may have little impact on that problem," Sethi said.
Boling said that the future of his business is uncertain, but he expects to see more efforts to regulate the vaping industry moving forward.
"I could see it getting a little more strict," Boling said. "Keeping people safe is obviously important. What we sell currently doesn't harm people, but if anything it's a step forward in harm reduction."
Connor Foarde is a senior at the University of Georgia pursuing a degree in journalism and a minor in Spanish.