ANNOTATION INSTRUCTIONS: When you see a light red highlight, click on the small comment box to the right to read the reporter's annotation.
OCONEE COUNTY, GA — While the Athens community cheers on the Dawgs for the first game of the 2018 football season, other residents will participate in opening day of dove hunting season.
Jacob Nash, who oversees the South Fork Hunting Preserve in Madison County, says his crew is preparing to host 150 shooters from all over Georgia and surrounding states.
"Right now they're haying the property and they've already laid the seed down. So they're coming in now and raking everything up, and then bailing it right after that," Nash says. "What that does is it cuts the grass and everything down all the way to the ground so the [doves] can easily come in and eat all that seed that the plants have on them."
The Oconee County Sheriff's Office is preparing in its own way.
The sheriff told Grady Newsource reporter Caroline Elliott his office experiences an influx of calls about gunshots this time of year.
"Opening day always generates a lot of calls," Sheriff Scott Berry says. "Of course we try to respond to those calls, but if people know what they're experiencing, what they're hearing isn't criminal activity, we're hoping that will lessen the amount of calls we get."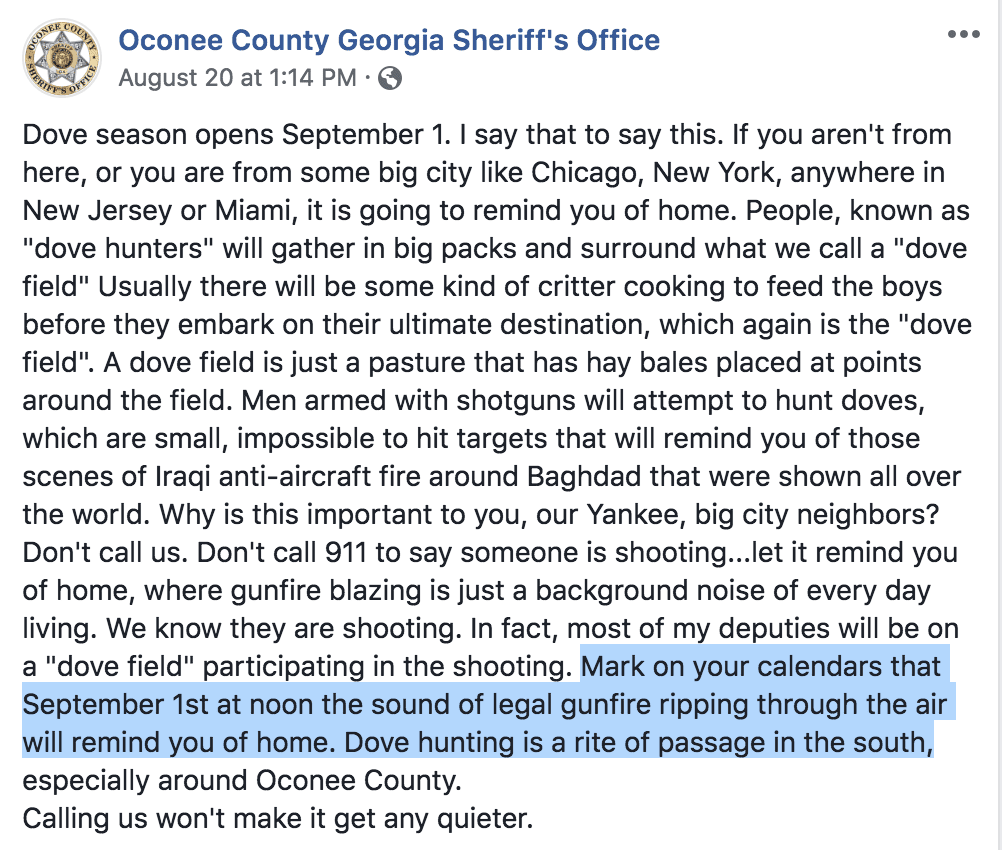 The Sheriff's Office also shared a statement on Facebook, warning the public of "the sound of legal gunfire ripping through the air", encouraging the community to not report gunfire if they hear it.
Nash says neighbors surrounding the range are used to the sound of gunfire.
"Around here, especially opening day of dove season, people know there's gonna be shots fired," Nash says. "You hear gunshots going off all over the county, and people see that as normal, they know what's going on."