Rashe Malcom, small business owner of Rashe's Cuisine in Athens, said she was disheartened after being denied access to funding from the Coronavirus Aid, Relief, and Economic Security (CARES) Act.
"I am not just sitting around saying 'oh, they ran out of money,' but I got an actual denial, and I still to this day do not know why I got denied," Malcom said.
Under the CARES Act, small business owners can apply for funding with the Paycheck Protection Program and the Economic Injury Disaster Loans/Grants. The intent is to help business owners maintain their payroll and other expenses during COVID-19.
Malcom put in her paperwork for the Economic Injury Disaster Loan Advance and met all of the criteria. However, the demand for the funding was greater than intended. She expected to receive a $10,000 loan advance that would not have to be repaid even if she got denied.
"After they got millions of applications, the SBA (Small Business Administration) said they meant up to $10,000. Now, you can only get it if you get approved," she said.
Why It's Newsworthy: The Athens community thrives on the support of its many privately owned businesses, which are now facing uncertainty due to COVID-19. Over half of U.S. small businesses have already laid off employees and reported that they already closed or could close within a few weeks.
Since the outbreak of COVID-19, many businesses have increased numbers of unemployment. The Bureau of Labor Statistics conducted surveys on unemployment last month.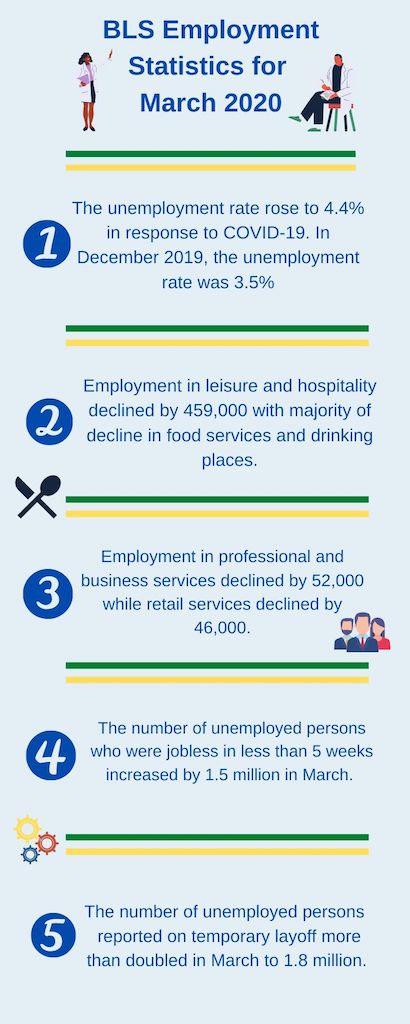 "This (CARES) was specifically developed for us, but they tell me that I can't get that either? It is a little unsettling as a small business when you know that larger businesses that are not hurting and will not hurt after this are being funded and we're not," Malcom said.
The U.S. Small Business Administration said they will continue accepting Paycheck Protection Program applications for the additional funding provided by the new COVID-19 relief package starting April 27. Also, Economic Injury Disaster Loans will be processed on a first-come, first-served basis.
After her denial, she searched for answers.
"When I called the SBA to ask them, I was told that they were trying to figure out why I got the denial," Malcom said. "They say that you have 90 days to appeal, but if I don't have the reason, and I have to wait for them to send it to me, then when does my 90 days start?"
For Malcom, her restaurant is not just a business, but it is also her home. She does not want to lose it.
"I don't know. I'm upset," she said.
With the support of the Athens community, Malcom has been able to sustain her business. She receives information about assistance programs from her community. Private citizens are creating funds to help hospitals and local restaurants.
The love of my community is what keeps me going," Malcom said.
Malcom wants to do all she can to be a productive citizen and work with her community.
"If it wasn't for the fact that I live in Athens, a community that believes in coming together, then I wouldn't have a business. I wouldn't be able to come out of this at all," she said.
She is still grateful for the opportunity from the CARES Act, even though she did not get approved.
"I understand that they are getting in more applications than normal and the odds are slimmer," said Malcom. "I understand all of this is new to them and hopefully this teaches us as a nation, especially our government, that we need to think about things before they happen. As a country, we need to be forecasting."
Although the CARES Act is a great start to protecting small businesses, Malcom said there is still room for improvement.
Amber Smith is a senior majoring in journalism in the Grady College of Journalism and Mass Communication at The University of Georgia.