After more than a month-long investigation, a spokesperson for the Athens-Clarke County Police Department said an arrest has finally been made in connection to a string of car break-ins and identity fraud cases that occurred in early March.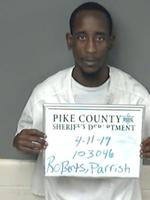 Police say 26-year-old Parrish Roberts, a Florida resident, was arrested in Pike County, Alabama, last week for possession of burglary tools. He has 30 warrants out for his arrest in Athens-Clarke County as well.
According to Geoffrey Gilland of the Athens-Clarke County Police Department, Roberts broke into at least nine vehicles on March 2. All of them were parked in public areas like Bishop Park, Ben Burton Park and St. Joseph's Church.
Gilland said Roberts and an unknown accomplice used a rental car when breaking into cars and stealing purses containing credit cards and personal checks. According to a news release distributed by Athens Police, "these stolen checks were forged and cashed at banks throughout Georgia and neighboring states."
Police said Roberts engaged in "Felony Lane Gang" activity. It's when criminals use the outermost lane of a bank's drive-thru to cash stolen checks. According to Gilland, the outermost lane generally only has one security camera, therefore making it easier for individuals to conceal their identity when engaging in illegal activity.
"They can use that lane with the possibility of not being readily identified, as opposed to when they go to the first lane in a drive-thru, they have to have to personal interaction with an individual," Gilland said.
Roberts' 30 charges include nine counts of entering auto, 11 counts of identity fraud, and 10 counts of financial transaction card theft.
Sydney Heiberger is a senior at the University of Georgia pursuing a bachelor's in journalism and a minor in sociology.