The Georgia Department of Transportation and the Federal Railroad Administration are taking public comment on three proposed high-speed rail routes from Charlotte to Atlanta, with one of the routes passing through Athens, Georgia. The Georgia DOT created an Alternatives Development Report recommending the three routes for further analysis.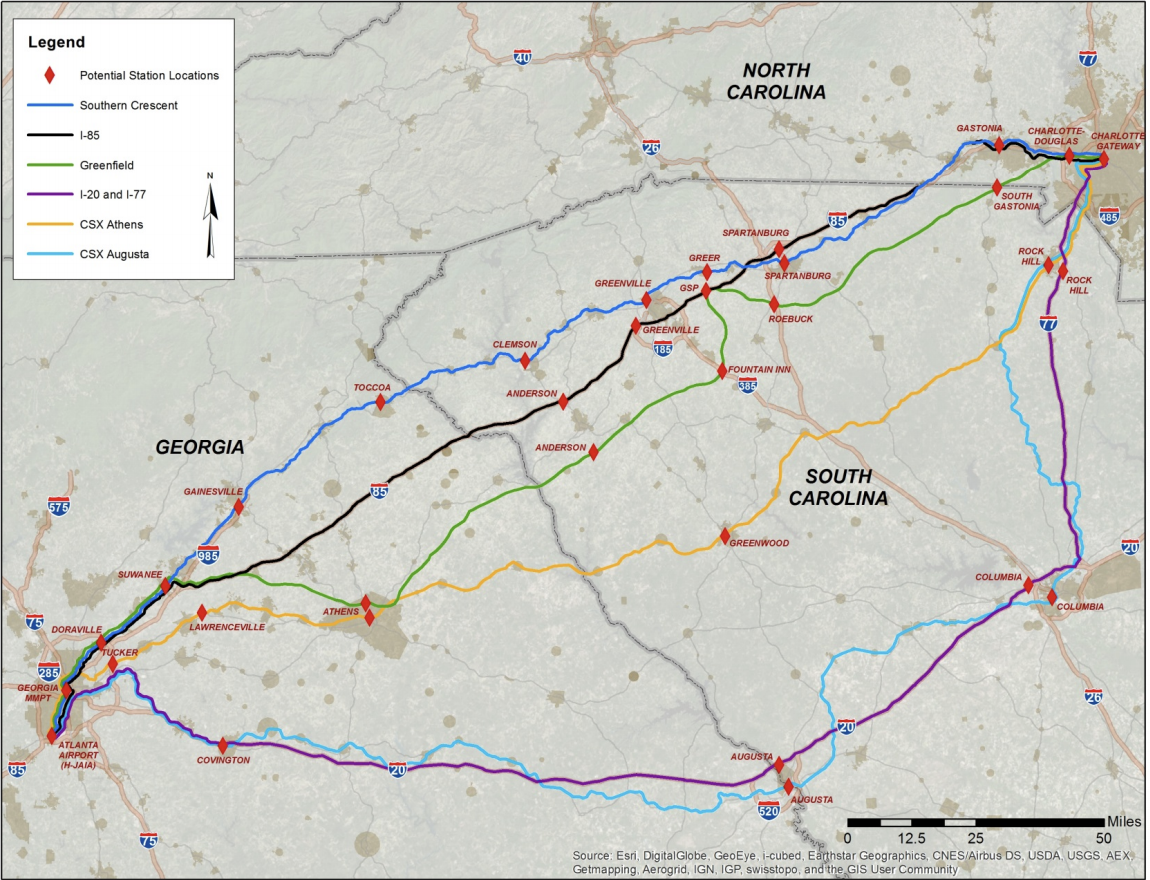 Proposed Routes
Alternative 1 is the Southern Crescent and would follow the existing Amtrak North-South Line through Toccoa, Georgia, and Gainesville, Georgia. This is the cheapest plan of the three, with an estimated cost of between $2 billion to $2.3 billion. The plan centers around upgrading the existing tracks to accommodate the increased speeds along the route. It also has the lowest projected train speeds of around 110 mph maximum for the electric trains.
Alternative 2 would follow alongside Interstate 85 from Gastonia, North Carolina, and Suwanee, Georgia, while transitioning to existing railways as it approaches Atlanta and Charlotte, respectively. The cost estimate for this route is $13.3 billion to $16.4 billion making it the most expensive proposal. The proposed speeds along this route could reach up to 220 mph on their electric lines.
Alternative 3 or the "Greenfield high speed rail corridor" is the route that would pass through Athens, Georgia, on its way to Atlanta and offers the same high speeds as the I-85 plan but at a cheaper cost. Estimates range from $6.2 billion to $8.4 billion.
This is a part of a larger plan by the Federal Rail Administration to develop an "integrated passenger rail transportation solution for the Southeast" titled the Southeast High Speed Rail corridor. The goal is to have rail systems connecting Washington, D.C., to Atlanta, Georgia, and other cities throughout the Southeast.
John Knox, professor of weather and climate at the University of Georgia, said "I'm almost certain [the railway] would reduce pollution because any kind of train can carry a lot more people than an individual car."
Despite the benefits, David Bradford, professor of Public Policy and Administration, doesn't think the high speed railways will be built because of the, "enormous costs associated with building these railroads."
The Georgia DOT is encouraging the public to review the material for the proposed routes here. The public is also encouraged to share their thoughts on the proposed routes here.
Tyler Metcalfe is a political science and journalism major at the University of Georgia.