The cost of owning or renting a home comes at no small price tag, and it can often be easy to forget the additional cost of utilities like heat, air conditioning, electricity and gas.
To help assist residents with their home energy costs, the federal government funds the Low Income Home Energy Assistance Program annually across all 50 states. In Northeast Georgia, residents can apply to the program through Ninth District Opportunity or NDO, a non-profit community action organization.
Becky Tapley, a resident of Oglethorpe County, said the program has been "god sent". Tapley has applied for the program through NDO for the last two years.
"It's just a comfort just to know that I'm going to have somebody there to help," Tapley said.
With temperatures dropping as the winter months approach and the effects of COVID-19 still keeping many people home, home energy costs are likely to be higher than normal.
"You can't go out, you've got to be at home so your power bill is going to be more. You're cooking more at home, you're there 24/7," Tapley said. "It's definitely a relief to know that, I'm going to have higher power bills now, but I'm going to have help."
Tapley said the program still encourages participants to try and pay their energy bills while they await assistance, but knowing that help is coming gives her peace of mind.
How To Apply
On Nov. 2 specific groups of residents were able to start applying for assistance through NDO. Those who are in households where every member is 65 or older or where all members are medically homebound due to health reasons were eligible to apply starting on Nov. 2. The application will open to the rest of the general public on Dec. 1, and appointments will be made until all funds have been exhausted.
"It's very easy to apply for as long as you meet the qualifications," Tapley said. "They do all the paperwork you just have to bring the documents to them and they notify the power company."
To apply, residents can call 855-636-3108 or go online to www.ndo.org/eap.
Natasha Carter, the IT and Program Support Specialist for NDO, said after applying by phone or online, applicants will be given instructions on the next steps they need to take.
"When they call in, it's an automated system," Carter said. "They put in their information, and it tells them what date, what time and what documents to bring to their appointment and then once they get there, we calculate their income based on their household size and we tell them whether they're going to get [$]350 or [$]400."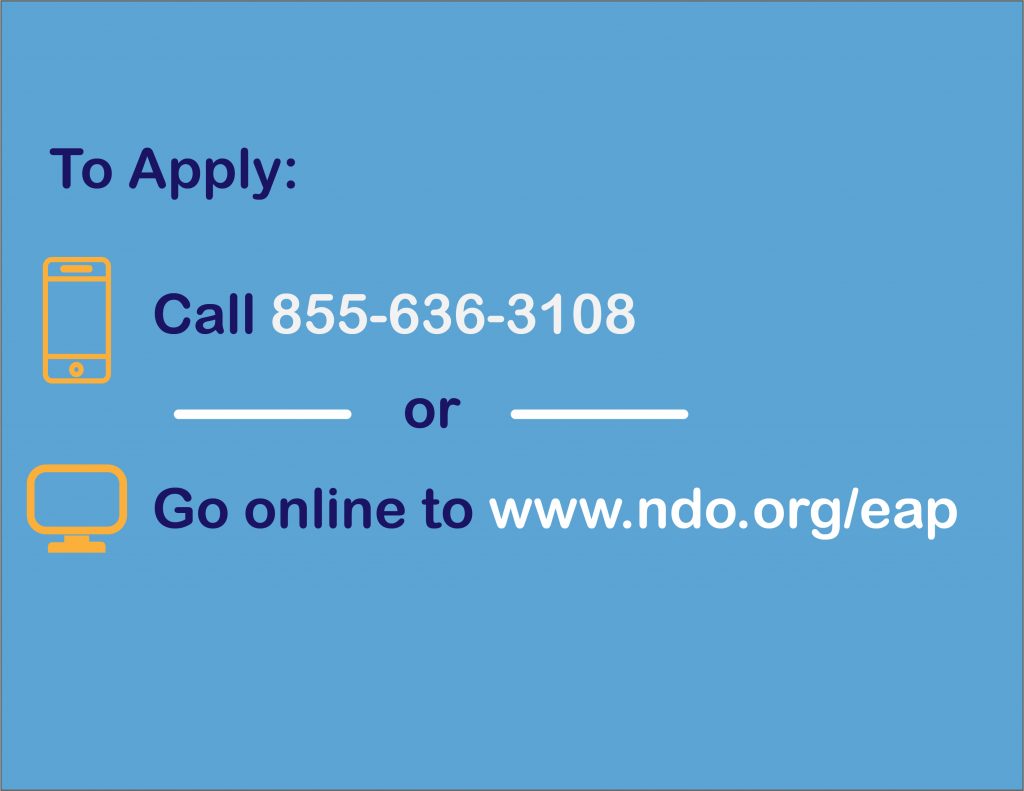 NDO has posted a list of documents applicants will need to present along with the income guidelines for the 2021 program, both of which can be viewed on their Facebook page.
Increasing the Impact
Not everyone who qualifies for the program may be aware that they are eligible for its benefits.
Michael Gawrys, a doctoral student at UGA's College of Family and Consumer Sciences has conducted research on housing cost burden and utility payments. In regards to programs like the Low Income Home Energy Assistance Program, Gawrys said one hurdle that prevents those who need financial assistance from receiving it is lack of awareness.
"If we know anything about housing, it's a very difficult budget item to adjust once you've done it, whether we're talking, renting or owning," Gawrys said. "Having education upfront, having programs and making those individuals aware of these programs can really provide a big relief."
Once an applicant has been approved for the program, a one-time payment will be issued to their home heating supplier. Carter said that approved applicants will typically receive their payments within six to eight weeks.
Additional questions about the program can be answered by contacting Ninth District Opportunity by phone at 770-532-3191 or online at www.ndo.org/web/contact.
Jillian Tracy is a senior majoring in journalism at the Grady College of Journalism and Mass Communication at the University of Georgia.