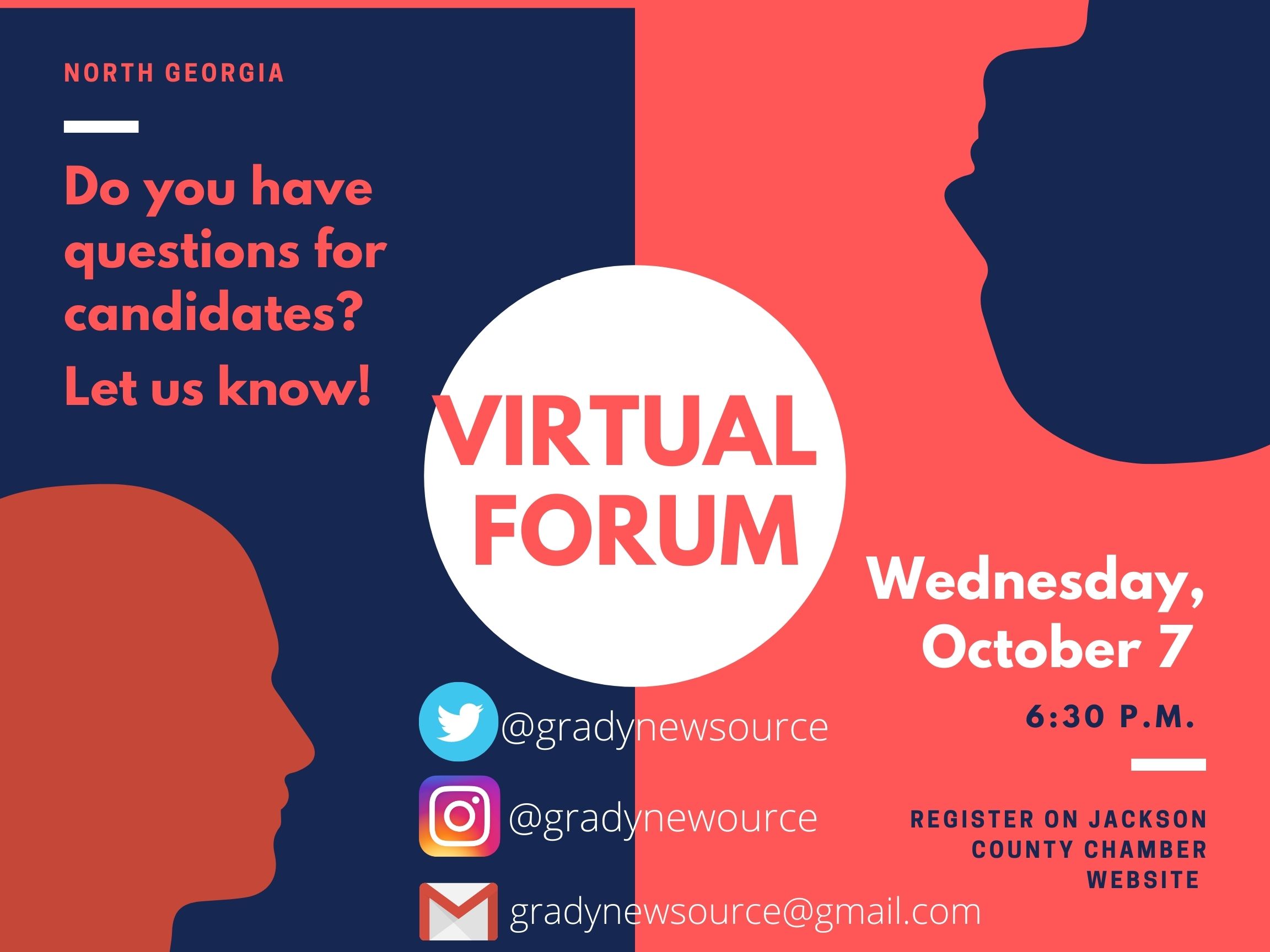 The Jackson County Area Chamber of Commerce Candidate Forum will feature candidates running in elections ranging from the 9th District congressional race to state house and state senate candidates vying for their chance to represent the public under the gold dome. Candidates for the Jackson County 1st District county commission seat will also take part.
Submit Your Questions for the Candidates
The Chamber is allowing Grady Newsource to submit questions to the candidates. If you have a question you'd like Grady Newsource to ask for you, just tweet us @gradynewsource or send us a direct message on our Instagram or Facebook. You can also email Grady Newsource at gradynewsource@gmail.com.
Former military veteran Devin Pandy, the Democratic candidate for The 9th District congressional race, will be there. His Republican opponent, Andrew Clyde, has been invited, but has yet to register for the event. The 9th District covers a large portion of northeast Georgia as well as parts of Jackson and Athens-Clarke county.
Constituents in the state senate District 50 will hear from Republican Bo Hatchett and Democrat Dee Daley. Incumbent Republican Frank Ginn in the District 47 state senate race and Democratic challenger Dawn Johnson are both scheduled to attend.
Four candidates running to represent two state house districts are also registered to take part in the virtual forum.
Tommy Benton and Pete Fuller will share their ideas with constituents in the state house 31st District.
Incumbent Republican Houston Gaines and the Democrat challenger Mokah Jasmine Johnson will be there to share their platforms in their contest for the state house District 117.
Jackson County residents who live in the 1st District of the county commission will hear from the two candidates for that seat, Jim Hix and Jamie Mitchum.
The Jackson County Area Chamber of Commerce organized the event. The President and CEO of the chamber, Jim Shaw, was unavailable for an interview, but replied to our email "The chamber is holding this candidate forum to provide an opportunity to our members to see and hear from the candidates they'll be voting for on November 3rd. We also want to provide the candidates an opportunity to express their positions and view on issues germane to the office they're seeking and which are important to their constituents."
The forum will take place on Wednesday, Oct. 7 at 6:30 p.m. The registration link can be found here.
Conner Hendricks is a sophomore intended journalism major student at the University of Georgia.