The Jackson County School system recognizes the importance of healthy food options for children by providing nutritious breakfast and lunch options for their students every day. The nutrition program provides meals that consist of "at least two-thirds of the recommended daily dietary allowances," according to the Jackson County Schools website. Participation in the program, however, has dwindled, raising concerns as rising grocery prices compound the issue.
The nutrition program is responsible for feeding approximately 8,600 students in Jackson County, and around 40% of those students qualify for free or reduced lunch. In August 2020, students returned to school and were divided by those participating in in-person instruction or digital learning to help mitigate the spread of COVID-19; the nutrition program is responsible for feeding both groups of those students.
Why It's Newsworthy: With COVID-19 placing a financial strain on many households, it's important for students and parents in Jackson County to be educated about how to receive meal assistance.
How is COVID-19 Affecting Meal Assistance?
Debra Morris, head director of the nutrition program, shared concerns for the program as the market price for groceries continues to rise and the application pool for the program decreases. Morris and her team felt strongly there would be an increase in the need for free and reduced lunch status simply because of the impact COVID-19 has had on the community, but this was not the case.
The decline could also be attributed to misinformation and students not knowing they can take advantage of the nutrition program even while doing online learning at home. The parents of students learning digitally can come retrieve a meal package from their school once a week on Tuesday, between 9-10 a.m., and receive five breakfast and lunch meals. Morris desires that every family complete an application because a high participation rate is needed for several other school programs to flourish such as title programs, technology programs and E-Rate funding.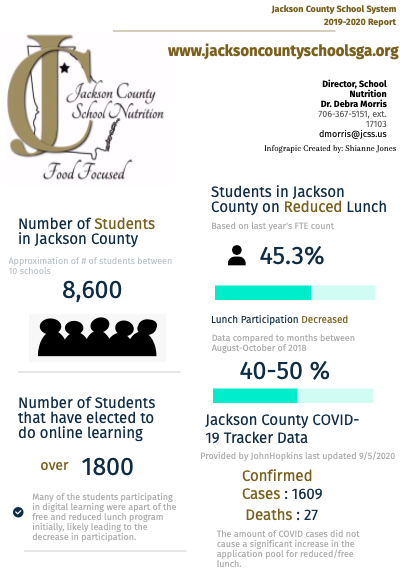 How Does the Program Operate?
"The school nutrition program is a self-supported operation within the school system," Morris said. "We are the only revenue producing department that is a part of a local school system, and we have to generate funds through our participation in order to support our program."
Federal funding for this program is received through the USDA as a part of reimbursements which makes the bidding process for food very important when using other companies to buy items like milk, bread, etc. COVID-19 has caused the scarcity of certain food items and places strain on individual food facilities' production, food, and packaging lines. Maintaining the integrity of food menus planned one-two months in advance has become difficult, and many food items are being substituted.
"Prices have risen astronomically for a variety of reasons, once again those shortages," Morris said.
The Jackson County nutrition program is being forced to pay market price for grocery goods. This is not in accordance with the normal bid pricing is raising budget threshold tremendously.
Even simple things like gloves. The bid price of our gloves has gone up to 9 cents a glove, so every time an employee puts on a pair of gloves that's 18 cents…An employee may change their gloves up to 8 times of the course of a 7-hour workday," Morris said.
Has the Program Received Any Monetary Assistance?
The nutrition program was initially provided with a COVID-19 Relief Fund in the beginning of the school year, which depleted within 2-6 weeks of the pandemic.
In October 2020, Assistant Superintendent Ted Gilbert discussed in an email that "they've received additional funding to help offset costs."
"As federal and state guidelines have evolved regularly we've pivoted in response. Those pivots have required additional PPE supplies, added roles and responsibilities for many staff members, longer works hours in some cases and added costs," Gilbert said.
How Has the Program Impacted Schools, Students and Parents?
Precious Jones, a parent of student Eli Jones who attends East Jackson Comprehensive High School, spoke highly of the lunch program.
"All three of my kids had reduced lunch, and it helped us because it was a burden that we didn't really have to worry about," Jones said.
The principal of Jackson County Comprehensive High School, Jason Wester, spoke about the lunch program, briefly highlighting how they have been able to maintain the accessibility of the lunch program like normal before COVID-19 started.
In total, there are about 8,000 students in Jackson County which are divided among 10 schools: two middle schools, two high schools and six elementary schools. All schools have an on-site, fully functional nutrition program operating to serve food to students on and off campus.
Morris said she is unsure when things will return to normal, but she is hopeful for the future.
Gilbert said he believes that even though they cannot control changes outside of their system like vendor pricing, they can strive to meet the new changes.
Shianne Jones is a junior majoring journalism in the Grady College of Journalism and
Mass Communication and minoring in English at the University of Georgia.