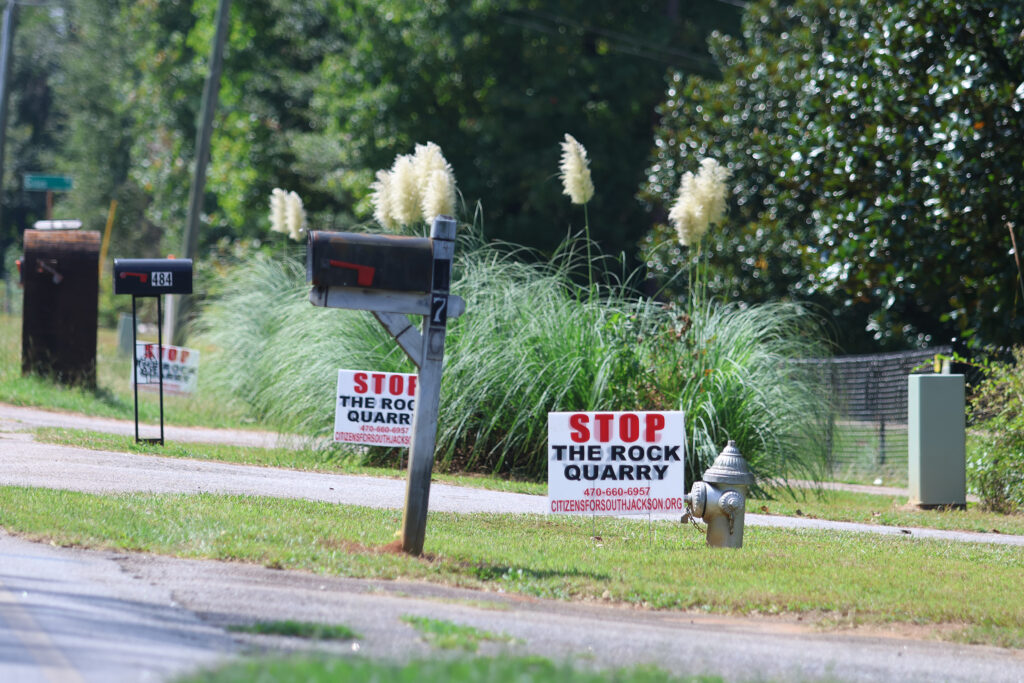 Homes in South Jackson County are lined with "Stop The Rock Quarry" signs. Residents on Chandler Bridge Road have signs at nearly every house expressing the concern that they have with a quarry proposal.
Jackson County resident and Stop The Rock Quarry leader and activist Randy Durham said he finds it worrying where they are planning to put the quarry because it runs up against the North Oconee River, and it will affect the way of life for many local residents.
"This is a rural agricultural area," Durham said. "It's not zoned for that — there's a reason it's not zoned for that."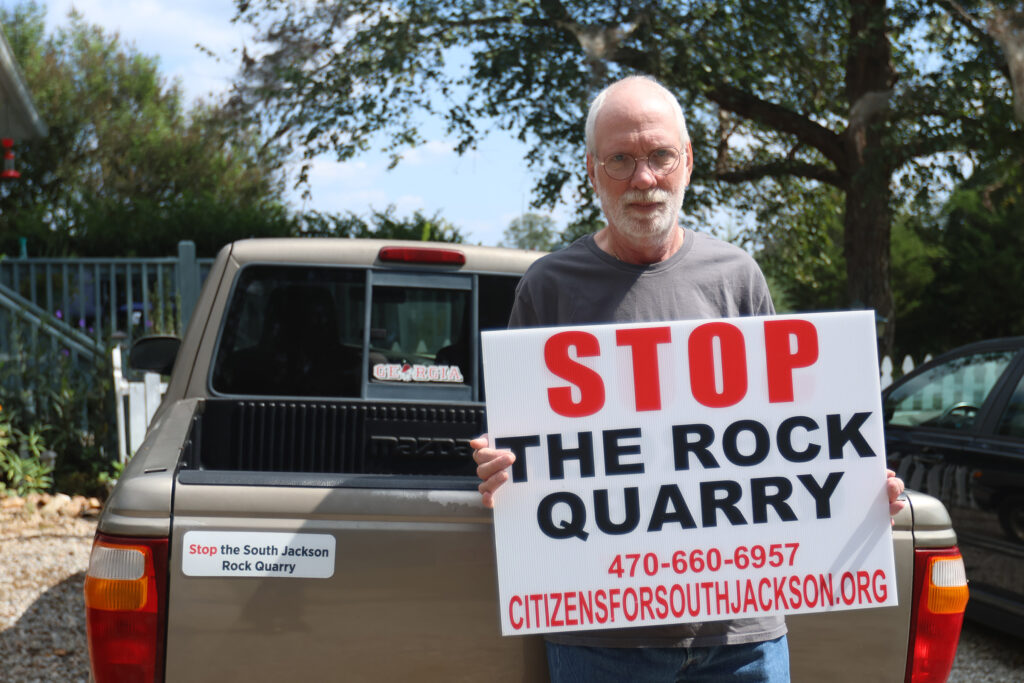 In South Jackson County, there are horse farms, cattle farms and agricultural uses of the land. According to a Georgia Department of Labor Report on Jackson County, agriculture in the Jackson area provides 1,690 jobs. Agriculture, in addition, is one of the top 10 growing industries along with one of the top 10 industries of employment concentration, according to a Georgia Power study.
Durham said the traffic, sediment, environment and potential health effects of a quarry pose a concern. He said he is not opposed to growth, but believes it needs to be managed in a way that is helpful to its citizens instead of putting their health and property in danger.
"We are not going anywhere; we are in this for the long haul, and if it takes years and years and years to defeat it, then that's what we'll do," Durham said.
According to the 2020 Census Population and Housing Map, Jackson County is one of the fastest-growing counties in Georgia. The population in Jackson County grew from 60,485 in 2010 to 75,907 in 2020 with a 25.5% percent increase. Residential and commercial growth is expected as population increases in Jackson County.
Neighboring Counties
Residents and organizations of Athens-Clarke County have expressed concerns about this possible quarry development as well.
The Jackson County Government has received opposition letters to the quarry from Laura Hall, conservation director of Oconee River Land Trust on July 6 and Emily Carr, President of Sandy Creek Nature Center Inc. on Sept. 7 in hopes to convince the government to deny a Vulcan Materials Company application.
In the Oconee River Land Trust opposition letter, they expressed their concerns about wetlands, water quality and the habitats that could be threatened by the construction of a quarry.
In the letter, they state, "The proposed quarry would degrade the scenic quality of the area and could easily result in environmental impacts that are greater than rural, agricultural or residential use, and therefore inconsistent with the County's Plan and detrimental to the quality of habitats we protect."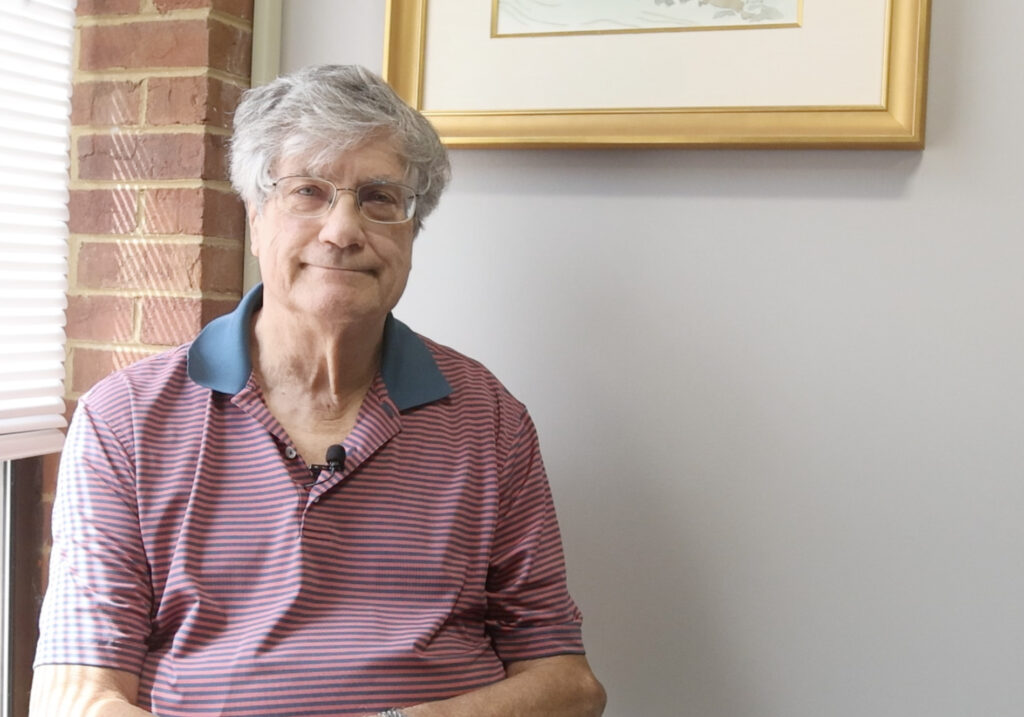 James Porter, an ecology professor at University of Georgia, is an Athens-Clarke County resident who finds this potential quarry worrisome. Porter said the water quality and quantity for Athens-Clarke County would be greatly affected by a quarry if too many sediments pile into the river since it would run along the quarry itself.
The North Oconee River is one of the three sources that residents from Athens-Clarke County get their water from.
Porter is a long-term resident of Athens-Clarke County and said it matters to him what happens in adjacent counties.
"We live in a connected world and the Oconee River connects us to what Jackson County does," Porter said.
Porter said the water quality would be affected by cancer-causing properties from materials and tools used by quarrying. He expressed the concerns of the environmental impacts that the quarry could potentially have with its development and the need to think of the future.
"The problem with development is that you need to take almost a 7th generation look at it," Porter said. "How is the 7th generation going to respond to the fact that this quarry has been built? Did it provide the kinds of development and long-term jobs that would benefit all of society, or was it just useful for short-term profits that left behind a scarified landscape on which no one can depend on?"
However, Gary Hawkins, a water resource and sediment specialist associate professor at UGA, said that as long as Vulcan Materials Company follows the Environmental Protection Agency's Green Book, citizens should not be concerned.
Hawkins said the company would have to get an National Pollutant Discharge Elimination System permit through the local issuing authority which would lay out the requirements based on a erosion sedimentation plan that they would have to submit along with their application for that permit.
"If the design engineers design the plan, write the plan and the quarry implements the plan. The citizens should not have any concern, because the practices put in that plan, the implementation of that plan, and the monitoring required with the NPDES permit should limit any concerns from citizens," Hawkins said.
Vulcan's Quarry
Jimmy Fleming, vice president of permitting and external relations of Vulcan Materials Company, said Vulcan would continue to pursue a permit and application despite some public outcry. Fleming assured Vulcan would utilize possibly 200 acres for the quarry itself at a time with a 10-15 years of use until they decide to dig another pit beside it for quarrying, projecting to nearly 75+ years if consistent revenue is made.
Vulcan has accumulated nearly 1,000 acres of land, which they do not plan to fully use. Fleming said they will possibly use some of that land for either a walking trail, horse trail or use it for conservation efforts.
When the quarry has been fully constructed, which he said may be in two years, there would be only 10-13 full-time jobs that this quarry would have.
In regards to traffic, pollution of the North Oconee River and other possible concerns, Fleming said the engineers and planners take everything into consideration when creating a permit, proposal and plan attempting to reduce any potential harm.
"We know how to do this, and we know how to do it right," Fleming said.
Vulcan has 27 quarries in Georgia and continues to expand and grow as a business. Fleming said that this land will change and that this is a good site for development. He encourages residents to ask questions and talk to Vulcan so that they may receive answers and help understand what they plan on doing to address any environmental and social concerns citizens may have.
"We are committed to this project, we are committed to doing it the best, most efficient possible way and our experience across the board is really what sells Vulcan to this particular site," said Fleming.
Durham said that they intend to fight Vulcan as long as it takes and are open to discussion with Vulcan.
Melanie Velasquez is a senior majoring in journalism at the University of Georgia.