People over 65 are the fastest growing age group in Athens, Georgia, according to a report completed by Envision Athens last year. And as this population grows, the city is struggling to keep up. To help the aging population, a local couple is stepping up to do what they can.
Senior Home Assistance And Repair (SHAARE) is a local nonprofit started by Paul and Carla Moore. SHAARE was originally developed in 2002 in Detroit, Michigan, before being relocated to Athens in 2011. The mission of the organization is to help low-income senior homeowners maintain their houses, free of charge.
Why It's Newsworthy: The amount of senior housing in Athens is a growing problem because there is not enough. That, along with rising property values, makes it hard for some elderly to stay in their homes. SHAARE is an example of an organization working to combat these local problems.
"What sets us apart and makes us different from a lot of the other organizations is that we always try to focus on seniors who are still independent living and have their own home," Paul Moore said.
SHAARE achieves this through helping out with basic home maintenance such as light cleaning, yard work and organizing. The organization will not help with anything a professional, such as a carpenter or electrician, should be doing.
"Most of the senior citizens that contact us are basically independent themselves. They don't need welfare help; they just need assistance," Carla Moore said.
Because SHAARE is made up entirely of Paul and Carla Moore, who also work full-time, the organization is dependent on volunteers in the community. One source of volunteers is the University of Georgia. In the past, SHAARE has worked with ServeUGA, an on-campus service organization. Through ServeUGA, each member acts as a service ambassador for local nonprofits in need of volunteers.
Rachel Hall, now a senior at UGA, was the service ambassador for SHAARE in 2016. Throughout that year, she led a team of UGA students through different projects at senior citizens' homes around Athens. Hall said the seniors the group served always seemed very grateful for the students' work.
"They were lower income so they would not have been able to hire someone to do this, and they certainly could not have done it themselves. This organization allowed them to have basic things that they needed done, and make sure that their home wasn't in shambles," Hall said.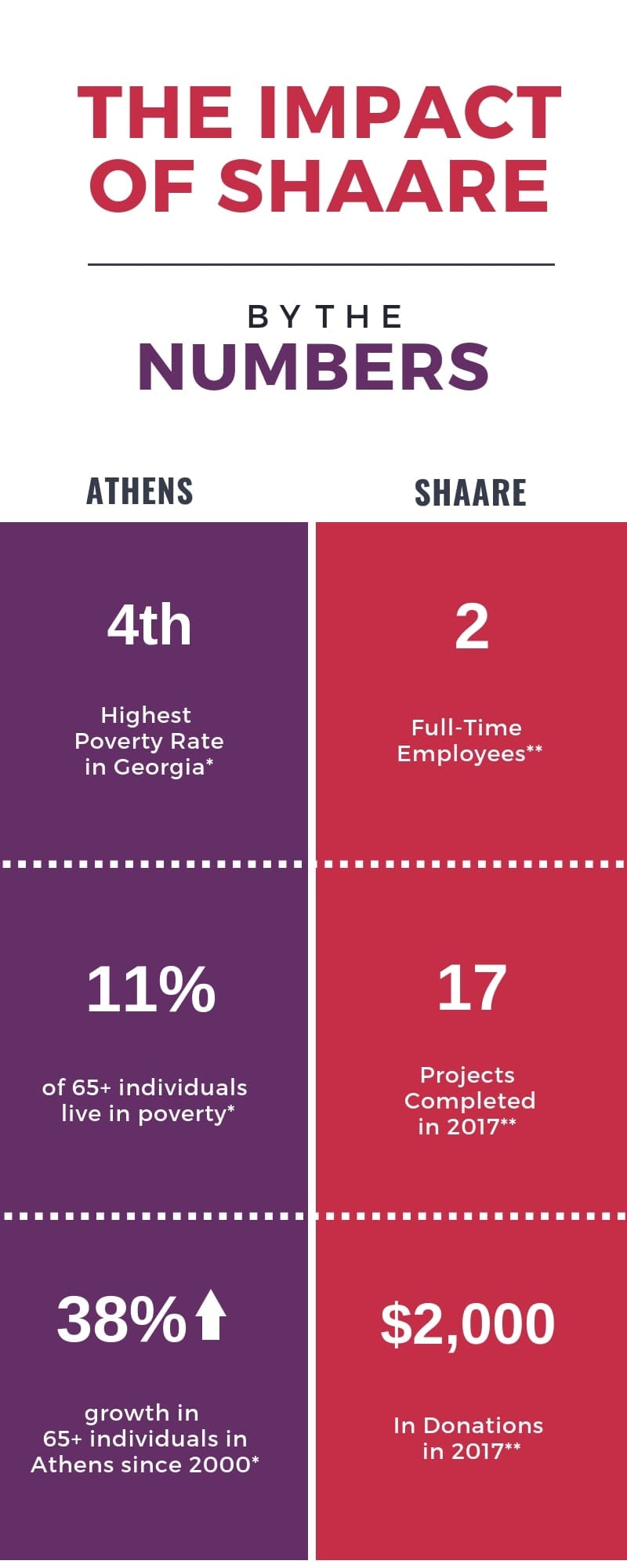 An example of an Athens resident this organization has helped is T.J. Shelton. Shelton is a military veteran who says he has been in his home for almost 60 years. He is partially blind and lives alone, but despite that, he is largely self-sufficient.
He reached out to SHAARE for help when he heard the Moores on a local radio station promoting their services. Since then, SHAARE has come by a couple times a year to help with yard work, wash his truck and clean around his home.
Carla Moore emphasizes that work like this is beneficial to the entirety of Athens.
"Independent homeowners are community members, and if their homes are beautiful and up to par, then property values stay high and they get to be a vibrant part of the community," Carla Moore said.
But seniors sometimes need basic help to stay in their homes. Paul Moore said a large problem he has found with other organizations is that their rules are too strict to help everyone who needs it.
"We still get a lot of complaints about the programs that are currently set up in Athens. The people who they are supposedly trying to help, the bar of what qualifies them for that help is high," Carla Moore said.
The couple's suggestion? More programs be put in place that are available to all senior citizens.
"If you tell me that all of these senior citizens, wherever they are, still don't have programs in place besides ours," Paul Moore said, "that's a problem."
Arden Baila is a fourth year majoring in journalism in the Grady College of Journalism and Mass Communications at the University of Georgia.