Every fall, Cece Pridgen, 25, suffers from an allergy to ragweed pollen. Her allergy developed in Michigan and moved with her to Georgia more than 10 years ago.
"I've been allergic to ragweed my whole life," said Pridgen. "I have to be extremely careful where I go outdoors. Since I have a weak immune system, my reaction can easily turn into an upper respiratory infection or me being bed ridden for a week."
Pollen allergies affect 50 million Americans each year. In the fall, more than 20 million Americans suffer from ragweed pollen allergies.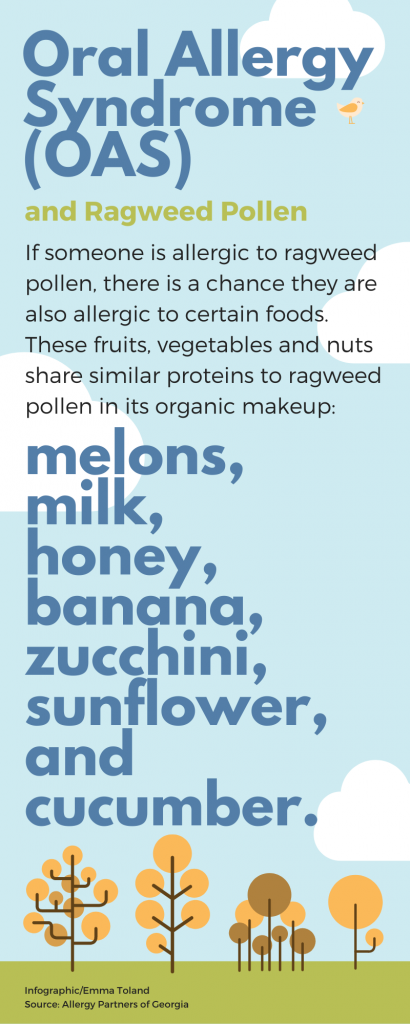 If someone is allergic to ragweed pollen, there is also a chance they are allergic to some foods. Oral Allergy Syndrome, also known as Pollen-Food Allergy Syndrome, is an allergic reaction to certain uncooked fruits, vegetables and/or nuts.
Triggering foods can cause itching and tingling of the mouth, throat and lips. This is because some fruits, vegetables and nuts share similar proteins to pollen in its organic makeup.
OAS is the most common form of food allergy, accounting for as much as 50% to 60% of all true allergies caused by food, according to the Allergy Partners of Georgia.
Although there is no cure for ragweed pollen allergies, allergists at the Asthma and Allergy Foundation of America recommend treating and managing it by tracking local pollen counts, logging symptom-causing foods and taking anti-inflammatory or antihistamine medicines starting in the summer.
Why It's Newsworthy: Ragweed pollen is the primary pollen producer in Georgia from September to mid-October. It is important to be aware of potential risks like OAS outside of sneezing, coughing, watery eyes and a runny nose, especially since ragweed pollen counts are only expected to increase in the future, according to authors of The Lancet Planetary Health, Volume 3, Issue 3.
Samuel Adams, 22, is also allergic to ragweed pollen and has experienced symptoms his entire life. "Usually my allergies are minor in the fall, but it's worse this year. I mostly sneeze, have a runny nose and sore throat, but this year I felt tired and sick on top of all my other symptoms," said Adams.
The fall pollen season in Georgia is getting longer. This means that individuals like Pridgen and Adams who suffer from ragweed allergies and Oral Allergy Syndrome could experience discomfort for longer periods of time.
Potential Solutions for Longer Pollen Seasons
Many efforts are being made to reduce risks and maximize opportunities. One is the Georgia Climate Project, a collaborative network of universities, groups and individuals across the state.
Marshall Shepherd, the director of the atmospheric sciences program at the University of Georgia and a leader for the Georgia Climate Project, defined the project's main goals.
"The goals of the Georgia Climate Project are to present nonpartisan, science-based solutions on climate such that when the state of Georgia is ready to aggressively tackle climate change, Georgia will already have gotten a lot of the legwork done," said Shepherd.
Shepherd also mentioned several initiatives underway, such as preparing a Climate Research Roadmap which identifies and answers 40 key questions that would benefit policymakers, practitioners and scientists in the state.
"I also took one of the University of Georgia's journalism professors, Mark Johnson, as we produce something called the Georgia Climate Stories, which are really interactive stories and productions with real people, real impact on Georgia. It's not just a bunch of science jargon. These stories bring your attention to all kinds of things that Georgians would care about," said Shepherd.
Ultimately, the Georgia Climate Project is identifying what a changing climate means for Georgia and what can be done about it.
"We're putting together this Georgia Climate Conference on Nov. 7-8. And then we are also indirectly involved with something called the Georgia Drawdown which is another effort that UGA is involved with, as well as Tech and Emory. It basically serves to draw down the amount of carbon emissions in the state of Georgia," said Shepherd.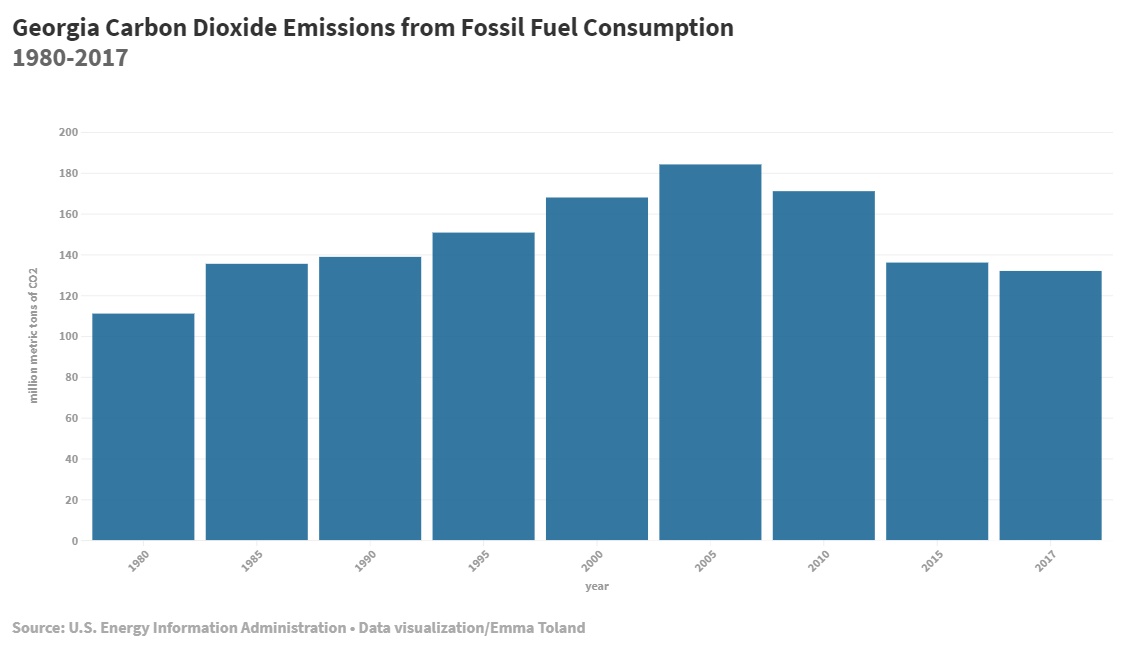 Emma Toland is a senior majoring in journalism in the Grady College of Journalism and Mass Communication at the University of Georgia.