Vicki Adame was a freelance journalist working in Mexico City before the pandemic and was able to tell stories that were happening in that community through palabra.
Palabra. is a multimedia platform that allows members of the National Association of Hispanic Journalists who are freelance journalists to cover stories and communities that have been often disregarded by mainstream media.
Why It's Newsworthy: Georgia is home to nearly 1 million Latinos; this is 9% of the state's population. palabra. was named the No. 2 news outlet for Latinos ahead of NBC Latino, Univision and Telemundo.
Adame first heard of palabra. through her involvement in NAHJ, and it was during her time in Mexico City that Adame pitched her first story to palabra. Managing Editor Ricardo Sandoval.
"There are so many stories in Mexico City that aren't related to politics, to narcos, to immigration, and palabra. listens to those stories," said Adame. Palabra. is open to taking stories that do not come with a U.S. focus, stories that Adame said are important to inform the public about what is happening nationally.
Working Through The Pandemic was Adame's first story published in palabra., and it focused on COVID-19 impact in Mexico. Her most recent story, A Plastic Polemic, brings attention to the progressive ban on single-use plastics in Mexico City and its effects on women.
Adame said that before publishing A Plastic Polemic, she focused on bringing in a worldview that would resonate with readers. She recognizes that this story if pitched to another outlet, would be rejected.
Freelance journalist Vicki Adame, from California, Georgia, discusses palabra. and how it serves as a resource to NAHJ members on April 1, 2020. Adame is an independent journalist and palabra. contributor. (Video/Dalia Perez)
The stories published on palabra. focus on disbanding the ideology that "ethnic news" is only an issue for marginalized communities and not a human issue. Palabra. was founded in 2019 by Alberto Mendoza with the mission of delivering informative journalism and supporting freelance journalists, like Adame, with a secure platform and developmental support.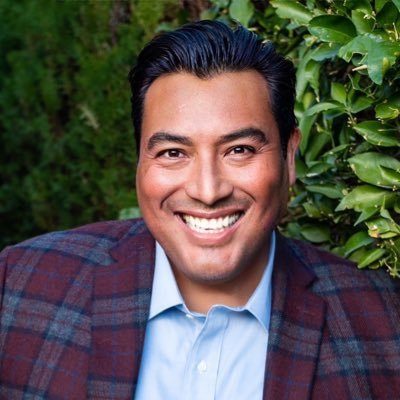 The Envisionment of Palabra
It is a platform that has created opportunities for freelance journalists by allowing them to publish their work and by paying them a competitive rate.
Mendoza thought of ways in which Latinos in the newsroom could go from just reacting to the disparity of Latinos in the industry, and he created palabra. to aid these freelancers.
"I had envisioned a platform like palabra. that would allow us to be able to basically extend the lifespan of a journalist career while talking about the things that are important to our community," said Mendoza.
As founder of palabra., Mendoza said his platform is where the Latino community reclaims its narrative knowing that what is out there does not reflect the diversity of voices included within it.
Palabra. came to life five years ago. In 2019, palabra. was officially launched. In November of 2019, palabra's. first issue was introduced to the world with only two stories. In January of 2020, palabra. had another issue that was focused on politics with four stories.
"Our intent was to go and publish quarterly, but by the second week of March, because of COVID-19, we have now been printing stories anywhere between two to five a week since last year," said Mendoza.
" We don't have the capacity to grow as fast as the demand is right now," said Mendoza. One limitation is a double-edged sword when it comes to partnerships with mainstream media outlets. As founder, Mendoza said that palabra. is very intentional regarding who it chooses to partner with and does not want to depend solely on partnerships in the future.
"We do not want to give the impression that the only value of our content is if it's shared or republished," said Mendoza.
How To Get Involved
In order to join NAHJ, members must complete an application and pay their membership rate. Rates differ for individuals and provide access to media and career resources as well as access to the NAHJ career center.
Members can submit their work by emailing ideas_palabra@NAHJ.org, and they must be journalists and/or storytellers with expertise in the area that they are producing content for.
All work that is published is paid, with highly experienced writers are paid up to $1 per word. Work is selected by the managing editor and must have a direct impact or connection to the Latino community in order to be considered.
"The work I submit to palabra. is paid about five to 10 times more than if I were to have it published in a mainstream news outlet," said Adame.
"Our competitive rates are set in place to incentivize our freelancers and to keep them in the industry," said Mendoza.
NAHJ is an advocate for bringing more Latinos into newsrooms and palabra. is one of the ways for their freelancers to advance in their careers. NAHJ is also hoping to offer administrative support for its freelance members connected to palabra.
This administrative support will come in the form of "bookkeeping, billing, marketing, and possibly purchasing healthcare at a discounted rate." Freelance members will be informed by NAHJ when palabra. has the capacity to provide such assistance.
One of the biggest benefits associated with palabra. is the attention its contributors receive once their work is featured on the platform.
"We've had 13 journalists who have been featured in palabra., nine of those have been hired to do full-time work. The others have been hired to do part-time work," said Mendoza.
These journalists were able to find these opportunities in part because of their feature story being published at palabra.
"They're standing out by the work they are doing, especially in a place where they get to celebrate their culture, their heritage, and they don't have to dumb down the Latino aspect," Mendoza said.
Dalia Perez is a senior majoring in journalism in the Grady College of Journalism and Mass Communication at the University of Georgia.