Sitting on a wooden booth inside Taziki's Mediterranian Cafe in downtown Athens, Lesha Bizzle can barely contain her joy. It escapes through a giggly smile while large tubs of greek dressing and red salsa sit on the table in front of her. The woman is joyful solely because she is picking basil leaves off their stems to add to salsas and soups — she loves the peppermint smell they emit.
Lesha Bizzle is a woman with developmental disabilities who started working for Taziki's over nine years ago. Before that, she had other jobs working at places like McDonald's and the laundry room of a hotel — but none of them stuck. Now, she comes to work using a personal transportation service at 8:30 in the morning with the excitement of someone starting their first day on the job, except she is excited every day.
"I thank God for allowing me to come to work," Bizzle said. "I'm blessed to have a job."
Why It's Newsworthy: There is a line of over 7,000 people with disabilities trying to obtain a Medicaid waiver, leaving many without the ability to get a job.
Part of the reason Bizzle can work is because she has a Medicaid waiver that helps pay for things like Diana's Transportation Service, which reliably takes her to Taziki's every weekday. However, many people with disabilities aren't able to obtain this waiver in the first place.
Over 80% of people with disabilities were unemployed in 2021, according to the U.S. Bureau of Labor Statistics. Of those that are unemployed, many could have a job with the help of a Medicaid waiver but are waiting in a line of over 7,000 people with intellectual and developmental disabilities trying to obtain one in Georgia.
"Our friends — these adults with disabilities need to be held accountable and should be employed to be held accountable. They want to feel pride in what they do and they want to be involved," co-founder and president of Love.Craft Athens Susan Fontaine said.
Fontaine helps to facilitate job placements for people with disabilities that come into the nonprofit each week. Thirty-two percent of the current 34 people attending Love.Craft have jobs right now, according to Fontaine. She has helped people get jobs at businesses like Nedza's, Habitat for Humanity and Honda.
Nevertheless, Fontaine runs into the barriers that come with getting a Medicaid waiver very regularly since she is an advocate for the people at Love.Craft that hope to get one.
"To me, it feels like some of our guys who could definitely thrive in the community are being denied the service," Fontaine said.
Lack of Caregivers
According to Fontaine, someone might be able to obtain a waiver faster if they have significant needs such as being non-ambulatory, or if they have someone who is staying on top of it.
But not everyone has an advocate to stay on top of things and nonprofits that help people with disabilities to obtain jobs are experiencing labor shortages. Amy Moore, the executive director of non-profit Hope Haven, said they've been trying to hire for months but it's been "a very defeating battle."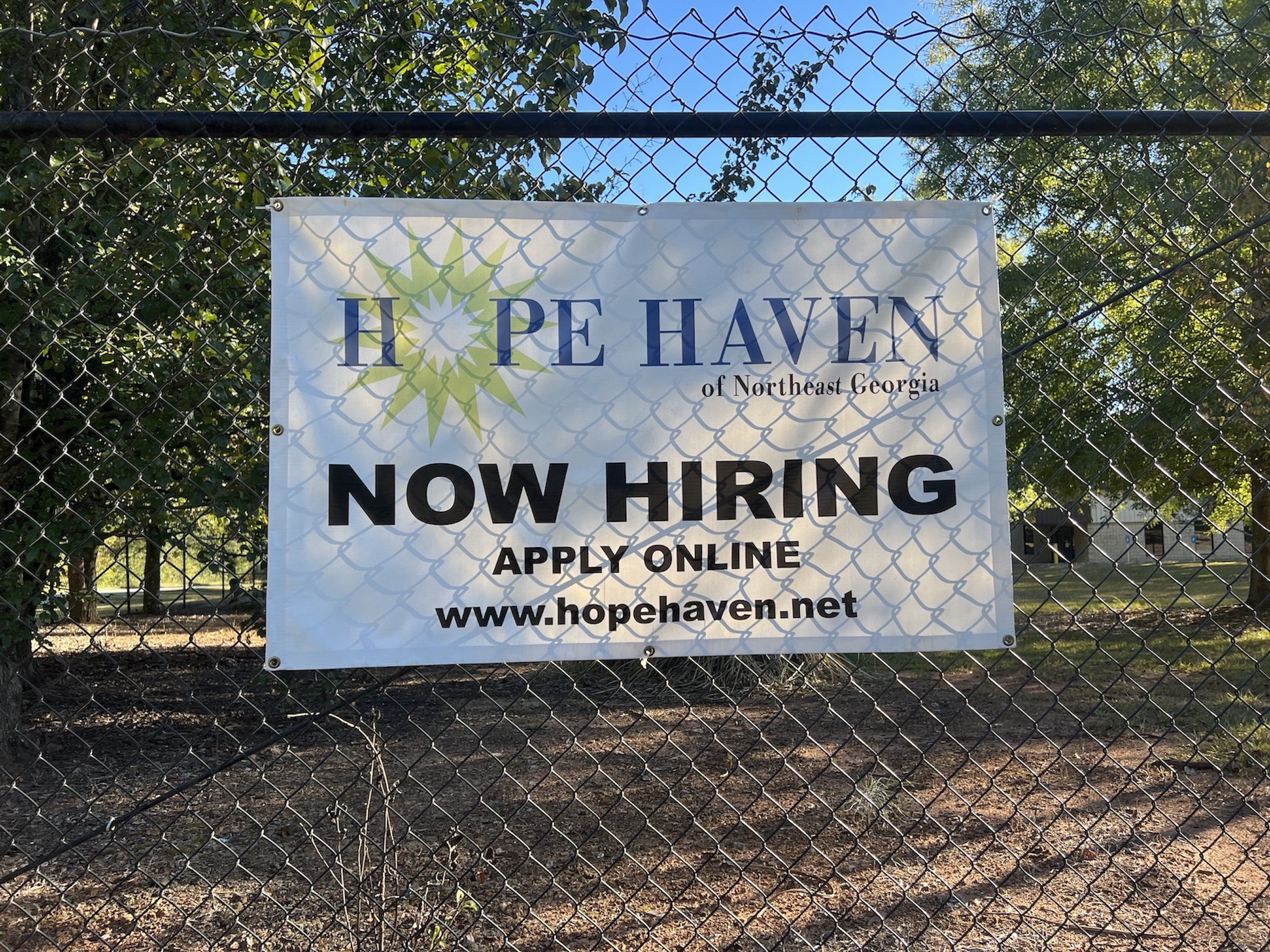 "We littered the street out here in front of our building with little yard signs for hiring … we've done all kinds of stuff that we can think of and we really cannot attract anybody to come and work here," Moore said. "Because we can't hire more staff, we can't bring in more individuals to support because we don't have enough staff to support them."
Even if there were more job openings for people with disabilities, there is a shortage of caregivers to help prepare them for work. Disabled workers also face long wait times while trying to get employment support from Medicaid waivers.
Finding Solutions
Doug Crandell, director of the Advancing Employment Initiative at the University of Georgia, said he's found the root of the problem and the key to the solution.
Crandell said the problem is that Georgia's Employment First Council hasn't met in over two years.
According to the Georgia Vocational Rehabilitation Agency, the role of the council is to "make recommendations to the Office of the Governor and the General Assembly for policies and legislation that align with inclusive, competitive employment for people with disabilities."
Without this council, no real changes are forced to be made and the Employment First Act — which was signed in 2018 to address employment issues for people with disabilities — isn't held accountable.
According to Crandell, Medicaid lines would be more attainable if the Employment First Council was meeting.
"We can make all that work. The first step has to be getting the Employment First Council up and running again and regularly meeting to make recommendations," Crandell said.
Crandell said he has tried figuring out why the council comprised of 14 individuals with disabilities isn't meeting anymore — but has yet to find the answer.
"We are leaving all of this talent out," Crandell said. "Employers who are not hiring folks [with disabilities] are missing that huge market segment."
Crandell wants to see the council meet again so others with disabilities can thrive at work, just like Bizzle.
Julianna Washburn is a fourth-year student majoring in journalism.