Captain Jim Askey's intricately decorated office depicts a lifetime of service. Jim enlisted in the Marines at 17 years old, and when he returned to civilian life, he joined the Atlanta Police Department in 1988.
He followed in the footsteps of his father, who was a Marine before him, and his sons, Jake and Justin, continued the tradition as third-generation Marines and second-generation police officers.
Jim now works for the Jackson County Sheriff's Department, and his boys are 20 minutes down the road at Braselton Police Department.
"We didn't push the Marine Corps on our kids, we wanted them to make their own decision, but when you have my dad's dress blue picture hanging up on the wall…and all my albums from boot camp and my stuff from deployments," Jim says.
Like these photo albums, his office is full of memorabilia, each object with a story.
A Shadowbox Dedicated To Fallen Friend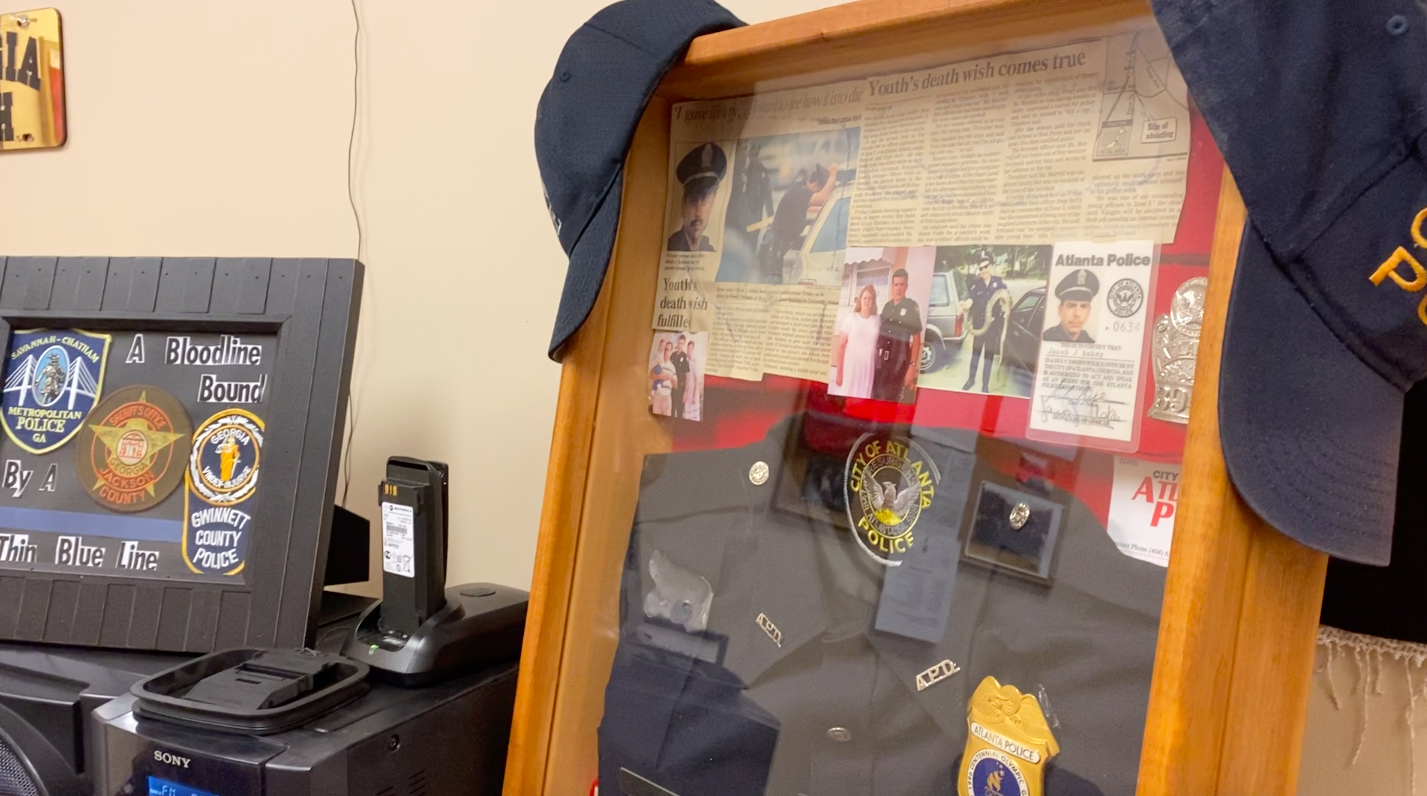 Propped against Jim's wall next to a radio that quietly plays classic hits stands a large wooden shadowbox. It's filled with memorabilia from Jim's time with the Atlanta Police Department. An old police uniform lines the bottom, with the top featuring a newspaper clipping of an APD officer killed in the line of duty.
Randy Schipani died at the age of 34 when he made a traffic stop on University Drive in Atlanta. Jim says Randy was responding to Jim's call when he was shot in the head by a juvenile.
"I got there shortly after happened," Jim says. "I still remember that like it was yesterday. I can still see Randy's face."
He talks fondly of Randy, pointing out an Atlanta Police Department sign on his wall. Randy was handing out radios one day and urged Jim to take home the sign bearing the old APD logo.
Jim remembers what it was like when he was a patrol officer in APD, with a captain who didn't stay connected with their officers. Now he tries to be a good leader to his officers, sitting in briefings with them, working night shifts so he doesn't lose touch, and patrolling the streets when he needs to. He says he loves the camaraderie.
Both Jim and Jake joke that their lives are like the TV show Blue Bloods, a police drama following a family of law enforcement officers, whose service and "work" family intertwines with biological family.
"I have my family that I would die for," Jake says. "But I also have my blue family that I work with every day that at any given moment I would give my life for them, just like my fellow Marines."
A Signed Afghanistan Flag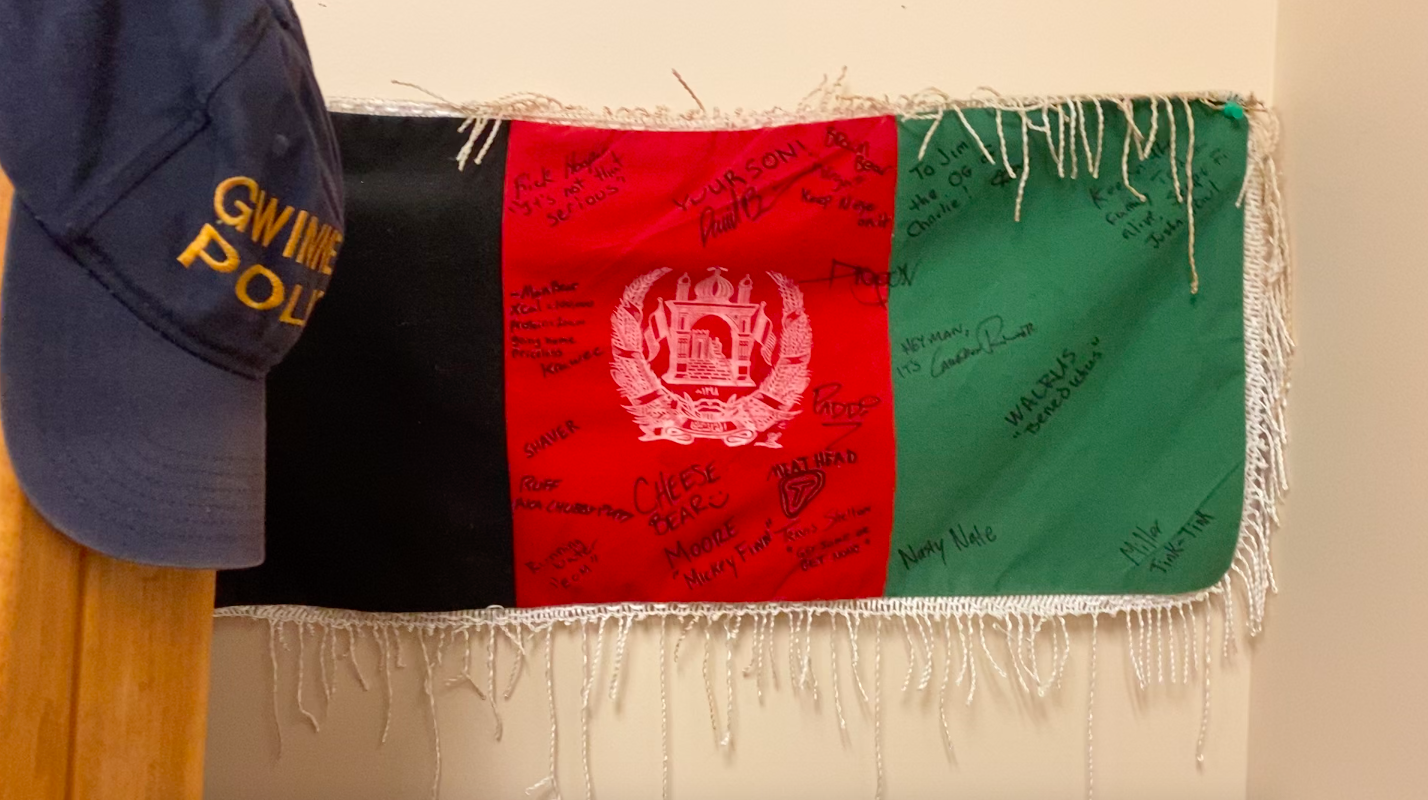 Jim's desk faces a corner of his office, adorned with a small Afghanistan flag signed with nicknames like "meathead" and "walrus." Justin, his youngest son, sent the flag signed by his unit, while he was deployed there.
Justin was in the same unit in the Marines as Jim and was later stationed in the same base in Hawaii.
"He had all his buddies sign it because that was Charlie Battery 112 and I was Charlie Battery 112," Jim says. "So they called me the OG, the original, of Charlie Battery."
Jim, his father and both his sons went to recruit training at Parris Island in North Carolina.
Driving home from a family vacation while the boys were growing up, the family went through Parris Island. Jim recounts the visit, Jake asking if "that's all there was to boot camp." He says he jokingly replied "yeah, Jake. That's all there is to it."
When Jake finally got to Parris Island for training, "it wasn't exactly what I expected," he laughs.
Jake and Justin each say that they're proud to follow in their grandfather's footsteps, and Jim says he tries to fill his dad's shoes now that he's gone.
"My dad passed away May 5, two years ago, and both my boys dressed up in their dress blue uniforms and were pallbearers in his funeral," Jim says. "My dad was proud of both those guys…and now I've got a 4-year-old grandson, and Justin took a picture of him in the front yard holding the Marine Corps flag," Jim says.
A Wall Of Family Photos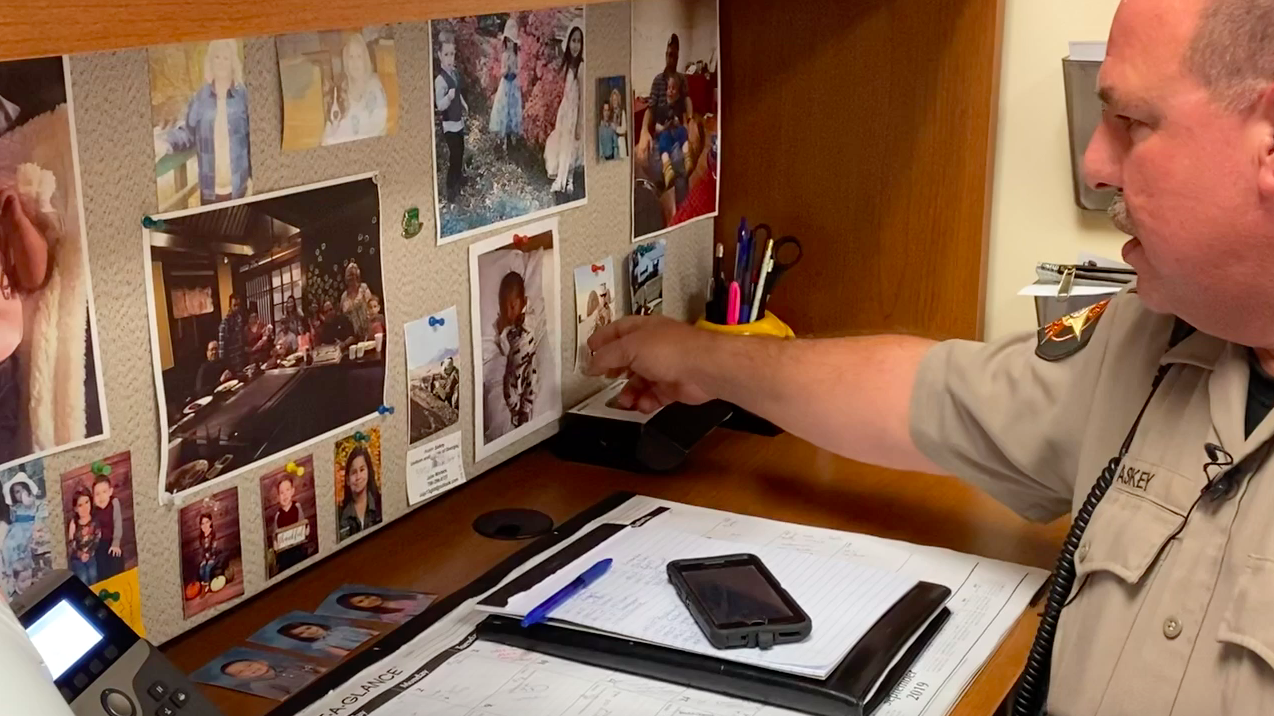 Pinned along the length of Askey's desk is picture after picture of his family. One at a birthday party years ago, countless of his grandchildren, and one of each of his sons while they were on deployment with the Marines in Afghanistan.
"Family is a big thing with us," Jim says. "You just never know anymore. So, you know, my wife and I keep that in the back of our mind, you never know. So we try to enjoy every moment that we can."
Jim says the reality of being a parent of a Marine or police officer is much different than being one yourself. "And my wife, bless her heart," Jim says.
Jim, Jake and Justin all talk about her as a support system for the family, particularly for Jake's and Justin's wives, who experience some of the same things she did.
Justin thinks back to his childhood, calling his dad at work and asking when he'd come home from his 12-hour shifts.
"When I was young, I didn't realize the sacrifice," Justin says. "I understand him and now it's funny because my kids do the same thing to me. 'Well, why are you going to work again? You're always going to work,' and obviously, six [years old] and below, they don't understand."
Jake reiterates this, saying he respected his dad growing up, but admires him even more now that he's in the same position.
"Hopefully when my son gets older, he'll realize what dad does is important," Jake says. "Tell him Grandpa Jim Jim does it, Uncle Justin does it…there's a legacy there of serving."
So when it comes time to let go of all the badges, uniforms, newspapers and albums that Jake and Justin admired as kids, Jim says, "I'm going to pass it all down to my boys."
Bailey Walker is a senior majoring in journalism and political science with a certificate in applied politics.