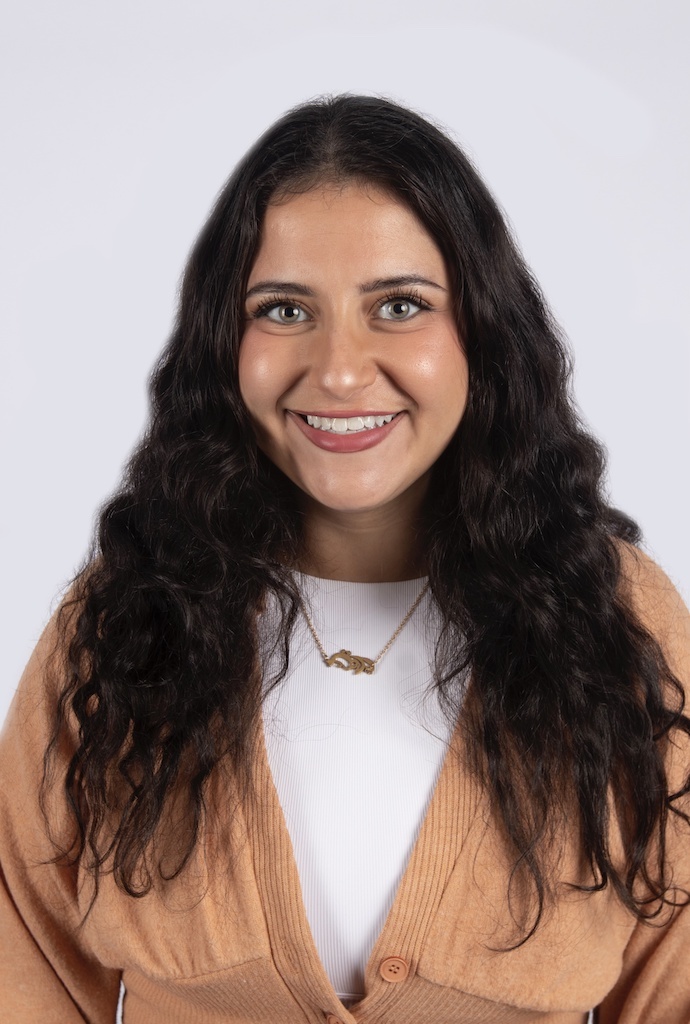 One of the most difficult parts of leaving my hometown of Pensacola, Florida, for college in Athens was bidding farewell to the Syrian family recipes and my mother's talented hands that put dishes like sour sumac tabbouleh on the dinner table after every long day.
That was until I found Gyro Wrap.
Some Athenians mourned the 2020 closing of the Greek-American joint with the iconic spit of gyro meat in the window. But Gyro Wrap's reinstallment introduced me to its signature creamy feta dressing, which pairs flawlessly atop "kurly" fries, in a gyro wrap or just to take home and eat with a spoon.
That may be enough, but then there's the baklava. The wedge of dessert is filled with sweet layered phyllo dough, wet honey and chopped walnuts. The lingering tang of melting cinnamon supplied a dense dessert that didn't crumble or fall apart. Although Gyro Wrap's new co-owner admits it's not freshly made, compared to Mediterranean Grill and Taziki's Mediterranean Cafe, this is the best baklava I've tasted in Athens.
Joey Eels reopened Gyro Wrap in September on College Avenue, which during the pandemic was closed to drivers and turned into a pedestrian area with generous outdoor seating. Gyro Wrap — then named Russo's Gyros — first opened across from the Arch on Broad Street in 1979 as one of the first trademark sidewalk cafes in Athens. In 1983 Russo's became Shipfeifer's Gyro Wrap, which was later shortened to Gyro Wrap.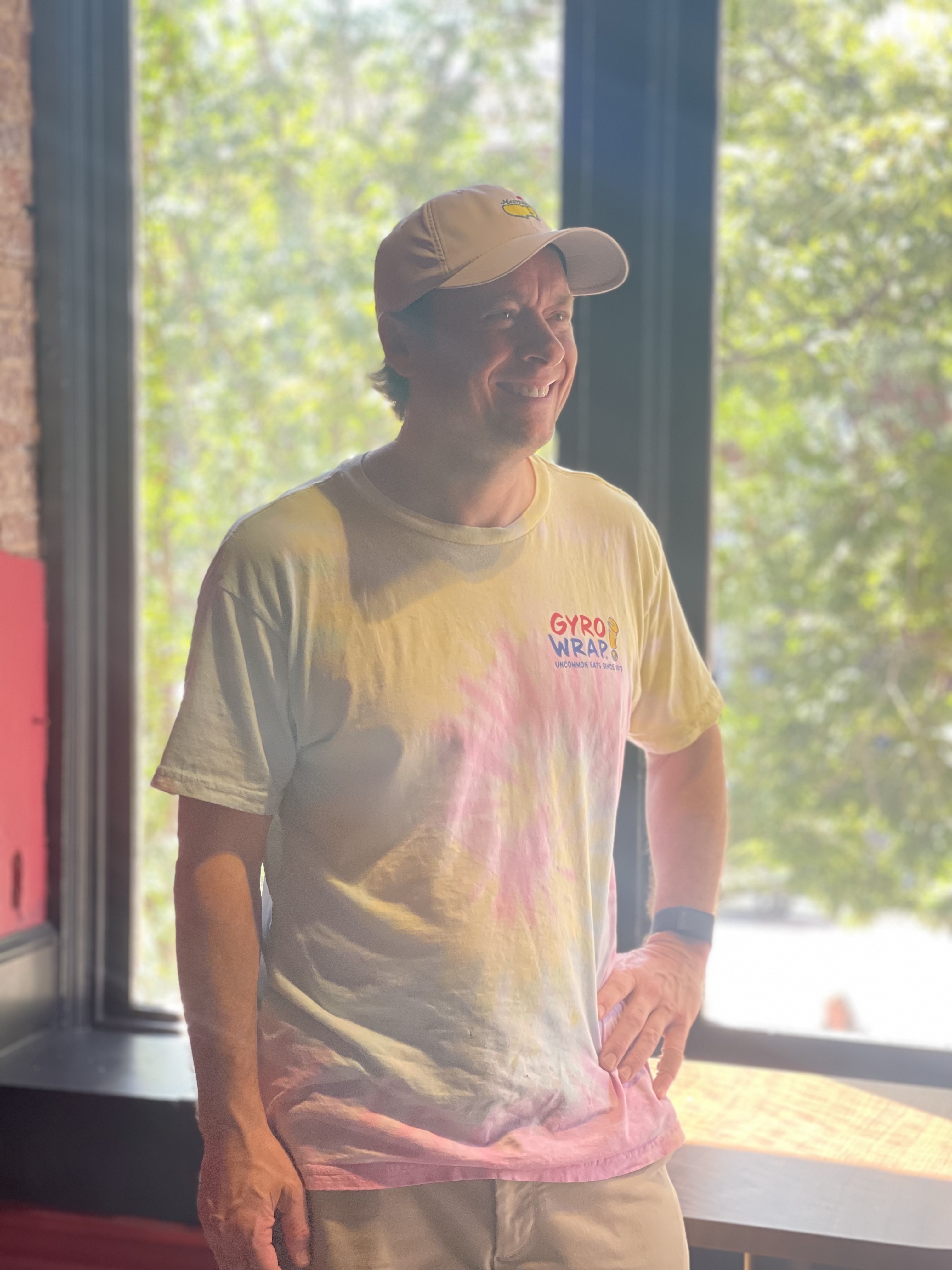 Two years later, Gyro Wrap left Broad Street — now home to deli joint Munch Hut — and is now catty-corner from the Arch and next to Starbucks. The two-story restaurant is adorned with warm red and brick walls, wood floors and UGA football memorabilia. Cooks, food runners and cashiers checked on lunch customers thoughtfully and often with smiles.
Eels can be found dressed in a Gyro Wrap T-shirt as he casually converses in his thick Southern accent with customers excited to try his take of a town's longtime favorite. He said he kept the new menu consistent with the old to inherit customers and "maintain the integrity."
The diverse menu and cheap prices (sandwiches range from $8-$8.49, with the option to make it a combo with fries and a drink) consists of Mediterranean appetizers, salads, gyros, tortilla wraps, Philly cheesesteaks, and beers and seltzers that are sold at the upstairs bar.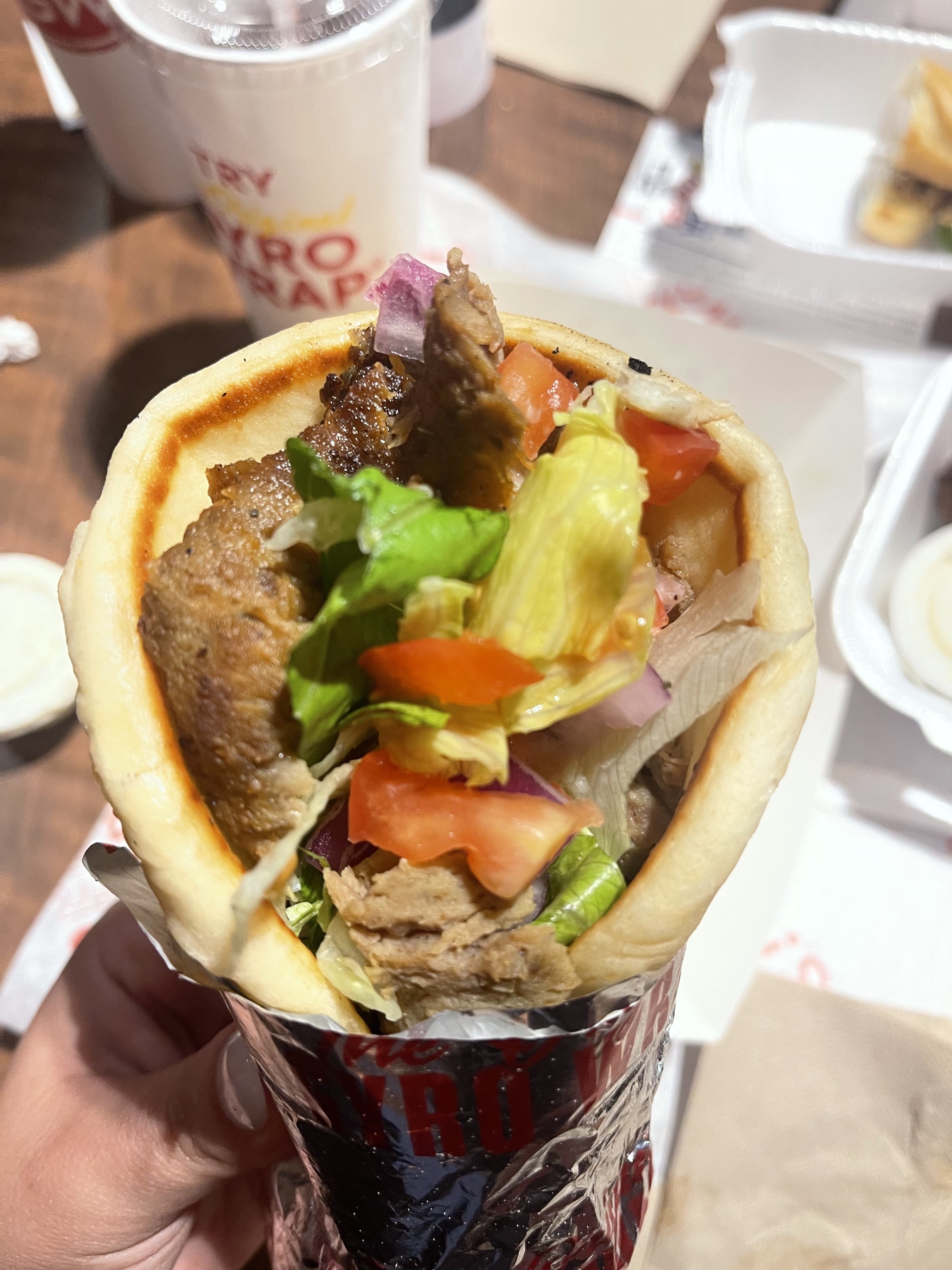 The falafel balls came in threes and had a hot and crunchy brown outer layer, with a fluffy bright green goodness within. Although this was as tasty as I remember fried ground chickpeas to be, the flavor could've been packed with more garlic and parsley spices. The creamy feta was a surprisingly delectable dip though, coming in second place behind tahini.
Wrapped in a warm soft white pita, the classic gyro wrap earns its name. The gush of creamy tzatziki paired with the tender gyro meat had a pleasing punch of chargrilled lamb and beef flavors. Nestled in between was fresh, yet sharp tasting red onions, crunchy lettuce and tomato, giving it more of that authentic Mediterranean flavor.
The kurly fries were crispy and cooked to perfection, matched with that signature creamy feta dressing.
I initially thought the liquid version of feta didn't sound appetizing, but the palate of potato and aged peppery and tangy feta cheese were made to be together. You've been warned.
Although the gyro spit isn't in the front window anymore, Eels said he designed an open kitchen that welcomes customers into the gyro community and a new spit that marks new beginnings and old friends.
It feels like a crime that I've just been introduced to a beloved Athens restaurant that makes me feel at home after my final year at the University of Georgia, but I'm fortunate to join the Gyro Wrap clan of fanatics.
Dania Kalaji is a fourth-year journalism major.