In the town of Lake Park, Georgia, just 18 miles south of Valdosta, Jennifer Singleton assists the elderly and disabled through the skills she acquired in cosmetology school.
Singleton's business, The Comb Over, offers in-home services that prioritizes the comfort of those who are unable to leave home or cannot easily access basic forms of hygienic practice. In a burnt orange mini cooper filled with supplies such as scissors, a portable sink and an inflatable basin, Singleton travels to the homes of her clients directly in order to provide a variety of services for those who need them. These services include haircuts, manicures, pedicures and company to those who feel lonely or are unable to easily acquire basic forms of care outside the home.
Why It's Newsworthy: Due to outside factors such as COVID-19 and financial issues suffered by the elderly, at-home care services such as The Comb Over are unable to tend to their clients.
With a client base that includes children who suffer from autism and seniors who are diagnosed with dementia or Alzheimer's, Singleton is constantly thinking of ways to adapt her services based on the needs of the individual client.
"I'm able to get to people who are in chairs, wheelchairs, laying down, whatever their situation is," said Singleton. "I do whatever they're comfortable with and what I'm comfortable with. I've had different situations in almost every situation, and I just adapt to what they have at home, what their situation is. If they're able to get into a bathroom, I've done it in the kitchen, in the living room, in beds."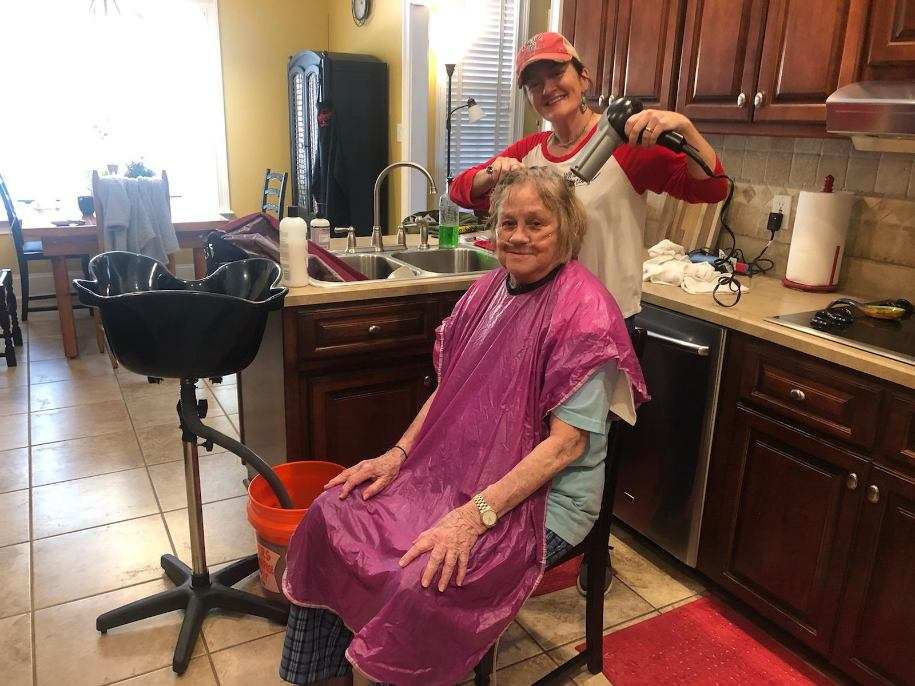 Singleton recognized early into her cosmetology career that there was a need for the types of services she now provides. When the typical tasks and routines of a beautician failed to fulfill her, she instead became involved in various jobs that helped nurture her skills and capabilities with the elderly and special needs communities. This included involvement as a paraprofessional within the Lowndes County school system and being a caregiver for a local home health care service for seniors. The Comb Over is now the only business of its kind in the Lake Park and surrounding areas.
"It's a wide, wide range of people that aren't getting services done that they used to enjoy, but that they can't anymore," said Singleton. "I mean, who wants to lay in a bed without your hair being washed? I just tried to figure out a way that I can reach people and do these things for them out of love and concern. And The Comb Over was a mixture of everything I've done that could be mine."
The Struggles of Obtaining Care
Across the United States, the need for personal care assistance can rise considerably with age. According to the Family Caregiver Alliance, individuals require long-term care when a particular chronic condition, trauma or illness limits the ability to carry out basic self-care tasks, called activities of daily living. It is here where basic tasks such as bathing, dressing or eating are more difficult, and in some cases impossible to perform alone.
According to the CDC, 21.7% of individuals over the age of 65 are categorized as having fair or poor health. Additionally, on an annual basis, over eight million Americans receive support from at least one of five main long-term care services: home health agencies, nursing homes, hospices, residential care communities and adult day service centers.
However, many of these services do not include traveling to the homes of those in need to provide hair, nail and basic home care like The Comb Over provides. Additionally, data regarding these specific services are minimal in the United States despite the need.
Shanta Jackson employed Singleton to tend to the needs of her mother, Roma Aslinger, in the years leading up to her passing. Jackson recognized the need for assistance which existed beyond the scope of her abilities given that her mother was an older woman, unable to drive and couldn't easily leave the senior apartment complex in which she lived.
"Trying to have a haircut or something like that done was difficult because of her limited mobility," said Jackson. "Not only would [Jennifer] come and do my mother's hair, but she would sit and talk with her, spend time with her, and my mom being by herself would love the company and love that someone was there visiting. Most older people do when they're lonely and don't have a lot of people to talk to, so [Jennifer] was more than just a hairdresser…she ended up being a really good friend to my mom."
One obstacle Singleton has come to face through her business is the lack of ability for some families to afford the services she provides, raising a struggle that was unforeseen when first starting the business. This holds especially true for older couples, one of whom will typically pay for the services for the other.
"When it comes down to it, I can't get in my car, travel 30 miles one way, and do these services for nothing," said Singleton. "And that sounds terrible, and it makes me feel terrible. Not everybody can afford the services, and that's where I find that I'm having issues with this."
In 2017, 9.2% of older adults over the age of 65 were below the poverty level, with the need for caregiving only increasing with age. Oftentimes, this leads to difficulty for members of this age group to pay for even the most basic forms of care. It is for this reason that Singleton is researching ways to acquire grants that will take the financial burden off of the clients entirely.
"I've been trying to figure out ways to reach people…there's got to be grants or some form of money that is available," said Singleton. "It's not like I'm trying to make a lot of money. I want to be able to leave my home and have a list of people that I get to see, and nobody gets turned away. It's not about money. That's my purpose."
The Interference of COVID-19
Following the increase in cases of the global pandemic in south Georgia, Singleton was forced to temporarily halt her services. Because most of her clients fall under the category of those most at risk to catch the disease, the decision was made out of concern for their safety and wellbeing.
"The more that this became something so scary for people, and because I work with a lot of elderly people, I couldn't stand it if something were to happen," said Singleton. "I do have one client right now that doesn't have any kind of help, no assistance, and needs me to come help him with his wife."
According to Singleton, the precautions she takes to protect both herself and the one client involves rigorous cleaning routines and the use of personal protective equipment.
Kim Clayton utilized The Comb Over's services for her mother, Mary Ann Wakefield, who had been suffering from Alzeihmer's in the months leading to her passing. Given the level of care Singleton practiced in order to maintain proper sanitation before the pandemic broke, Clayton believes that she could continue to perform her services even during this time.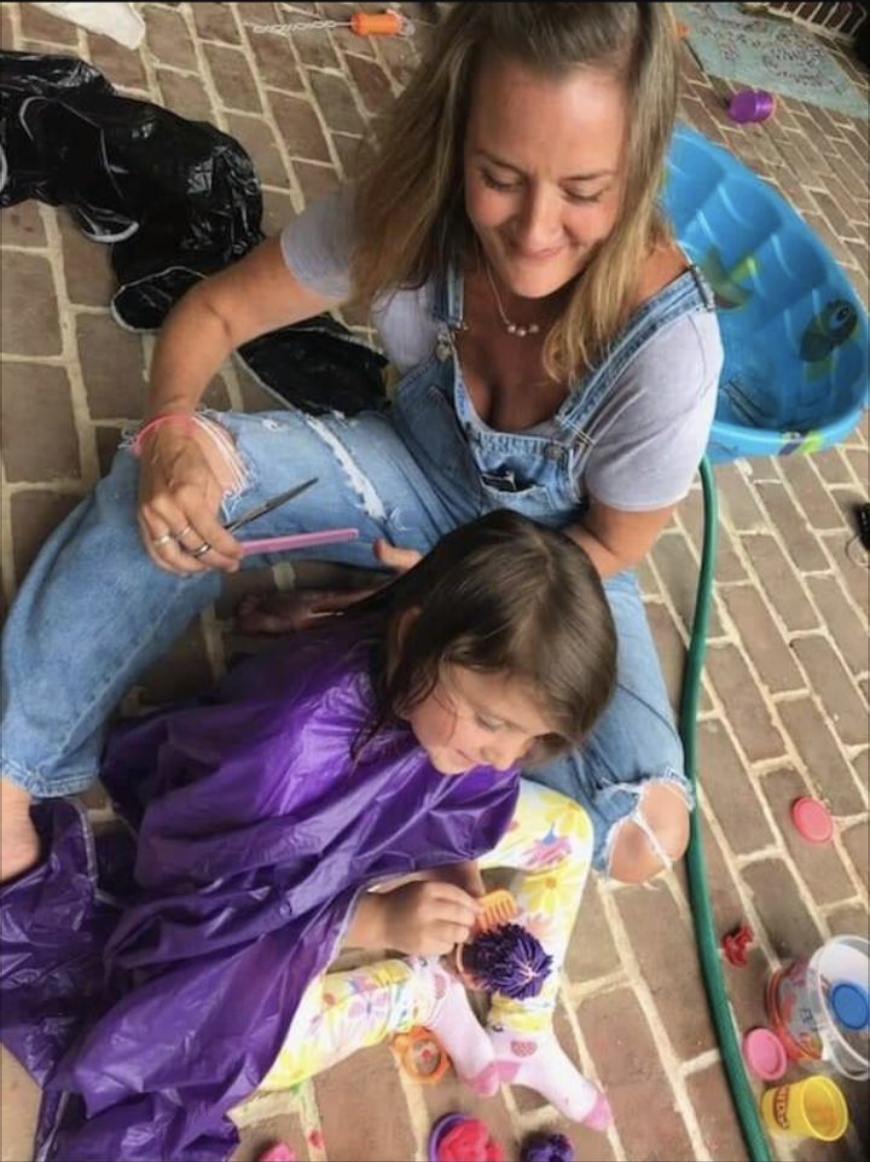 "Jennifer is very very careful, I know her instruments were sterilized and kept clean" Clayton said. "She did an awesome job cleaning everything up at the end of her session, you never found a piece of hair hanging around, she wore gloves even then. I think she could still do the job."
Despite this, Singleton will continue to cease contact with clients until the situation surrounding COVID-19 has improved.
"If anything ever happened I just wouldn't forgive myself," said Singleton.
The Continued Strive for Impact
In the local community, social media has been the primary way Singleton has raised awareness about The Comb Over, and families of clients have also recommended her services to others in need. According to Jackson, it is not so much the haircuts that make Singleton's services so valuable, but the simple acts of kindness she provides to those she works with. It is for this reason she chose to employ Singleton to help tend to her son who suffers from autism.
"I don't think people realize the service that she gives," said Jackson. "It's the consistency, it's going above and beyond, it's the friendship. When she's done cutting my son's hair, every single time, without fail, regardless of where she's gotta be next, she gives him a hug and tells him that she loves him. To give him that comfort."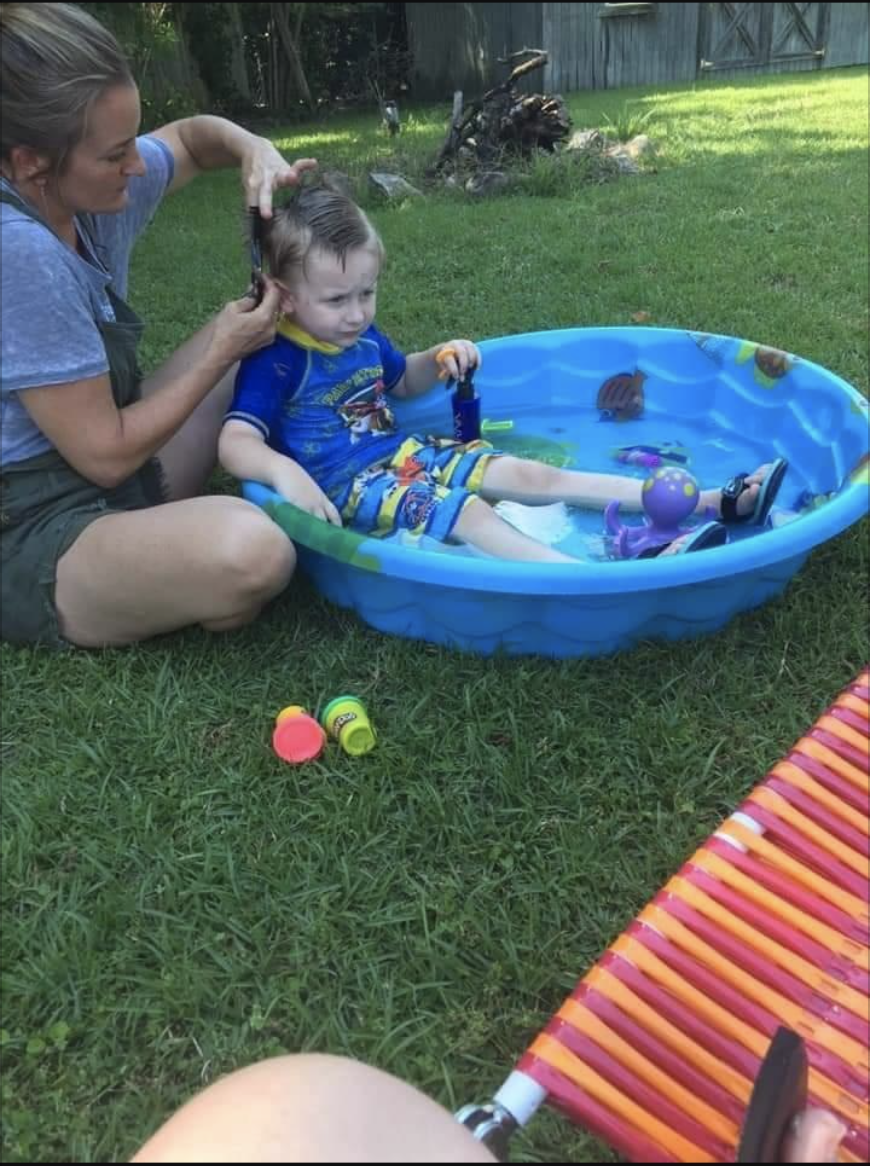 While Singleton primarily works within a 30 mile radius of her home, she is actively pursuing new ways to raise awareness about her business while also improving the financial burdens that may be preventing potential clients from utilizing the services.
"It's so much more than just a haircut," said Jackson.
Raini Singleton is a fourth-year majoring in political science and journalism with a certificate in Public Affairs Communications in the Grady College of Journalism and Mass Communication at the University of Georgia.
Disclosure of Relationship: Raini Singleton is the daughter of Jennifer Singleton.