Deborah Gonzalez, who is running for district attorney in Georgia's Western Judicial Circuit, knows the importance social media can play for her campaign. She is also aware of the amount of misinformation that can spread through social media channels, so Gonzalez has made an effort to make sure she is transparent with her followers and supporters on social media by fact-checking information.
Data from the Pew Research Center showed around 68% of adults occasionally get their news from social media; however, most Americans do not trust the news they get from certain platforms.
"Fake news" became a largely recognized issue during the 2016 presidential election, when false political ads on Twitter targeting Hillary Clinton supporters said people could vote through their phone instead of going to the precincts. This was one of many examples of misinformation that surfaced during that time.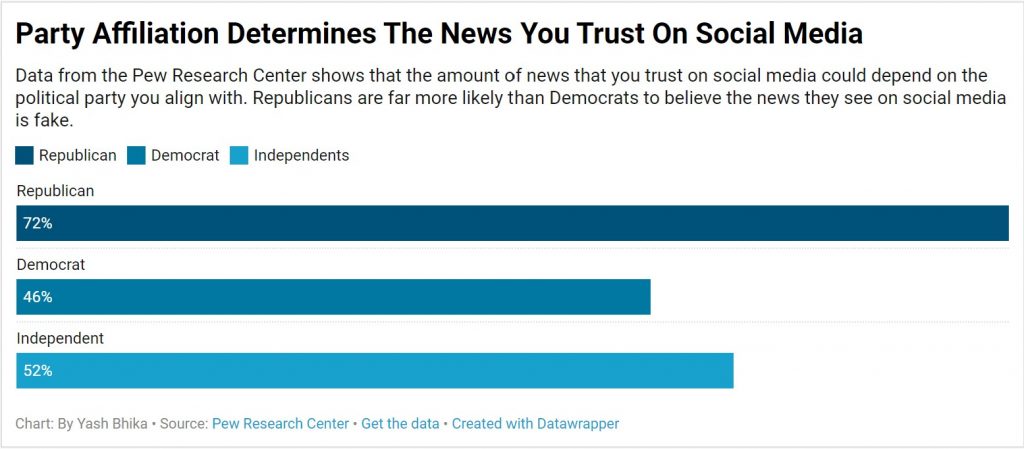 Why It's Newsworthy: The spread of "fake news" has been a national issue since the 2016 presidential election. Local officials now also have to deal with misinformation on social media.
Be Intentional
Gonzalez has told her staff to be intentional in the social media posts they craft for her campaign, so she can avoid situations where misinformation arises.
"If you think something is a little off or just doesn't seem right, just don't share it," Gonzalez said. "If we're going to stop this spread of fake news so that it doesn't affect us the way it did in 2016, we all have to take a bit of time in what it is that we are reading and be intentional in whether this is true or not."
Although people may view political news as a national issue, it can and does impact local officials who are running for office. Brian Patterson, who is also running for district attorney, said he is also aware of the misinformation that can spread via social media.
However, social media can also be a place to gain support and awareness for candidates.
For instance, the election for district attorney in Georgia's Western Judicial Circuit, which was scheduled in May, will now be delayed because of District Attorney Ken Mauldin retiring on Feb. 29. Gov. Brian Kemp can choose to appoint a DA before May 3, which would lead to an election for the position this coming November. He can also wait after May 3 to make an appointment, which would delay the election till 2022.
With the news of Mauldin's resignation, Gonzalez said she used Facebook to reach out to her supporters to sign a petition urging Gov. Kemp to make a decision before the May 3 deadline.
Using Verified Sources
Gonzalez and her social media team make sure they link their posts back to certified news organizations, such as The New York Times and the Vera Institute.
Although Gonzalez can link her arguments back to national stories, John Q. Williams, who is running for Clarke County Sheriff, said he cannot rely on national stories for his stances. Instead, Williams' social media manager, Alex Vanden Heuvel, said they only link to verified local news sources.
"[Fake news] concerns me, but that's why we're very transparent and willing to answer anybody's questions," Williams said. "I think you have to be ready to answer questions, even if they come from the place of somebody that is misinformed."
Social Media Use Has Grown
All three candidates said before they started to run for office, their social media use was small or nonexistent. As Gonzalez's Facebook page has grown while campaigning, her staff has been very careful about resharing posts or commenting on political satire.
"We try to teach our interns the idea of intention, be intentional about what you're sharing [on social media]," Gonzalez said.
All the local officials use social media to attract a base of people they already know, which allows them to gain a larger following for their campaign.
"We really just want to put the truth out there, and when you put the truth out there, you don't have to worry about misinterpreting, and you just speak from the heart," Williams said.
Social Media And Content Control
The control social media sites have over people's news feeds is a concern for most people, according to a research article by the Pew Research Center in 2019. For Gonzalez, she wants social media sites to acknowledge the misinformation that travels around the internet.
"I think [social media sites] are so big, and they have technology and advantage in technology that they should be held responsible, especially when [fake news is] brought to their attention," Gonzalez said. "They won't even put a tag on [fake news] to say that it's fake. I think they owe that to the users of their platform. I think they have that responsibility."
Twitter CEO Jack Dorsey announced in October of 2019 that it will soon ban all political advertising on its site; however, Facebook continues to allow politicians to purchase ads for their campaign. Williams and his team do buy political ads for his campaign on Facebook; however, they declined to give information on what audiences they target.
All candidates said one of the best ways to combat misinformation on social media is for people to do their own research. They asked people to double check their sources and make sure the information is verified. Gonzalez said everyone has to play a part in minimizing the spread of fake news on social media.
Jason Anastasopoulos, an assistant professor of political science at the University of Georgia, shares the same view, but he also said people should be aware the content they see on social media has been tailored to them.
"When you encounter a piece of news that you have a strong emotional reaction to, I think the best thing to do is realize Facebook, Twitter or whoever, they've given that story, so I would have that emotional reaction," Anastasopoulos said. "So that I would feel a certain way or do a certain thing because they are trying to appeal to some kind of biases I may have."
Yash Bhika is a senior majoring in journalism with a sports media certificate in the Grady College of Journalism and Mass Communication at the University of Georgia.