Athens, GA | Nov. 17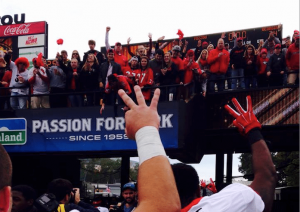 Todd Gurley cannot escape the spotlight this year.
Gurley's 10-million-dollar insurance coverage raises a lot of questions about how student athletes are covered regarding injuries and where this money comes from.
UGA paid to raise Gurley's insurance against injuries to $10 million. $5 million going towards total diasability and $5 million going towards loss of value. This means that he'll get incriments of this money if he slips out of the first round of the NFL draft.
Previously, Todd Gurley's insurance covered $7.5 million, giving him only $2.5 million for loss of value.
NCAA pays for this insurance plan, and it's designed to assist students in "intercollegiate athletics, enrollment in an academic curriculum or that recognize academic achievement."