UPDATE:
10:10 am — Reporter Mallory Blount interviews Vice President of Public Affairs Tom Jackson who says the UGA Office of Student Affairs has no plans to cancel spring Greek life activities.
11:15 am — President of UGA chapter Sigma Phi Epsilon Garrett Hendricks says the fraternity is fully intending on having its Spring Luau later this month. He says the members have not been given any reason to think that their party would be cancelled.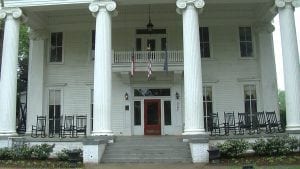 Athens, GA — It's spring party season for sororities and fraternities. Despite national controversy after Rutgers University announced that they will be cancelling all sorority and fraternity spring parties, UGA Greek life has not made any move in that direction. Vice President of Public Affairs Tom Jackson says UGA Student Affairs is monitoring the situation but has not felt the need to act so far. He also says the Student Affairs office is in constant communication with UGA Greek life in order to make the best decision for the Greek system and for the university.
In September, Rutgers University student Caitlyn Kovacs, 19, of Monmouth Junction, died of alcohol poisoning after friends took her to the hospital after seeing her in distress at a party at the Delta Kappa Epsilon house in New Brunswick. Delta Kappa Epsilon and five other unnamed Rutgers fraternities are facing campus discipline reviews for alcohol-related incidents. It was "alcohol-related incidents" such as this that caused Rutgers University to ban spring Greek life activities.
The UGA Intra Fraternity Council says in an official statement,
"We evaluate any situations at our University as they occur… If a situation arises, we would determine the necessary and appropriate action."