Just two weeks before the Nov. 6 midterm elections, the candidates for Georgia's next governor—Rep. Stacey Abrams (D), Secretary of State Brian Kemp (R) and Ted Metz (L)—took to the podiums during the Atlanta Press Club Loudermilk-Young Gubernatorial Debate in Atlanta.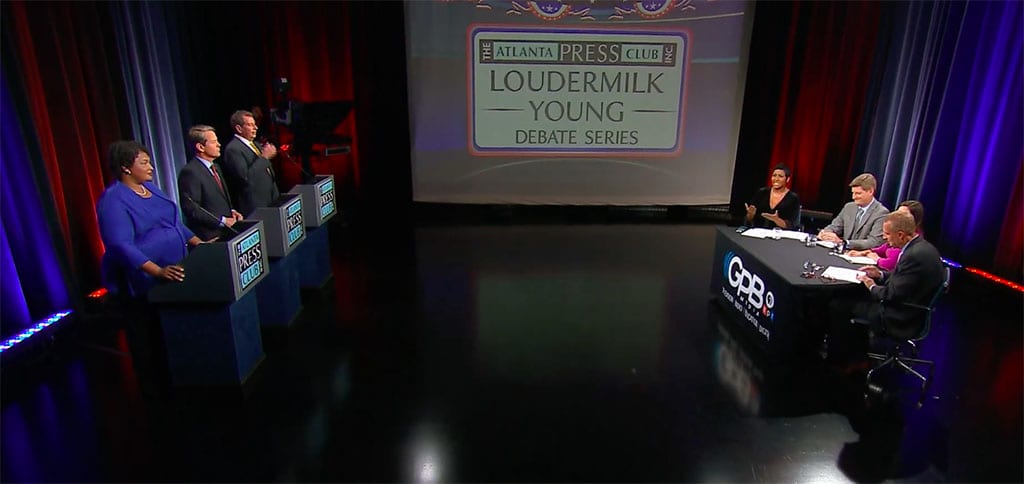 The debate, hosted by Georgia Public Broadcasting, PBS and The Atlanta Press Club, covered a variety of issues ranging from health care to education and illegal immigration. The state's economy, however, was a common thread the candidates weaved into each of these issues.
Kemp, in particular, brought up the state's economy often while pointing out that Abrams' plans for healthcare and education reform could cost taxpayers an additional $13,000 per year. Kemp did not cite where he got those numbers, but he did share a similar statement with WSB-TV Tuesday when discussing Abrams' finances.
He also criticized Abrams by saying she has not been paying her taxes on time, and even though she owes on her taxes, she loaned $50,000 her own campaign, a fact that was confirmed by the Atlanta Journal-Constitution.
"My wife and I have always paid our taxes. That's what we do as Georgians," Kemp stated.
Abrams said that she has been on a payment plan with the IRS, and the reason she has not paid on-time is that she is the sole source of income for her parents. Her father has cancer, and she helps pay for his treatments.
"You can defer tax payments. You cannot defer cancer treatment," Abrams said.
Abrams also repeatedly referred to her plans to expand Medicaid in order to grow Georgia's economy. She stated that doing so would create more jobs for Georgians, as a Kaiser Family Foundation shows it did in Colorado, and that it could help fight important issues in the state such as drug trafficking and opioid addiction.
Kemp, however, maintained that Abrams' healthcare plan would raise taxes and make some citizens' insurance plans "illegal."
Metz, however, deviated from both candidates in his views on the economy.
Sporting two pins depicting marijuana leaves, Metz chose instead to focus on the economic benefits of making hemp a primary cash crop in the state. He stated this would help rural farmers in central and southern counties, and he said industrial hemp could create more jobs.
"We are an agricultural state, and we need more agricultural products. Industrial hemp is a product that can create jobs in Georgia and create prosperity," Metz stated.
Ultimately, candidates agreed there are major ways Georgia's economy can be improved, but the final decision on how to make these improvements will be left up to the voters on Nov. 6.
Morgan Hydrick is a first-year master's student in journalism at the University of Georgia.