For local news organizations, being engaged with the local community is essential to finding out what local residents want from their news and what they need to know. However, new media models such as news aggregators and those that include local residents in the journalistic process, are increasingly being used to fill gaps in coverage caused by a decline in local newsroom staffing.
Local news deserts create problems for communities. While the majority of Americans are getting some of their local news digitally, they still recognize the importance of local journalists being engaged in the local community. According to Pew Research Center, "About half of U.S. adults say the local news they get mostly covers an area other than where they live."
There is still some uncertainty when it comes to how news aggregators are used. According to Pew Research Center, the vast majority of Americans are not using news aggregators. However, only half of Americans are confident they can differentiate news aggregators and organizations doing original reporting.
Why It's Newsworthy: Where local residents get their news can have effects on how informed they are. Depending on the source, there can be variations in reliability and usefulness to local residents.
Local Media Weighs in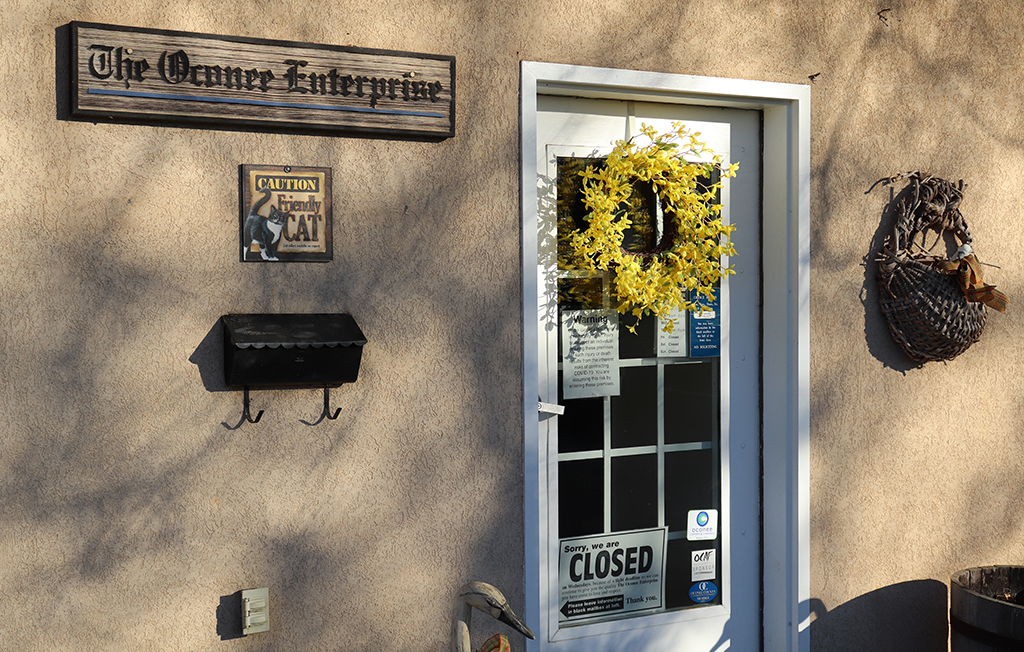 Michael Prochaska, editor for The Oconee Enterprise, said he worries about where people get their news. "I don't think they're always reliable … you need a trained journalist," he said, in reference to Facebook groups and community-sourced news.
Prochaska said news aggregators may not be able to connect local residents with stories the way traditional news organizations can.
"A lot of these aggregators are not publishing stories about the actual local community," he said. "It's like if you turn on the TV on Fox 5, you're going to get a bunch of stories about Atlanta and Metro Atlanta. You're not going to get many stories about Athens."
What is Patch?
As the name suggests, Patch wants to cover holes in reporting present in the local news landscape. Jeff Arnold is a roving editor for Patch, and he describes Patch as a "hyperlocal news organization that strives to cover pretty much anything that's happening in a 'patch town'. I think much in the same way as a local newspaper would cover a city or town, that's the approach Patch wants to take."
These "patch towns" are headed by local editors; they may be the only news presence in an area or they are part of its local news landscape. Beyond local editors, Patch also allows members of the local communities to post content relating to local affairs and news.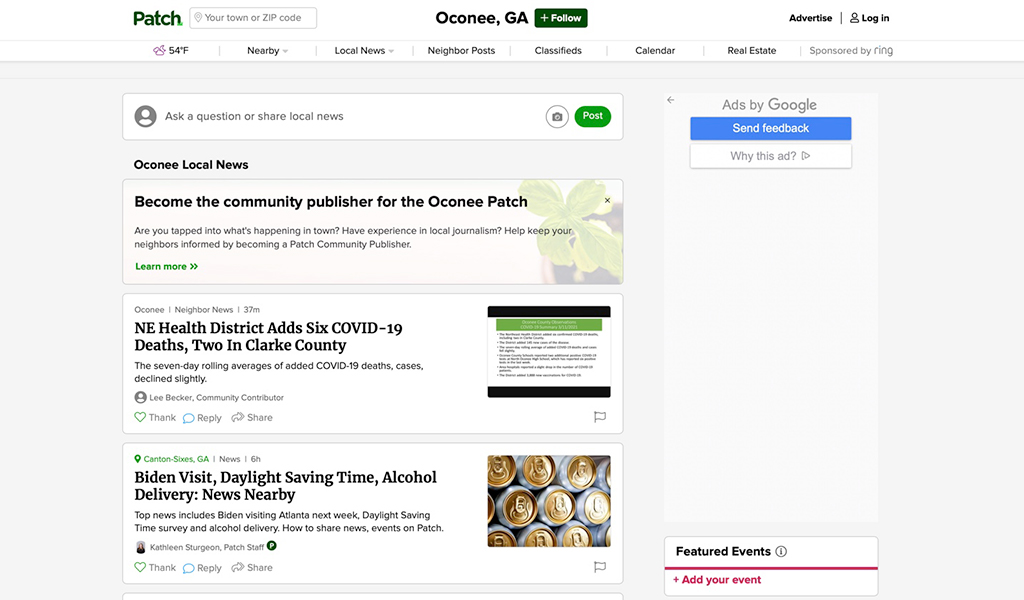 There are several types of content Patch hosts apart from original content produced by Patch editors and writers. Users can post about local events, share opinions, comment on stories and even contribute to local news coverage. Arnold said while the organization is focused on hyperlocal news, due to limited personnel in some areas, local Patch editors may have to rely on content aggregated from other local news outlets, even though it is not Patch's goal. Arnold said Patch plans to hire more journalists as it expands. Patch's local news network spans across more than 1,200 towns in America.
Arnold said while Patch continues to expand, it will maintain its focus on its hyperlocal model.
"We want to cut down on the areas where there are news deserts. We want people to be aware of where to get the vaccine, if there's no news organization to get that information out people are going to be at a difficult spot," Arnold said.
Involving the Community in Local Journalism
According to Pew Research Center, most Americans (63%) say their local journalists are generally in touch with the community.
"I think the local media needs to be more in touch with what the citizens want and focus more on local news aspects," said Prochaska.
He said local news organizations must focus on local affairs including board of commissioners meetings, city council meetings and board of education meetings to become more in tune with what local residents want to know and what they need to know.
Lee Becker, a retired University of Georgia journalism professor, post summaries of his blog entitled Oconee County Observations on Patch.
"I do it as a contribution to the community. I do it as a hobby. Anybody who wants it can have it." said Becker. He does not have an official relationship with Patch, but said he chooses to post on the platform to reach new audiences and bring readers to his blog.
According to Prochaska, local residents emailing tips and submitting photographs of breaking news used in the publication's coverage of local news are ways in which local residents play a role in the journalistic process, However, he is hesitant about local news derived from community-sourced news networks.
"I just don't see those as reliable," Prochaska said. "It's important to involve citizens in the journalistic process, but I think it takes a trained journalist to do the hard work."
However, he added the reliability of these sources vary on a case-by-case basis.
The emergence of organizations using new media models such as news aggregators and community Facebook groups was inevitable, according to Athens Banner-Herald Executive Editor Caitlyn Stroh-Page.
"At one point, we were talking about the rise of digital, so many things have come to fruition to change the way people consume news, find news, hear news," she said.

Can the Holes in Coverage be Filled?
With local newspaper staff in decline overall, Arnold said Patch has an opportunity to fill gaps where a local newspaper may not have the personnel or resources to cover certain events.
Becker agrees.
"The staffing at local news organizations is minimal, and there's a need for citizens to step forward," he said.
According to Stroh-Page, there shouldn't be any barriers to entry for residents who want to tell news in their local communities. In her perspective, while many journalists do have an education in journalism, people don't need to go to journalism school in order to produce quality journalism.
While Stroh-Page said it does matter how and where people get their news, it doesn't mean non-traditional news outlets can't be a viable option.
"There are some people who maintain local news blogs just as good if not better than local news organizations. It's just figuring out who you can and who you can't trust," said Stroh-Page.
Fabian Munive is a senior year majoring in journalism in the Grady College of Journalism and Mass Communication and minoring in Sociology at the University of Georgia.