University of Georgia students are making careful decisions about their recently dispersed funds through the Higher Education Emergency Relief II (HEER II) Fund. Some students' potential plans include saving all or a portion of the money, paying bills, or sending the money home to assist their family.
Tiffany Mukundi, a junior at UGA, said she felt relieved when the funds came because they came at a time when she "didn't need it," and she paid her tuition balance for the semester.
"So, I'm a first generation student, so the last time I gave it to my mom to help pay for her immigration fees with her lawyers and stuff," Mukundi said. "So, this time around, it's just kind of to help pay some of the bills that needs to help get paid."
Why It's Newsworthy: Students at UGA received a third distribution of funding from HEER II before Americans have received a second stimulus check. This may require students to make many tough choices with their new money.
In early February, UGA students were notified if they were eligible for disbursement of $500 to $1,000 in the current spring semester, and $300 to $500 if a student chose to enroll in the summer semester, which was similar to the distribution process for the University in the spring semester. The refund would be conducted through their student account into a personal bank account. These funds were made available through the federal Coronavirus Response and Relief Supplemental Appropriations Act, 2021 (CRRSAA) portion of the HEER II Fund.
Georgia Universities Approach
Many universities took a similar approach to UGA. Qualifications for the amounts distributed to a student were based on needs-based federal financial aid and the Expected Family Contribution (EFC) generated from the Free Application for Federal Student Aid (FAFSA).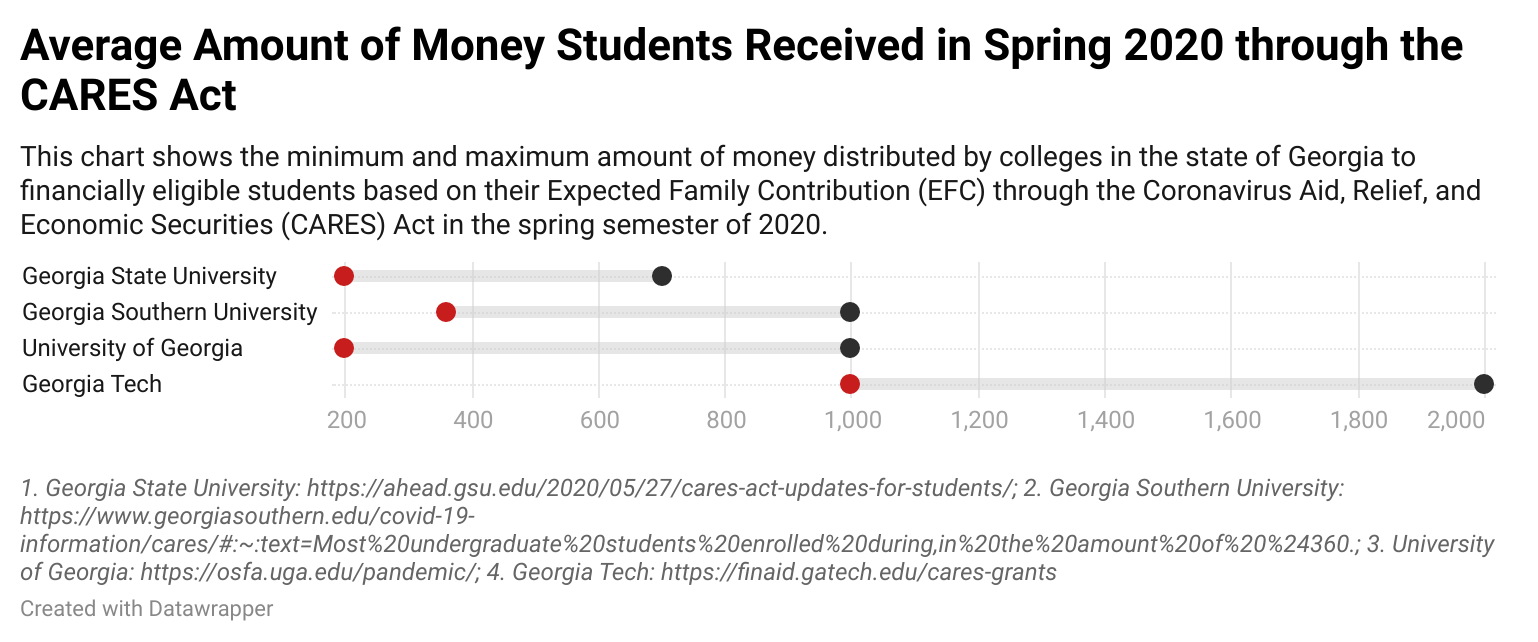 Perspective of the Distribution
Mukundi describes the fact that UGA received another disbursement of funds before Americans have received another stimulus check as "weird." She said her brother attends college at a different institution, but he has not received anything,
"I think it's kind of harder on students when your parents are supposed to be relying on something to pay things they aren't able to pay because of what's going on right now [the pandemic]," Mukundi saiud. "I don't see why we were prioritized first."
The funds for this distribution came after the U.S. Department of Education announced on Jan. 14 that $21.2 billion is available to colleges and universities to "serve students and ensure learning continues during the COVID-19 pandemic."
The Generational Problem
Sending money back to help your family is not a new concept for many college students. Michael Thomas, a financial planning, housing and consumer economics professor for UGA, said this concept is a continuous generational financial issue being heightened by COVID-19.
"So, what happens though is that we never really create wealth, and we kind of stay stagnant," Thomas said. "Because all of the money is going back, and it's never going forward to create something greater."
Thomas said the idea of taking care of your family before you have started your own is a more widely spread concept in many minorities contributing to the racial wealth gap. In the Black community, it has become known as "The Black Tax."
In a report released by the Institute of Policy Studies in 2019, median white wealth will be $174,000 by 2050. Latino wealth is estimated to be $8,600, and Black median wealth is estimated to be $600. Black family wealth is on track to be zero by 2082.
Planning with New Income
Saving is one of the approaches Mukundi supports, if a student can afford to do so.
"My thought process is 'I don't know if there's going to be a rainy day or me not being able to work," Mukundi said. "With me having COVID last semester, I missed so many days of work. If I would've had money in my savings, that would've been able to help me."
Thomas said he hopes students who are struggling financially are able to apply for these types of funds again in the future after the pandemic. He said the worries of financial burdens can cause students more harm than good.
"There's this level of stress that we only address when it affects everybody," Thomas said. "There's the stress level as it relates to the financial burden, which can make it difficult to concentrate and focus on school and even finish school."
President Joe Biden signed a new $1.9 trillion COVID-19 financial relief on Thursday, Mar.11. The new relief provides stimulus check to qualifying Americans, aid with vaccine distribution and expansion to unemployment payments.
Jayla Johnson is a senior majoring in journalism in the Grady College of Journalism and Mass Communication at the University of Georgia.