News deserts, or areas that lack local journalism, have been increasing over the last 30 years. Northeast Georgia proves to be no exception, as some counties in the area are without a local newspaper. According to a study by the University of North Carolina Hussman School of Journalism and Media, there has been a 48% decrease of newspapers circulating in the state of Georgia over the last 15 years, and more than 17 counties are without a single local newspaper for their area.
Why It's Newsworthy: Northeast Georgia is no exception to the trend of loss of local journalism. The Athens Banner-Herald and Report for America are teaming up to fight that trend, and expand local journalism in Athens.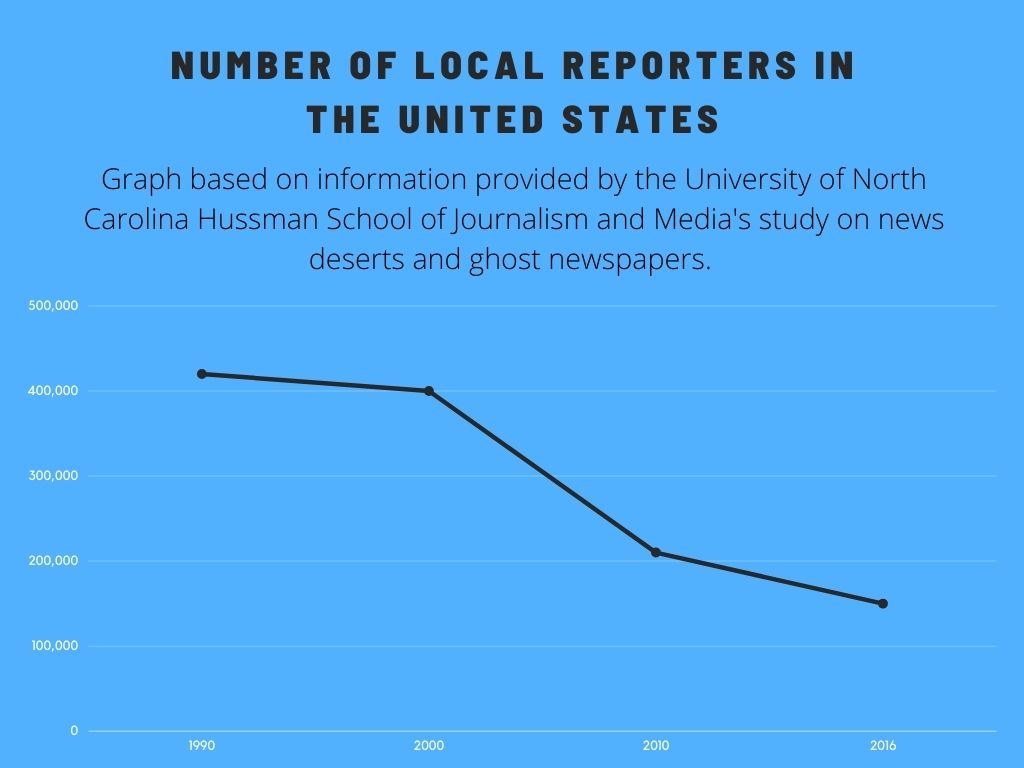 One non-profit created to fight the problem of news deserts is Report for America. A branch of The GroundTruth Project, Report for America is an organization focused on combating the loss of local journalism and filling the void left by ever-growing news deserts.
The Athens Banner-Herald has been chosen as one of the 2021 newsrooms to receive two journalists from the Report for America initiative. This opportunity will allow the Athens Banner-Herald to report deeper on the Athens community without the burden of paying two new full salaries.
This is positive news for Athens news consumers because it means more local reporting and coverage is coming their way.
How It Works
Report for America places two journalists in the chosen newsroom and provides funding for half their salary (up to $25,000). The other half is split between the Athens Banner-Herald and local donors, big and small, interested in supporting journalism. The non-profit picks newsrooms to support based on need, often choosing organizations that have a lack of diverse, local coverage. Report for America mentions in their job listing for Athens that the demographics of the county are unproportionally matched with news coverage, noting, "Athens, which is approximately 27% Black and 10% Hispanic, has wrestled with a poverty rate of 27% and many of the issues that are associated with it."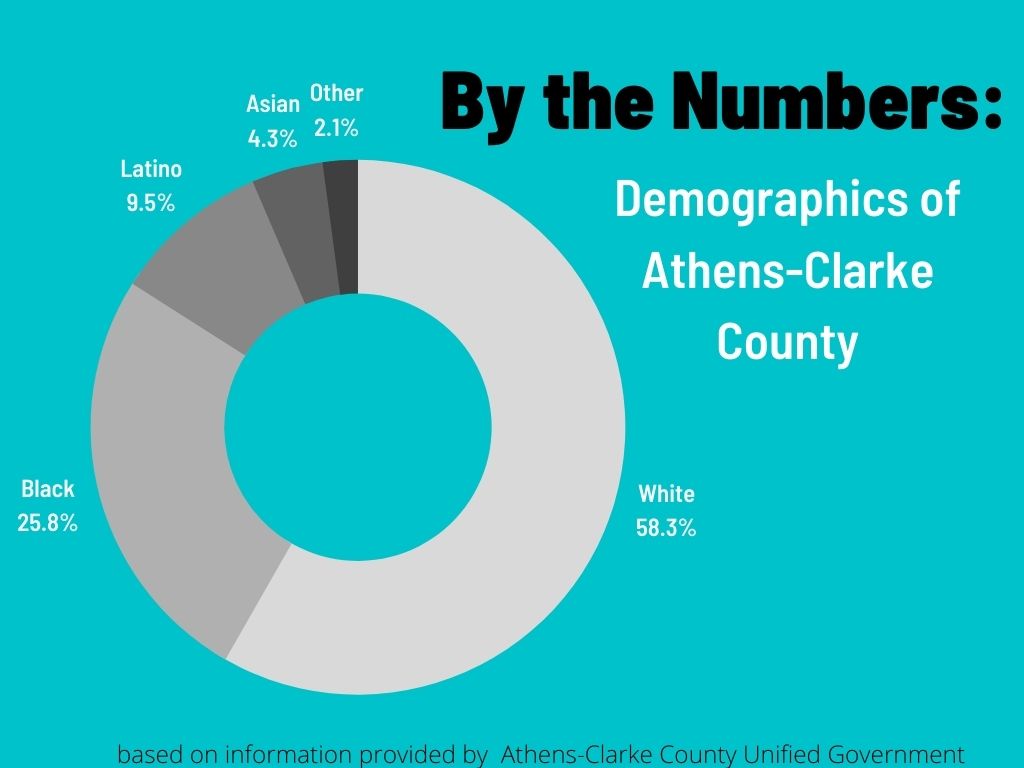 Caitlyn Stroh-Page, executive editor of the Athens Banner-Herald, mentions that this program will be both a relief and an exciting opportunity for the news outlet, citing lack of funding as an issue they are always facing.
Three to five journalists will be vetted and chosen by Report for America, and Stroh-Page will make the final decision on who is hired. The two journalists chosen will then work to create the Athens Equality Lab to increase coverage of equity, equality, diversity and inclusivity issues at the Athens Banner-Herald.
Sergio Bustos, Report for America's Corps Excellence Regional Manager of the South, said the process of picking newsrooms is more than just need-based.
"We're not looking for innovation [in the newsroom], we're looking for newsrooms committed to covering the uncovered stories, committed to covering issues the public needs to know about, anything from racial injustice to the environment," he said.
He notes the unique opportunity happening in the South at the moment.
"The country right now is doing a deep and profound examination with racism and it is a tremendous opportunity for journalists to dig deep and pay huge attention on racial justice across the country and especially in the South," Bustos said.
Report for America's National Success
The organization has its sights set on growth over the next five years. According to The Ground Truth Project's 2019 annual report, since being founded in 2017, Report for America has placed more than 225 journalists in newsrooms across the country (46 states, Washington D.C. and Puerto Rico), and they expect to place more than 1,000 journalists by 2024.
Bustos said seeing the success is thrilling.
"The whole idea of Report for America is to fill the void left by news deserts… so many of these places are left without a watchdog; without someone to write those feature stories or the obituaries or to cover the school board."
He said this reason is what makes Report for America's mission so important, and will guide them to success.
"Traditionally, legacy media had covered these issues, but in the wake of the loss of so many jobs, some of the beats we need covered aren't being covered anymore," Bustos said.
The nonprofit places journalists in organizations both big and small; ranging from large news outlets like the Miami Herald to experimental digital start-ups like MLK50 in Memphis, Tennessee. This vast range of established newsrooms and experimental start-ups allows them to see where Report for America finds the most effectiveness.
Downfalls
While this organization will allow for more local reporting and coverage for the Athens area, it is certainly not a permanent solution to all of the challenges that local journalism is facing in Northeast Georgia. First, the Athens Banner-Herald must rely on local support to fund the other 25% of the journalist's salary (according to ReportforAmerica.org the total salary usually falls between $30,000 and $45,000 depending on the region). There is no guarantee that they raise the money needed.
The program is also only a two-year deal, which means placing journalists into new environments for a short period of time, helping them build a foundation, then possibly uprooting them again when the contract ends. This begs the question if two years is even enough time for these emerging journalists to get acquainted with the community enough to properly cover them.
The Community Impact
Report for America's impact in Athens will not stop at the Athens Banner-Herald. The program has also committed to working with local schools and the University of Georgia to impact the county. All reporters placed with Report for America are required to have a service project that includes volunteering their time working with journalism students in the area.
The Athens Banner-Herald is still working on what that will look like locally.
"Once we know which journalists will be placed in Athens, we will better understand how the lab and Clarke County School District can help each other. It may be direct mentorship of high school journalists; it may be involving the young journalists in reporting projects; it may be monthly forums," Stroh-Page said.
Read More About Non-Profits in News
Multiple University of Georgia professionals have already signed on to mentor the Report for America journalists and help them get acquainted with the needs of the area.
"The intent is that they can be a community editor and help guide these Report for America corps members to the best stories possible," Stroh-Page said.
Community outreach is emphasized by Report for America as a key part of their program.
"Not only are we interested in placing emerging journalists all over the country and flooding these news deserts with journalists, but we're also trying to teach and usher in another generation of reporters and that means exactly what their doing at the [Athens Equality] lab … tapping into resources at the University of Georgia and going beyond and trying to inspire journalism students to come." Bustos said.
Jordan Bischoff is a fifth-year majoring in journalism in the Grady College of Journalism and Mass Communication at the University of Georgia.