After a sharp increase in young voters during the 2018 midterm election, UGA Votes, a voter registration and engagement campaign, is hoping to see this continue in 2020.
UGA Votes helps voters register, change registration addresses and fill out absentee ballots.
According to the United States Census, voter turnout for 18 to 29-year-olds in the 2018 midterm election increased from 20 percent to 36 percent.
This was the largest growth of any age group.
UGA Votes' Alex Huskey, operations staff member, believes the large turnout was from Democrats attempting to make a change, and Republicans trying to back the president.
"I think a lot of young people are driven by the president, whether it's in support of him or against him, to come out and vote," he said.
Here is how UGA Votes helped register students ahead of the 2018 midterm election.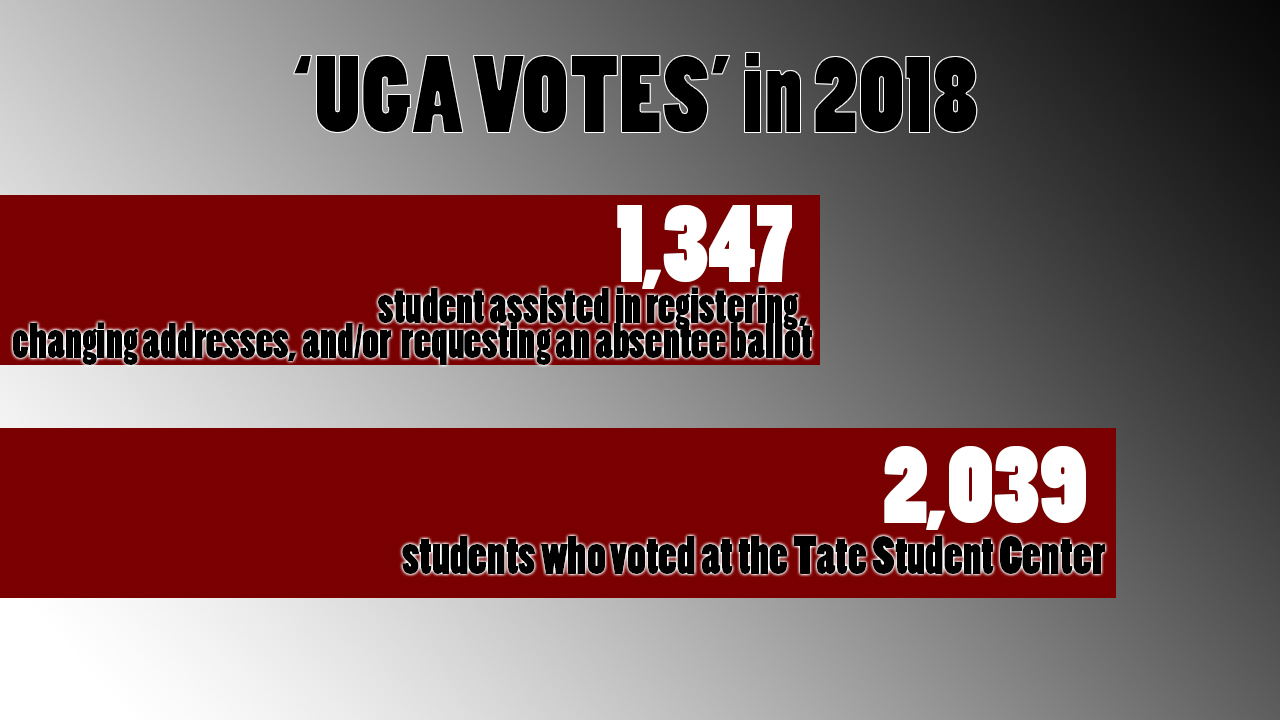 UGA Votes set up a booth from 10 a.m. to 3 p.m. at the Tate Student Center each day leading up to the deadline.
Aaliyah Jones, a student at UGA, said the process was simple and took just a couple of minutes.
"You have to go out there and you have to vote," Jones said. "You can't just wait for things to happen."
UGA student Emma Marvil said she plans to vote in the primary to elect someone who can make a change.
"A lot of people discount that [primary elections] as it's not the real election," she said. "I think it's often where your opinion counts the most."
Here is what else these students had to say.
Operations Director Marleena Tamminen said their campaign helped voters register, change registration addresses and fill out absentee ballots.
Tamminen emphasized the importance of students being registered.
"We just want students to think that they have a voice," she said. "Once they think that they have that, they will exercise it, and that could make a big change in our politics."
While Monday was the deadline to register to vote in the presidential primary election, it is not the last opportunity to register for the general election.
Early voting for the 2020 Presidential Primary begins this Monday. To find your polling location in Athens-Clarke County, visit athensclarkecounty.com.
Trevor Terry is a senior majoring in journalism in the Grady College of Journalism and Mass Communication at the University of Georgia.