While spending a day at her grandmother's house, Brittani Miles and her father had a disagreement. The father-daughter dispute centered around vote-by-mail fraud, an issue which continues to elicit conversations as President Donald Trump claims President-elect Joe Biden "stole" the 2020 presidential election despite a failure to offer substantial evidence.
Miles, a junior history and political science double major at the University of Georgia, discussed the claims of vote-by-mail fraud in her electoral behavior course only a week prior to her conversation with her father. While Miles' father used Facebook posts flagged for misinformation to support his argument, Miles said she opted for peer-reviewed scholarly articles.
"I was like, 'Dad, I really don't want to embarrass you in front of Meemee and also have a riff in this household,'" Miles said.
Since their disagreement a few months ago, Miles said she and her father haven't discussed politics again. Given this year's tense election cycle, Americans should "pick their battles" when deciding to discuss politics with their family or friends to save themselves from the stress and potential ruin to relationships, said Alexa Bankert, a political science professor at the University of Georgia.
Why It's Newsworthy: This year's election season is coming to an end, but Americans will continue to hold tense conversations about politics with their loved ones as they celebrate the holidays.
Political Polarization and Its Effects
Polarization is nothing new, but these divisions have become deeper and more visceral in the last 20 years. Democrats and Republicans are more ideologically divided now than at any point in the past two decades, according to a 2014 study by Pew Research Center. And partisan antipathy, in which one party sees the other in a negative light, is at higher levels, which means agreeing to disagree may be a way of the past.
If these trends continue, it could jeopardize democracy, Bankert said. The rate at which Democrats and Republicans dehumanize one another continues to increase, and Bankert said addressing this issue may be the first step toward decreasing political polarization.
Colin
McKinney
, an emergency medicine specialist in Athens, treats people from all walks of life and political backgrounds, he said. McKinney remembers these diverse interactions in all aspects of life.
As a Libertarian, McKinney said he will agree or disagree with Democrats or Republicans depending on the issue. Even if a person has strong political beliefs — like McKinney — he believes that shouldn't be a breaking point in a relationship.
"When it comes to family, they know you," McKinney said. "They know who you are and where you come from. Rely on that. You've got to say, 'Look, you know I'm not an evil person, you know I'm not a bad person.' On the right side, and on the left side, we've all got the best of intentions."
Not everyone takes McKinney's approach to separating partisanship from their relationships. Nearly half of American adults stopped talking to someone as a result of political speech either posted online or spoken in-person, according to a 2020 study by Pew. Likewise, more than one-third of UGA freshmen blocked someone for the same reason, according to a research survey of about 1,000 students conducted by Bankert in the fall of 2020.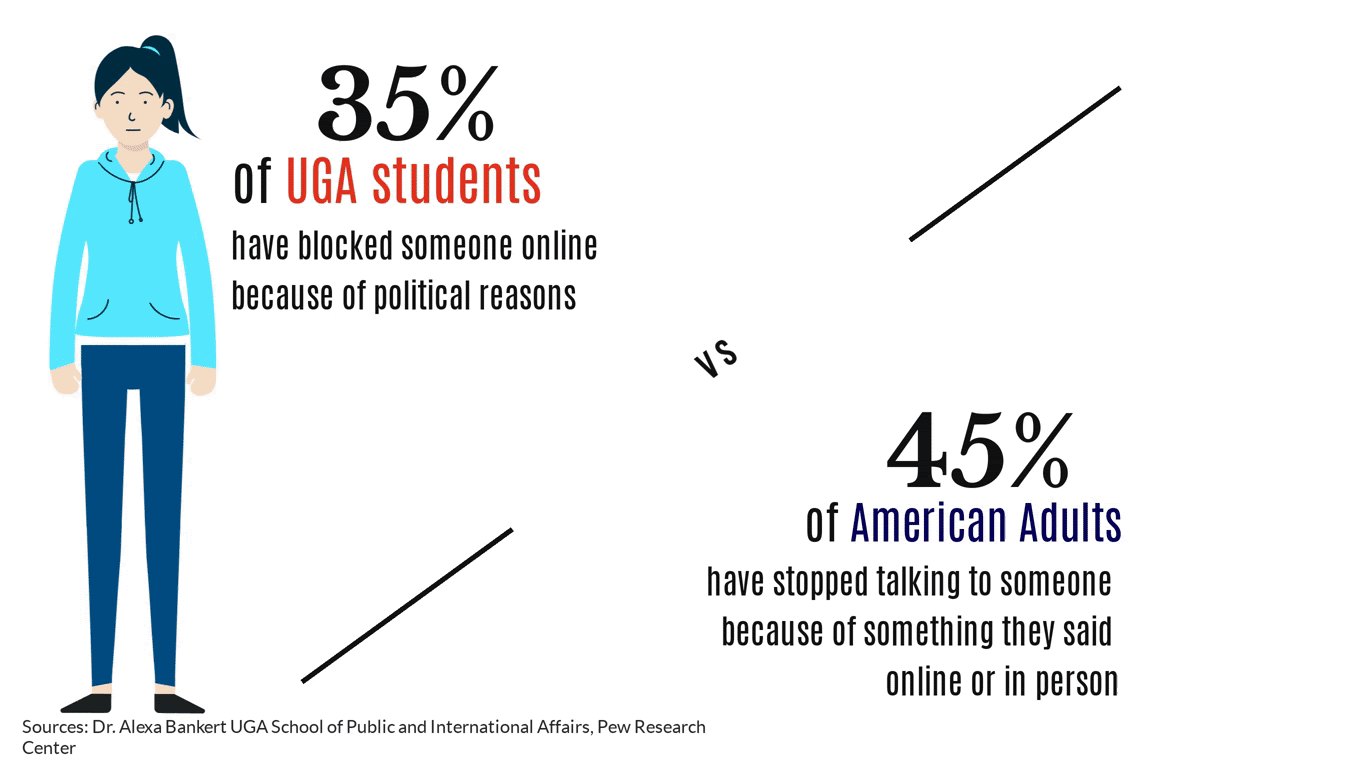 Some groups are more likely than others to block someone over political speech. In terms of partisanship, about 60% of liberal Democrats and 45% of conservative Republicans reported ending communication with someone for this reason, according to the same 2020 Pew study.
A person's level of engagement with political news may also indicate whether they'd unfriend or block someone. About 58% of respondents who follow political and election news "very closely" stopped talking to someone because of political disagreements, according to the recent Pew study. The study adds that people who receive their news from local television stations are far less likely to block someone compared to their cable-watching and Facebook-clicking counterparts.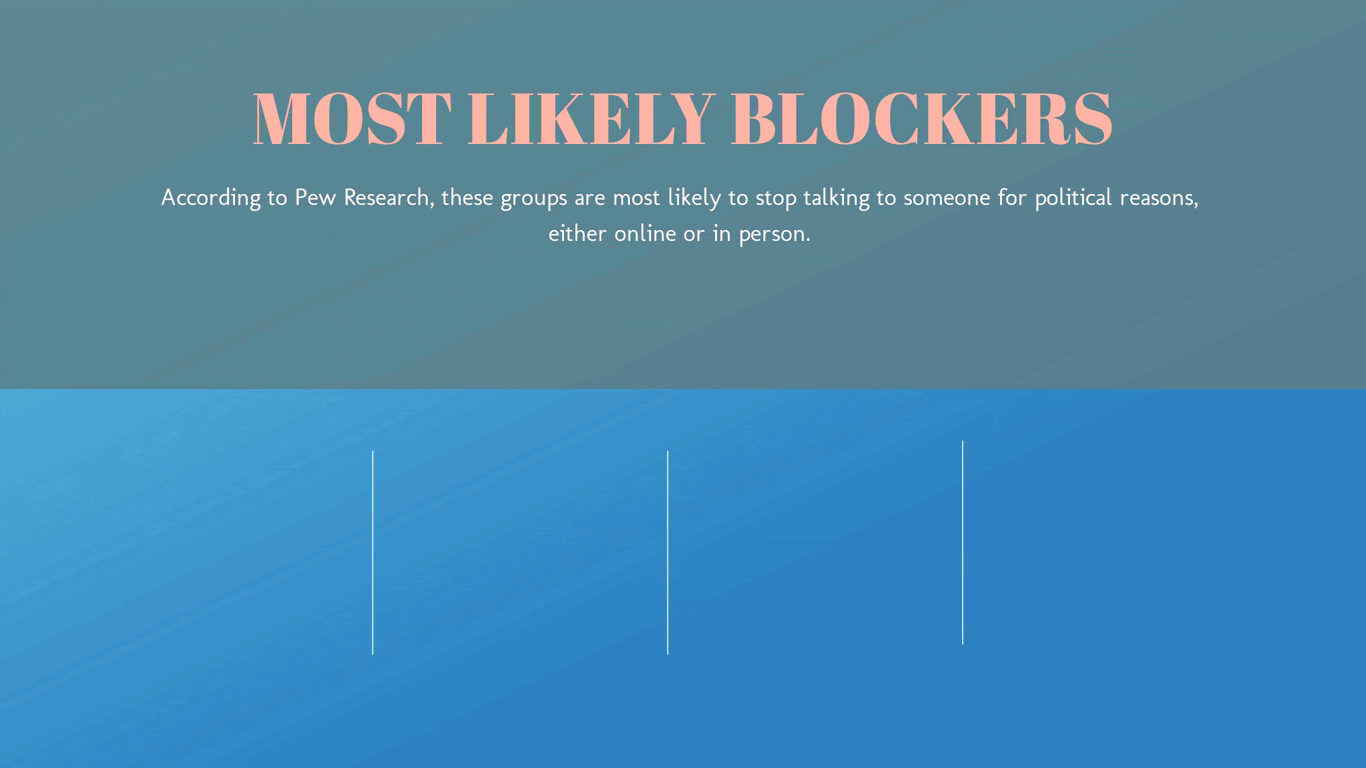 Understanding the Roots of Political Polarization
There are several theories to explain the increase in political polarization. One reason, Bankert said, could be the divisive rhetoric coming from partisan elites in which they mobilize their followers through anger or fear against the other party. Changes in the media environment and the Internet are also likely contributors, she said.
Despite the strain it places on relationships between friends and family members, the uptick in political polarization has a silver lining. As political polarization increases, it allows researchers to better understand why it occurs, how it could be alleviated and how it could be avoided in the future.
Understanding political polarization may lie in the study of psychology, said Oriel FeldmanHall, a psychology professor at Brown University.
"If we understand the psychological mechanisms that are scaffolding political polarization, we can create more targeted manipulations for getting people out of this polarized space," FeldmanHall said. "But we have to have a better understanding and a grasp of where polarization is coming online in that processing pipeline, to create those targeted interventions in a useful way."
In the studies conducted by FeldmanHall and her colleagues, they're moving away from self-reported responses from subjects due to the possibility of bias. FeldmanHall said that sometimes people don't wish to share their actual beliefs or might change them to avoid judgement from the researcher.
As an alternative to self-reporting studies, FeldmanHall said some researchers analyze and compare the neural activity of participants with similar political opinions while watching debates and online advertisements, among other things.
According to a study by FeldmanHall and her colleagues, "uncertainty-intolerant" people have greater similarities in neural activity with politically like-minded people compared to political opposition. Alongside looking at the similarities between brain activity, they're also working toward tracking the participants' eye movements during the debates.
"By taking it out of the self-report domain, we're trying to get a little bit better readout that's less biased," FeldmanHall said. "What's happening in the body to create these polarized perceptions of reality?"
Navigating Political Conversations
Because of the inextricable relationship between partisanship and identity, emotions run high during election cycles, Bankert said.
As Americans celebrate during the holiday season and the contentious election comes up in conversations, here are four tips to remember when politics come up with friends and family members:
Make your argument and provide your sources, but try to be respectful toward the other person, Miles said.

If you enter a conversation to persuade someone to accept your viewpoint, you should also try to open yourself to persuasion, said Edward Panetta, emeritus director of debate at UGA.

Rather than trying to think of a rebuttal, it's important to truly listen to the other person while they speak, said Denny Galis, an Athens-based mediator. This can help strengthen your argument and also let the other person know that you're really listening.

You won't always persuade someone to accept your argument, Panetta said. Rather than unfriending or blocking the other person after one tense conversation, it may be best to agree to disagree, he said.
It's important to interact with the other side of the political spectrum, Bankert said. But if someone only enters a conversation to prove their point, it may be best to change the topic to avoid yelling at loved ones, she said.
Kyra Posey, Henry Queen, Lorna Ramage, Drew Shoppy, Andy Walsh and Tyler Wilkins are all seniors majoring in journalism in the Grady College of Journalism and Mass Communication at the University of Georgia.