The University of Georgia vs. Notre Dame game means more people and more vehicles in Athens because of the projected record-breaking attendance.
Athens-Clarke County Police, the University of Georgia Police Department and other state law enforcement agencies have put together security, traffic and parking plans to accommodate the larger crowd expected at Saturday's game.
State Agencies Collaborate for Security
The UGA Police Department will be the lead agency patrolling Sanford Stadium and campus. State agencies are also sending personnel to collaborate with the university police for campus security.
"For more than 30 years, the UGA Police Department has teamed up with area law enforcement agencies to create a safe environment for our fans and visitors," said Bob Taylor, the UGA Police public information officer.
However, university police will not release which agencies are helping for security reasons, according to Rebecca Beeler, public relations manager at UGA's Office of Marketing and Communications.
As for outside campus, Athens-Clarke County will be policing the downtown area and making sure traffic flows smoothly.
ACCPD has been planning for this weekend's game for more than two months, according to Geof Gilland, the ACCPD public information officer.
"We urge all fans to enjoy Athens and to enjoy the game-day atmosphere but remember to enjoy responsibly and in a friendly manner," Gilland said.
Traffic to Impact Surrounding Counties
As for traffic, Athens may experience more traffic than other home football games.
ACCPD is urging fans to arrive early to the game and to anticipate delays, Gilland said.
Their current traffic plan will direct vehicles away from the campus and downtown areas and toward the state route 10 Loop. Gilland said ACCPD has assigned officers for traffic duty around the city and to patrol the downtown area.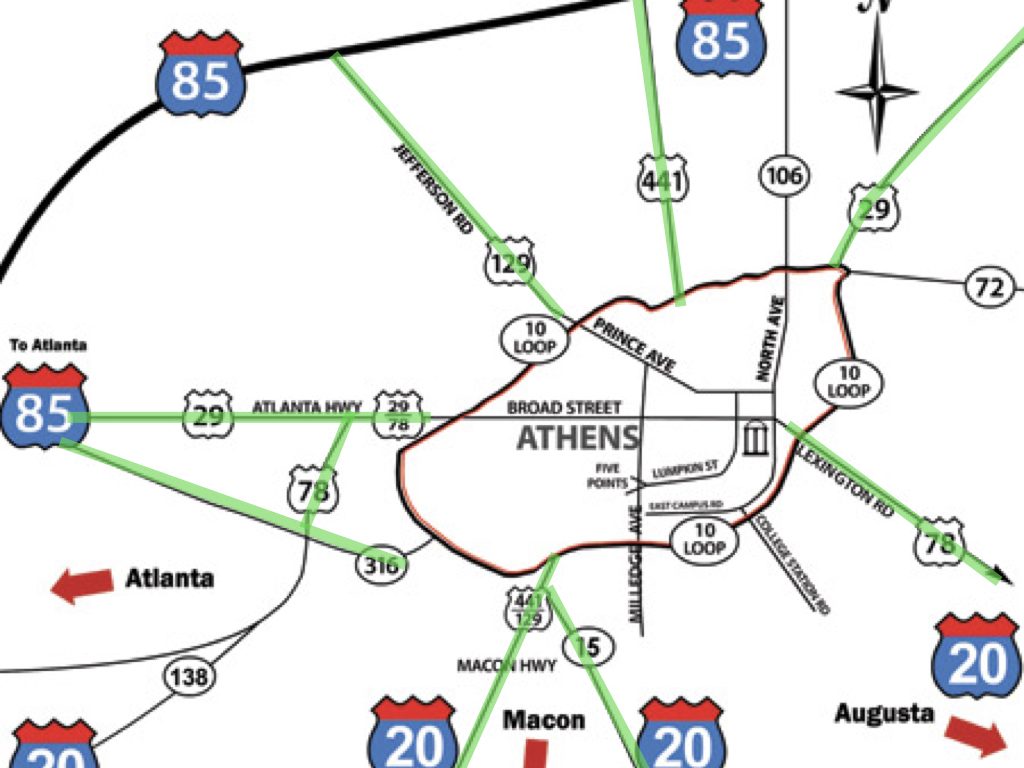 Athens-Clarke County traffic plan is designed to direct traffic away from campus and downtown and toward GA-10 Loop. The highlighted highways are routes that may see congestion after the game. (Map Courtesy/University of Georgia Gameday Gameplan; Infographic/Sam Daniel)
The plan is designed to get vehicles off smaller roads that are not designed for heavy traffic.
Gilland told Grady Newsource the police department has asked drivers to not stop and ask an officer for directions while they are directing traffic.
"Follow their directions, which are intended to get you out of the downtown area and onto the loop as quickly as possible," Gilland said in a statement.
Once vehicles get onto the state route 10 Loop, drivers can exit onto highways such as U.S. Route 129, U.S. Route 29, U.S. Route 441, state Route 15, state Route 316 and U.S. Route 78.
Since these highways lead into counties outside Athens, Northeast Georgia law enforcement agencies are also preparing for congested traffic along major highways leading outside of Athens.
UGA Parking and Transportation
Finding a place to park is a struggle with all home football games, but it may be more of a hassle for this weekend's game.
Athens-Clarke County Police Department's advice: "Drivers should have a plan and a backup plan for parking," Gilland said.
Parking on campus will be on a first-come, first-served basis like at all home games.
Free parking is scattered throughout campus. However, most free spots are concentrated on East Campus in the Intramural Fields and East Deck, according to UGA's Gameday Gameplan website.
The university's transportation department is also gearing up for Saturday's game.
"Transportation and Parking Services has evaluated its systems to ensure operations are ready for the game. Because of the number of fans anticipated to be on campus, additional staffing will be available to assist with operations," Taylor said.
Operations include shuttles between the Intramural Fields, the East Campus Parking Deck and Gate 6 at Sanford Stadium.
Ashlyn Webb is a senior majoring in journalism in the Grady College of Journalism and Mass Communication at the University of Georgia and international affairs at the School of Public and International Affairs.